See what's new at Thorlabs:
View the full list of new products (below) or browse our entire product range.
All of these items are available now!

Choose

RSS Feed to have this information delivered to you.

1 New Product in the Motorized Stages Family!
«« View All New Products
«« View ByCategory
Thorlabs' motorized stages include linear translation stages with up to 600 mm of travel, rotation mounts and stages, goniometers, pitch and yaw platforms, and high-resolution multi-axis platforms. The linear translation stages are offered in a number of different travel ranges that include as little travel as 1.5 mm.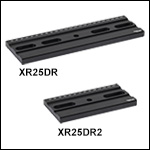 Baseplate with Extended Linear Positioning (View Product Family)
1 New Product!

XR25DR2- Extended Dovetail Baseplate for XR25 and XR50 Series Stages, 150 mm RELEASED: April 20, 2018 - Customer Inspired Product!