See what's new at Thorlabs:
View the full list of new products (below) or browse our entire product range.
All of these items are available now!

Choose

RSS Feed to have this information delivered to you.

2 New Products in the Optical Windows Family!
«« View All New Products
«« View ByCategory
Thorlabs' optical windows are fabricated from a variety of substrate materials and many are available either with or without AR coatings. In addition to flat and wedged optical windows, we also offer conductive windows, high vacuum conflats with windows, Brewster windows that eliminate p-polarization reflectance, and UV fused silica windows designed to be oriented at 45° AOI.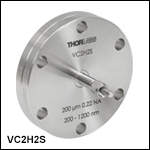 Ø200 µm Ultra-High-Vacuum Feedthrough (View Product Family)
2 New Products!

VC2H2S- Ø2.73" Fiber Feedthrough CF Flange, Ø200 µm Core, 200 - 1200 nm, SMA RELEASED: June 06, 2019


VC2L2S- Ø2.73" Fiber Feedthrough CF Flange, Ø200 µm Core, 400 - 2400 nm, SMA RELEASED: June 06, 2019