Faraday Enclosures Sized for ScienceDesks™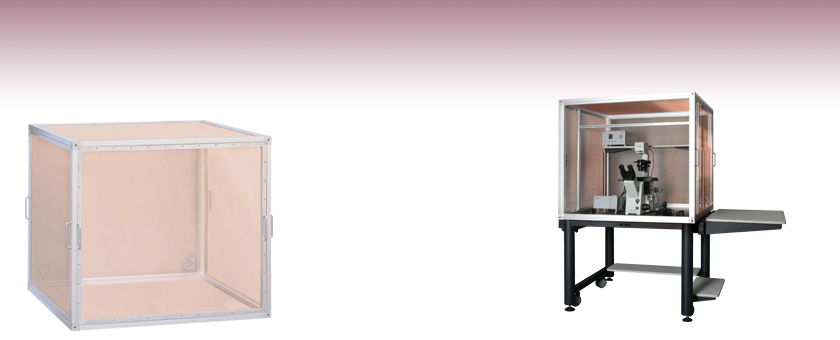 Shielding from Electromagnetic/Electrostatic Interference
Does Not Interfere with Vibration Isolation System
Fits 750 mm x 900 mm ScienceDesk
FAR01
Typical FAR01 Faraday Enclosure Setup
ScienceDesk and All Other Parts Available Separately, Microscope Not Supplied

Please Wait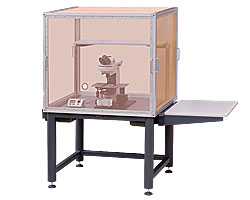 Click to Enlarge
Features
Reduces Electromagnetic Interference from Common Laboratory Items
Does Not Interfere with ScienceDesk Active or Passive Vibration Isolation
Compatible with 750 mm x 900 mm ScienceDesks:

Compatible with Many of Our ScienceDesk Accessories*
Experiments in electrophysiology, confocal microscopy, and other sensitive applications often need to be shielded from external interference from electrostatic fields and electromagnetic waves generated by AM/FM radio, CRT oscilloscopes, fluorescent lights, and other common lab equipment. Thorlabs' ScienceDesk™ Faraday Enclosure consists of a taut copper mesh that protects against these external sources of interference.
This Faraday Enclosure fits onto our Fixed Height and Adjustable Height 750 mm x 900 mm ScienceDesk frames. Our ScienceDesk post-mounted accessories can be installed inside the enclosure, as shown to the right, providing a variety of shelving and equipment mounting options. Additionally, the adapters sold below allow the ScienceDesk Faraday enclosure to be used with the PSY350 side shelf, the PSY121 Monitor Mount, and our range of 25 mm construction rails and accessories.
*Note: This enclosure prevents the installation of our PSY100 Wrist Rest and our PSY250 and PSY251 Sample Preparation Shelves.
Posted Comments:
No Comments Posted