SM1 Thread Compatibility
Item #
DCC1240M
DCC3240M
Resolution
1.3 Megapixels (1280 x 1024)
Sensor
Monochrome
Exposure Mode
Global and Rolling Shutter
Interface and Included Cable
USB 2.0
USB 3.0
Input/Output Trigger
Yes
Features
Easy to Use in a Wide Range of Applications from Microscopy to Monitoring
1.3 Megapixel (1280 x 1024 Pixels) Monochrome CMOS Sensors
Available with Global Shutter and External Trigger
ThorCam™ Software for Windows® 7 and 10 Operating Systems
SDK and Programming Interfaces Provide Support for:


C, C++, C#, and Visual Basic .NET APIs
LabVIEW, MATLAB, and µManager Third-Party Software
These compact, lightweight CMOS cameras are available with a monochrome sensor. They can be used in a wide range of applications from microscopy to monitoring. Our CMOS cameras offer a full-frame resolution of 1280 x 1024 pixels. All camera series are controlled and powered via a standard 5 V USB 2.0 or 3.0 port.
The DCC1240M and DCC3240M high-sensitivity CMOS cameras include CMOS sensors that allow for switching between rolling and global shutter mode, offer a considerably higher dynamic range, and include an input for an external trigger. A brief comparison of the features available in each model is presented in the table below. For a detailed list of specifications, see the Specs tab.
For quantitative applications requiring low noise, high quantum efficiency cameras, consider our Quantalux® sCMOS and Kiralux® CMOS Cameras.
USB and Trigger Cables
For the DCC1240M camera, optional CAB-DCU-T1 and CAB-DCU-T2 USB and trigger cables allow one to use the additional trigger input and output ports (T1 and T2) of this camera together with the USB 2.0 connection. The exposure and readout/transfer events of the camera can be initiated via the input trigger, and external events like strobe lights can be triggered by the camera using the output trigger. The CAB-DCU-T3 GPIO cable can be used with the USB 3.0 cameras as an additional means of connecting and triggering peripheral devices. The trigger configuration (i.e., the source of the input trigger and the timing for the output trigger) can be set via the provided software or the LabVIEW drivers.
Software
Each camera also comes with ThorCam, our Windows-compatible GUI software package. Standard drivers like Direct Show (WDM) and .NET are provided and offer support for LabVIEW. An extensive SDK is available. The C/C++ drivers can additionally be imported to Matlab using MEX files.
Item #a
DCC1240M
DCC3240M
Sensor Type
Monochrome
Monochrome
Effective Number of Pixels
(Horizontal x Vertical)
1280 x 1024
Imaging Area
(Horizontal x Vertical)
6.78 mm x 5.43 mm
6.78 mm x 5.43 mm
Pixel Size
5.3 µm, Square
5.3 µm, Square
Optical Format
1/1.8"
1/1.8"
Max Frame Rate
25.8 fps (Freerun Mode)
24.7 fps (Trigger Mode)
60.0 fps (Freerun Mode)
56.9 fps (Trigger Mode)
ADCa Resolution
8 Bits
10 Bits (8 Bits if Connected to USB 2.0)
Sensor Shutter Type
Global and Rolling Shutter
Global and Rolling Shutter
Peak Quantum Efficiencyb
62%
62%
Read Noise
<30 e- RMS
<30 e- RMS
Exposure Time
0.009 msc - 2 sd
0.009 msc - 2 sd
Pixel Clock Speed
7 - 35 MHz
5 - 85 MHz
Vertical and Horizontal
Hardware Binning
Horizontal, Vertical
Horizontal, Vertical
Region of Interest (ROI)
4 x 16 Pixels to 1024 x 1280 Pixels, Rectangular
4 x 16 Pixels to 1024 x 1280 Pixels, Rectangular
Lens Mount
C-Mount
C-Mount
Mounting Features
8-32 Tap, 5 mm Deepe
M4 Tap, 5 mm Deepe
1/4"-20 Tap, 6 mm Deepe
8-32 (M4) Tap, 6.5 mm Deep w/ Included Adapters
Removable Optic
Uncoated
Glass (D263)
Uncoated
Glass (D263)
Interface
USB 2.0
USB 3.0f
Power Consumption
0.3 - 0.7 W
1.3 Wg
Ambient Operating Temperature
23 to 122 °F (-5 to 50 °C)
Storage Temperature
-4 to 140 °F (-20 to 60 °C)
A graph of the camera response as a function of wavelength is presented here. Individual sensitivity curves are provided below.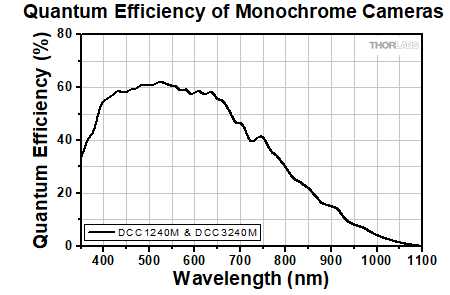 Click to Enlarge
Components Included with CMOS Cameras
Item #
Cable
Lens Mounting Adapters
Post Mounting Adapters
Other Accessories
DCC1240M
USB 2.0
C-Mount to External SM1
C-Mount to Internal SM1
-
Software CD with ManualQuick Start Guide
DCC3240M
USB 3.0
-
8-32 and M4 Thread Adapters
ThorCam™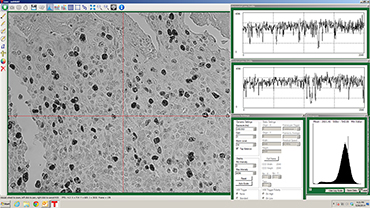 Click to Enlarge
ThorCam Graphical User Interface (GUI)
ThorCam is a powerful image acquisition software package that is designed for use with our cameras on 32- and 64-bit Windows® 7 or 10 systems. This intuitive, easy-to-use graphical interface provides camera control as well as the ability to acquire and play back images. Single image capture and image sequences are supported. Application programming interfaces (APIs) and a software development kit (SDK) are included for the development of custom applications by OEMs and developers. The SDK provides easy integration with a wide variety of programming languages, such as C, C++, C#, and Visual Basic .NET. Support for third-party software packages, such as LabVIEW, MATLAB, and µManager* is available.
*µManager control of Zelux and 1.3 MP Kiralux cameras is not currently supported. When controlling the Kiralux Polarization-Sensitive Camera using µManager, only intensity images can be taken; the ThorCam software is required to produce images with polarization information.