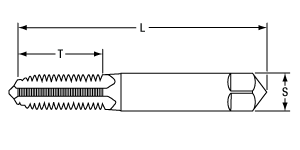 Click to Enlarge

Diagram of a Standard Tap
Specialized Plug Taps
Covers Many Threads Used by Thorlabs
Material: High-Speed Steel
These specialty taps aid in the integration of our optomechanical components into your custom-built devices. Our metric taps selection includes many of the thread standards used by Thorlabs. Please see above for our imperial taps, as well as taps for our SM05 (0.535"-40) and SM1 (1.035"-40) standards.
Tapping Recommendations
To tap a hole, first machine a pilot bore, using the table below to find the recommended pilot bore diameter. The bore can be made using a drill bit or an end mill. For fine pitch threads, the pilot bore should be tightly toleranced because of the shallow thread depth; a reamer is also recommended in this case.
Next, secure the tap into a tap wrench, drill press, or lathe to create the threads. Lubricant or tapping fluid should be used to create the hole. If resistance is felt while tapping, carefully rotate the tap backwards to remove it, as broken taps are exceptionally difficult to remove.
If using these specialty taps for production, precision ring and plug gauges should be used to verify hole diameters. For additional details on threading and taps, please consult the Machinery's Handbook, available in many machine shops and bookstores.
Item #
Thread Type
Thread Depth
(T)
Overall
Length
(L)
Shank Size
(S)
Pilot Bore
Example Uses
Diameter
Tolerancea
Metric Drill Sizeb
Imperial Drill Sizeb
TAPM202
M2 x 0.2
11.35 mm
44.7 mm
2.72 mm
1.805 mm
+0.013 mm/-0.026 mm
1.80 mm
(0.0709")
-
Holes for M2 x 0.2 Adjustment Screws
TAPM2502
M2.5 x 0.2
12.7 mm
46.0 mm
3.58 mm
2.313 mm
±0.030 mm
2.3 mm
(0.0905")
-
Holes for M2.5 x 0.2 Adjustment Screws
TAPM302
M3 x 0.2
16.0 mm
49.3 mm
3.58 mm
2.813 mm
±0.030 mm
2.8 mm
(0.1102")
#34
(0.1110")
Holes for M3 x 0.2 Adjustment Screws
TAPM3025
M3 x 0.25
16.0 mm
49.3 mm
3.58 mm
2.766 mm
±0.037 mm
2.75 mm
(0.1083")
7/64"
(0.1093")
Holes for M3 x 0.25 Adjustment Screws
TAPM4025
M4 x 0.25
19.1 mm
54.1 mm
4.27 mm
3.77 mm
±0.037 mm
3.75 mm
(0.1476")
#26
(0.1470")
Holes for M4 x 0.25 Fine Adjustment Screws
TAPM407
M4 x 0.7
(M4 Standard)
19.1 mm
54.0 mm
4.27 mm
3.332 mm
±0.090 mm
3.3 mm
(0.1299")
#30
(0.1285")
Mounting Holes for M4 Screws
TAPM4505
M4.5 x 0.5
22.4 mm
60.5 mm
4.93 mm
4.029 mm
±0.070 mm
4.0 mm
(0.1575")
#21
(0.1590")
Mounting Hole for M3 x 0.25 Adjuster Nutc
TAPM6025
M6 x 0.25
25.4 mm
63.5 mm
6.48 mm
5.575 mm
±0.0165 mm
5.6 mm
(0.2205")
#2
(0.2210")
Holes for M6 x 0.25 Adjustment Screws
TAPM605
M6 x 0.5
25.4 mm
63.5 mm
6.48 mm
5.526 mm
±0.068 mm
5.5 mm
(0.2165")
7/23"
(0.2187")
Mounting Bores for Aspheric Lens Housingsd
TAPM610
M6 x 1.0
(M6 Standard)
25.4 mm
63.5 mm
6.48 mm
5.035 mm
±0.118 mm
5.1 mm
(0.2008")
#8
(0.1990")
Mounting Holes for M6 Screws
TAPM7505
M7.5 x 0.5
28.7 mm
69.0 mm
8.08 mm
7.026 mm
+0.068 mm/-0.067 mm
-
-
Mounting Bores for
Ø7 mm Optic Mounts
TAPM805
M8 x 0.5
28.7 mm
69.1 mm
8.08 mm
7.526 mm
±0.068 mm
7.5 mm
(0.2953")
M
(0.2950")
Mounting Bores for Aspheric Lens Housingsd
TAPM905
M9 x 0.5
31.8 mm
74.7 mm
9.68 mm
8.526 mm
±0.068 mm
8.5 mm
(0.3346")
Q
(0.3340")
Mounting Bores for Aspheric Lens Housingsd
TAPM1005
M10 x 0.5
31.8 mm
74.7 mm
9.68 mm
9.526 mm
±0.068 mm
9.5 mm
(0.3740)
3/8"
(0.3750")
Mounting Bores for Aspheric Lens Housingsd
TAPM10505
M10.5 x 0.5
31.8 mm
74.7 mm
9.70 mm
10.026 mm
+0.068 mm/-0.067 mm
-
-
Mounting Bores for
Ø10 mm Optic Mounts
TAPM1105
M11 x 0.5
36.6 mm
80.3 mm
8.20 mm
10.526 mm
±0.068 mm
10.5 mm
(0.4133")
Z
(0.4130")
Mounting Holes for Mounted Aspheric Lens Pair Housingsd
TAPM1205
M12 x 0.5
42.1 mm
85.7 mm
9.32 mm
11.526 mm
±0.068 mm
11.5 mm
(0.4528")
29/64"
(0.4531")
Mounting Bores for Aspheric Lens Housings

d

TAPM1405
M14 x 0.5
42.2 mm
91.2 mm
10.90 mm
13.526 mm
±0.068 mm
13.5 mm
(0.5315")
17/23"
(0.5312")
-
TAPM20505
M20.5 x 0.5
50.8 mm
113.5 mm
16.56 mm
20.026 mm
+0.068 mm/-0.067 mm
-
-
Mounting Bores for for
Ø20 mm Lens Mounts
TAPM25075
M25 x 0.75 (M25 Standard)
63.5 mm
130.3 mm
20.32 mm
24.284 mm
±0.096 mm
-
-
Mounts for M25-Threaded Objectives