MEMS-VCSEL Tutorial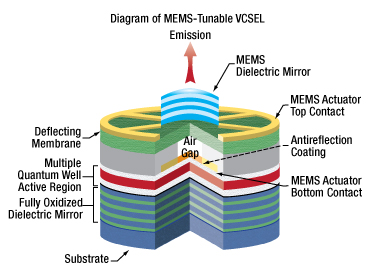 Click to Enlarge
Figure 1: Praevium's MEMS-Tunable VCSEL is an innovative design that offers high-speed and broadband emission with long coherence length. This is an ideal combination for an OCT swept laser source.
---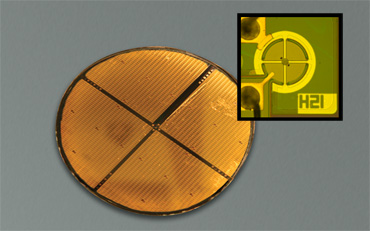 Click to Enlarge
Figure 2: MEMS-tunable VCSELs can be densely packed on a single wafer to increase the potential yield. The inset shows a single MEMS-tunable VCSEL device after fabrication. The overall size of the MEMS-tunable VCSEL is approximately 600 µm x 600 µm square.
VCSEL Overview
Vertical Cavity Surface Emitting Lasers (VCSELs) are semiconductor-based devices that emit light perpendicular to the chip surface, as shown in Figure 1. VCSELs were originally developed as low-cost, low-power alternatives to edge-emitting diodes, mainly for high-volume datacom applications. Quickly thereafter, the advantages of VCSELs became evident, leading them to being preferred light sources over edge-emitters in many applications. Compared to edge-emitting sources, VCSELs offer superior output beam quality and single mode operation.
MEMS-tunable VCSELs utilize microelectromechanical mirror systems (MEMS) to vary the cavity length of the laser, thereby tuning the output wavelength. MEMS-tunable VCSELs have existed for several years; however, the limited tuning range and output power of these devices have precluded them from being used in OCT applications. Praevium Research, in cooperation with Thorlabs and MIT, has since developed a MEMS-tunable VSCEL design that overcomes these previous limitations.
In order for a MEMS-tunable VCSEL to be successful for applications in OCT, it needs to meet certain standards:
Rapid Sweep Speed
Broad Tuning Range
Long Coherence Length
High Laser Output Power
Rapid Sweep Speed
Applications using OCT demand high-speed imaging without sacrificing imaging quality. Fast imaging rates allow better time resolution, dense collection of 3D datasets, and decreased laser exposure times to the sample.
Currently, there exist a few swept-source lasers that offer high-speed scanning. Fourier domain mode-locked lasers, for example, achieve extremely high imaging speeds but require the use of very long fiber optic delays in the laser cavity and can only operate in wavelength ranges where the fiber loss is low. Of the commercially available high-speed swept lasers, many operate with multiple longitudinal modes or have long cavity lengths, which limit coherence length or tuning speed, respectively.
The low mass of the MEMS-tuning mirror in a MEMS-based tunable VCSEL and the short cavity length both contribute to its high-speed operation. The short cavity length also places only one mode in the gain spectrum, enabling single-mode continuous operation. We have recently measured greater than 500 kHz sweep rates using a MEMS-tunable VCSEL prototype, without using optical multiplexing to increase the sweep speed.
Broad Tuning Range
High-resolution imaging depends on the overall tuning bandwidth of the swept-source laser. Praevium boasts the broadest bandwidth MEMS-tunable VCSEL that has ever been developed. A unique design incorporating broadband, fully oxidized mirrors, as well as wideband gain regions and thin active regions, has currently resulted in greater than 100 nm of continuous mode-hop-free tuning, centered around 1300 nm. For details, please see Figure 3.

Click to Enlarge
Figure 3: MEMS-tunable VCSELs are capable of tuning over 100 nm. Here we show single-mode operation over a 110 nm spectral tuning range centered at 1300 nm.

Click to Enlarge
Figure 4:
Spectrum of MEMS-tunable VCSEL operating at 200 kHz, with a center wavelength around 1310 nm, and post amplification using a BOA.
Long Coherence Length
A significant limitation to most OCT systems is the depth of view (maximum imaging depth range). Especially in clinical applications, where sample thickness, patient motion, and sample location cannot be controlled, a long depth of view is advantageous. A long coherence length alone, however, is not enough. Image sensitivity needs to be virtually unaffected throughout the entire depth. Due to the micron-scale cavity length of the VCSEL and single mode, mode-hop-free operation, we have measured coherence lengths of greater than 100 mm from our MEMS-tunable VCSEL with nearly no signal degradation. Currently limited by detector bandwidth, we are confident that the MEMS-tunable VCSEL is able to achieve even longer imaging depths than have been measured to date. This remarkable depth of view will not only benefit the medical imaging community but also open doors to other applications such as large objective surface profiling, fast frequency domain reflectometry, and fast spectroscopic measurements with high spectral resolution.
High Output Power
Increased imaging speed often comes at the cost of decreased output power and/or optical power on the sample. One advantage of edge-emitting light sources over VCSELs is that they can emit greater output powers. As a general rule, most OCT imaging applications need a minimum of 20 mW of laser output power to maintain image quality when operating at faster scan rates. To reach this goal, the MEMS-tunable VCSEL is coupled with a booster optical amplifier (BOA) to achieve greater than 25 mW of power. An additional advantage of this post-amplification scheme is that the BOA reshapes the MEMS-VCSEL output spectrum such that it is much more uniform.
Additional Considerations and Manufacturing Capabilities
A special feature of the MEMS-tunable VCSEL is that it is scalable for different wavelengths. Through innovative combinations of gain materials and dielectric mirrors, a wide wavelength range in the visible or near infrared can be reached, enabling expansion of this new family of light sources.
As we further develop this light source, we look forward to finding new and exciting applications for its use. Please contact us to discuss how a MEMS-tunable VCSEL may advance your research.
Fabrication of a MEMS-Tunable VCSEL
Step 1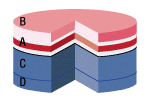 Click to Enlarge
The VCSEL wafer begins with a multiple quantum well (MQW) active region (A) that is grown on an InP substrate (B) and bonded to a GaAs-based mirror (C) grown on a GaAs substrate (D).
Step 2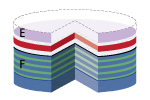 Click to Enlarge
The InP substrate is chemically etched down to a strategically located stop-etch layer (E). The GaAs-based mirror is oxidized to create a wideband dielectric mirror (F).
Step 3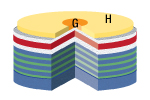 Click to Enlarge
After removal of the stop-etch layer, an AR coating (G) and annular MEMS bottom actuator contact (H) are deposited on top of the MQW active region.
Step 4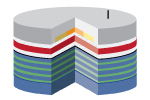 Click to Enlarge
A sacrificial layer (I) of a specifically designed thickness and composition is deposited.
Step 5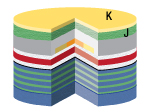 Click to Enlarge
A membrane layer (J) and annular top MEMS actuator contact (K) are deposited on top of the sacrificial layer.
Step 6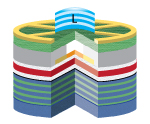 Click to Enlarge
Finally, a dielectric mirror (L) is deposited and patterned. The top MEMS contact is further patterned to complete creation of the actuator. The sacrificial layer is undercut to leave a suspended, moveable top mirror above the MQW structure, producing a VCSEL with a MEMS-based tuning element in a single device.