SM-Threaded Kinematic Mirror Mounts with Two Adjusters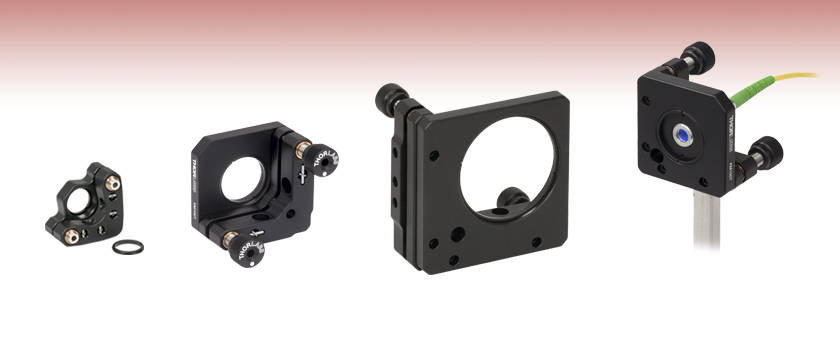 SM-Threaded Kinematic Mounts for Thin Ø1/2", Ø1", and Ø2" Optics
Phosphor Bronze Bushings and Stainless Steel Adjuster Screws
KM05T
For Ø1/2" Optics,
SM05 Threaded
Application Idea
KM100T SM1-Threaded Mount
Shown with the AD11F Adapter
and F280APC-B Fiber Collimator
KM100T
For Ø1" Optics,
SM1 Threaded
KM200T
For Ø2" Optics,
SM2 Threaded

Please Wait
The Knobs on Our Kinematic Mirror Mounts can be Removed to Expose the Hex Sockets of the Threaded Adjusters (
Standard Double-Bore Mount
Shown)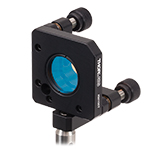 Click to Enlarge
Mirror Surface Aligned Over the Post Axis Using Our
KMCP
Centering Plate
Features
SM-Threaded Mounts for Thin Ø1/2", Ø1", or Ø2" Optics or Threaded Components
Hardened Steel Inserts at Kinematic Contact Points to Reduce Wear
Phosphor Bronze Bushings and Stainless Steel Lead Screws for Smooth Adjustment
Fabricated from Black Anodized Aluminum
Mounting Holes Enable Left-Handed or Right-Handed Operation
Double-Bore Mirror Mounts Also Available
Thorlabs' Standard SM-Threaded Kinematic Mounts are designed for stress-free mounting of thin optical components. These mounts have an internally threaded hole with a lip on the back side against which the optic can be secured using the included externally threaded retaining ring.
These mounts offer an angular adjustment range of ±4° (±3° for the KM200T) and are mountable in left- or right-handed orientations. With #8 (M4) counterbored through holes on the back plate, these mounts are compatible with both imperial and metric Ø1/2" posts. The knobs on the KM100T and KM200T are removable, thereby exposing the hex sockets at the end of the lead screws (see the video to the right).
Thorlabs offers a variety of other two and three adjuster mirror mounts including our high-stability Polaris® Mirror Mounts.
Posted Comments:
No Comments Posted