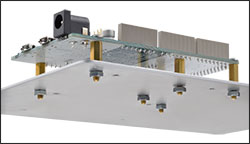 Click to Enlarge
Example of Electronic Components Mounted on EC1530MB

Click to Enlarge
Example of EC1530A Enclosure (Shown with Cover Removed) with Electronic Components Installed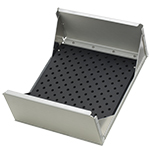 Click to Enlarge
EC2530BB Breadboard Inside EC2530C Enclosure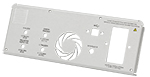 Click to Enlarge
Custom benchtop services include laser cutting, riveting, UV printing, and overlay custom molding.
Features
Red or Gray Aluminum Housings

6 Sizes Available (See Table Below)
Compatible Electronics Modules Available Separately

Enclosure with Pre-Installed Electronics Modules:

+5 V / ±15 V Power Supply
AC Power Inlet with On/Off Switch and Fuse Holder
Enclosure Ventilation Fan

Aluminum Mounting Boards to Mount Components Inside Enclosures
Breadboard with 1/4"-20 (M6 x 1.0) Taps for EC2530C(R) Enclosures
Custom Configurations Available; See the Custom Enclosures Tab
Thorlabs offers several enclosure options, mounting boards, and electronics modules for customers interested in assembling their own benchtop electronic devices. Our enclosures are offered in either red or gray colors and come in six sizes; see the table below for options. Red enclosures are indicated by an R at the end of the enclosure's Item #. The front and rear panels of the enclosure are blank; input and output ports can be added by the user depending on the application.
We offer several modules for building electronic assemblies within the enclosure. These modules include power supplies with output powers of 15 W, 45 W, or 100 W; an AC power inlet; and a ventilation fan. The EC1C Pre-Assembled Enclosure includes the 45 W power supply (item # EC1PS), the AC power inlet, the ventilation fan, and a mounting board within the EC2030B housing.
An optional mounting board can be purchased separately to fit inside the enclosure. The mounting board provides a surface for assembling electronic components, such as PCBs, development boards, and the EC1PS power supply. Four mounting board sizes are available, corresponding to the available enclosure sizes. See the table below for compatibility between the enclosures and mounting boards.
Alternatively, a breadboard is available for the EC2530C(R) enclosures, allowing optomechanical components to be mounted inside. The breadboard attaches to the mounting studs on the bottom of the enclosure in the same way as the mounting board. The breadboard features an double-density hole pattern of 1/4"-20 (M6 x 1.0) tapped holes.
For housing smaller, custom electronic circuits, such as electrical filters, voltage dividers, or impedance matchers, see our compact customizable electronics housings.
Enclosure
Item #
Enclosure Dimensionsa
(W x D x H)
Compatible
Mounting Board
Mounting Board
Dimensions (W x D x H)
EC1515A(R)
149.8 mm x 149.9 mm x 71.1 mm
(5.90" x 5.90" x 2.80")
EC1515MB
130.0 mm x 80.0 mm x 1.5 mm
(5.12" x 3.15" x 0.06")
EC1530A(R)
149.8 mm x 299.9 mm x 71.1 mm
(5.90" x 11.81" x 2.80")
EC1530MB
130.0 mm x 200.0 mm x 1.5 mm
(5.12" x 7.87" x 0.06")
EC1530B(R)
149.8 mm x 299.9 mm x 96.1 mm
(5.90" x 11.81" x 3.78")
EC2030A(R)
199.8 mm x 299.9 mm x 71.1 mm
(7.87" x 11.81" x 2.80")
EC2030MB
180.0 mm x 200.0 mm x 1.5 mm
(7.09" x 7.87" x 0.06")
EC2030B(R)
199.8 mm x 299.9 mm x 96.1 mm
(7.87" x 11.81" x 3.78")
EC2530C(R)
249.8 mm x 299.9 mm x 122.0 mm
(9.83" x 11.81" x 4.80")
EC2530MB
230.0 mm x 200.0 mm x 1.5 mm
(9.06" x 7.87" x 0.06")
EC2530BB(/M)
Breadboard
230.0 mm x 230.0 mm x 9.5 mm
(9.06" x 9.06" x 0.37")
Assembly Details for Blank Enclosures
The blank enclosures are shipped completely assembled with the exception of the two foldable feet and two fixed feet. The feet can be easily attached using the included M3 cap screws and 3/32" hex key. The mounting boards are sold separately, and four M3 button head screws (5/64" hex) are included with the enclosure for installing a mounting board. The enclosure can be disassembled for ease of machining. The included 5/64" and 3/32" hex keys can be used for all screws in the assembly.

Click to Enlarge
Ref. #
Component
Qty.
Material
Color/Finish
1
Front Panel
1
Aluminum
Silver/Anodized
2
Bottom
1
3
Mounting Boarda
1a
Hair-Line Finish
4
Cover
1
Gray or Red/Anodized
5
Trim Strip
1
Silver/Anodized
6
Gusset
4
Plain
7
Foldable Feet
2
ABS Plastic
Black
8
Fixed Feet
2
Black
9
M3 Screw
(5/64" and 3/32" Hex Keys Included)
Varies
Stainless Steel
Plain
10
Rear Panel
1
Aluminum
Silver/Anodized
Mounting Boarda
Ref. #
Item #
Compatible
Enclosure
Width
Depth
Height
Material
Color/Finish
3
EC1515MB
EC1515A(R)
130.0 mm
(5.12")
80.0 mm
(3.15")
1.5 mm
(0.06")
Aluminum
Hair-line Finish
EC1530MB
EC1530A(R)
EC1530B(R)
130.0 mm
(5.12")
200.0 mm
(7.87")
EC2030MB
EC2030A(R)
EC2030B(R)
180.0 mm
(7.09")
200.0 mm
(7.87")
EC2530MB
EC2530C(R)
230.0 mm
(9.06")
200.0 mm
(7.87")
EC2530BBb
230.0 mm
(9.06")
230.0 mm
(9.06")
9.5 mm
(0.37")
Black Anodized
Custom Enclosures Request Form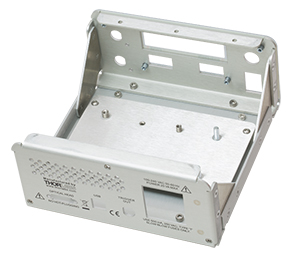 Click to Enlarge
Customized Enclosure with Lid Removed
Use the configurator below to customize your own benchtop electronics enclosure. Customization options are available for the front panel, rear panel, mounting board, and overlay (not included with standard enclosures). The drawing in the Assembly Details tab identifies each of these parts, with the exception of the overlay. Click on the

icons in the custom enclosure tool below for information on each customizable part of the enclosure, as well as the customization options for that part. Click on the yellow boxes below to view details about the cutting, riveting, and UV printing services.
After selecting one of our standard enclosure sizes, check the boxes corresponding to the service you would like for each section of the enclosure. For each service selected, download the .pdf or .dxf template(s) for that section of the enclosure, edit the template with your desired design, and then upload the file (.pdf only) by clicking on the Upload button. You can view a design file that you have uploaded by clicking the icon in the Preview column.

Click to Enlarge
Example of a Customized Enclosure
You can add multiple enclosures of the same kind by increasing the Quantity, shown below the table in the configurator. You can customize multiple enclosures with different sizes and different designs by clicking the Add Another Enclosure button at the bottom. Once all customization requests have been entered, click Add to Cart.
Click on the yellow boxes below to learn more about the customization services we offer.
The price estimate generated upon submitting your drawings is subject to change. Your designs will be sent to our Technical Support team for review. You will then receive a finalized price, which may increase based on Technical Support's evaluation of your design and our manufacturing capabilities. You will have a chance to confirm your order after receiving this finalized price.