Click to Enlarge
The filter wheel housing contains top-located push buttons for manual filter selection as well as a USB interface, BNC input/output, and an RS-232 connection for remote operation. It is also compatible with our
30 mm cage systems
.
Motorized Filter Wheel Selection Guide
Item #
# of Slots
Filter Size
Preloaded ND Filters
Features
FW212C
12
Ø1/2" (Ø12.5 mm)
No
BNC, RS-232 and USB Interfaces
Integrated Controller
FW212CNEB
12
Ø1/2" (Ø12.5 mm)
Yes
FW102C
6
Ø1" (Ø25 mm)
No
FW102CNEB
6
Ø1" (Ø25 mm)
Yes
FW103H
6
Ø1" (Ø25 mm)
No
55 ms Switching Time
To switch out filter wheels, simply remove the housing cover and place in the new wheel. Replace the cover and, if necessary, hold the top-located arrow buttons to open the mode select menu and change the filter setting from a 6-position wheel to a 12-position wheel or vice versa. Hold the buttons down again to resume normal operation with the new wheel.
Features
Motorized Housing Contains 6- or 12-Position Filter Wheel

6-Position Wheels Accept Ø1" (Ø25 mm) Filters up to 0.25" (6.35 mm) Thick
12-Position Wheels Accept Ø1/2" (Ø12.5 mm) Filters up to 0.25" (6.35 mm) Thick

Locally or Remotely Controllable via BNC, RS-232, or USB Interface
Spare Wheels Available With or Without Preloaded Absorptive Neutral Density (ND) Filters
SM1-Threaded (1.035"-40) Access Ports
Compatible with 30 mm Cage Systems (See Photo to the Right)
One 8-32, One M4, Two 1/4"-20, and Two M6 Taps for Post Mounting
These stepper-motor-driven filter wheels are designed for use in a host of automated applications including color CCD photography, fluorescence microscopy, and photometry. Each unit consists of a motorized housing and a preinstalled filter wheel with either 6 positions for Ø1" (Ø25 mm) optics or 12 positions for Ø1/2" (Ø12.5 mm) optics. Filter wheels of either type can also be purchased separately and installed by the user.
The housing contains two ports equipped with internal SM1 (1.035"-40) threading on both sides to accommodate our Ø1" lens tubes; each port is also surrounded by four 4-40 tapped holes on both sides for compatibility with our 30 mm cage systems, as shown in the image to the right. The 12-position motorized filter wheels for Ø1/2" optics (Item #'s FW212C and FW212CNEB) also come with four SM1A6FW adapters for converting the two SM1-threaded ports to an internal SM05 (0.535"-40) thread.
Interchangeable Filter Wheels
Additional 6- or 12-position filter wheels are available below with or without preloaded absorptive, uncoated ND filters. The motorized housings are compatible with both types of wheels. Refer to the animation below to see how to switch between the different filter wheel options.
Manual or Remote Operation
The filter position can be manually selected using the push button arrows on the top of the unit or remotely selected using the USB 2.0 interface, BNC input, or RS-232 connection (please see chapter five of the manual). The BNC input rotates the filter wheel when a TTL-level signal is applied. This BNC connection can also be configured as an output trigger in the software. An easy-to-read display indicates the filter selection. The display intensity can be adjusted, making this filter wheel appropriate for light-sensitive environments.
Automation of filter sequences is available through the USB 2.0 or RS-232 interfaces along with a simple-to-use GUI application program. A simple command language facilitates the filter selections and the retrieval of filter status. For driver software, as well as an SDK manual and sample code for LabVIEW™ and Visual C++, please see the Software tab. Older versions of the motorized housing sold before April 23, 2014 may require a firmware update, which is also available for download from the Software tab.
Mounting Options
As described above, each filter wheel port is internally SM1 threaded, allowing for easy connection to externally SM1-threaded optomechanics. Four 4-40 taps are also centered around each port, making the filter wheel compatible with our 30 mm cage systems. Thorlabs offers an extensive selection of adapters for mating our SM1-compatible components to other threads, such as C-mount, microscope, and telescope standards. The bottom of the housing features one 8-32 tap, one M4 tap, two 1/4"-20 taps, and two M6 taps, creating a multitude of options for mounting the filter wheel housing to a Ø1/2" or Ø1" post.
Key Specificationsa
Item #
FW102C
FW102CNEB
FW212C
FW212CNEB
Filter Diameters Accommodated
1" (25 mm)
1/2" (12.5 mm)
Filter Thicknesses Accommodated
≤0.25" (6.35 mm)
Access Time for Adjacent Locations (Typical)
<1 s
<0.5 s
Clear Apertures
0.90" (22.9 mm)
0.40" (10.2 mm)
Accuracy/Repeatability
±2°
Performance Specifications
Item #
FW102C(NEB)
FW212C(NEB)
Access Time (Adjacent Locations)
<1 s (Typical)
<0.5 s (Typical)
Access Time (Other Locations)
2.5 s (Typical)
Accuracy / Repeatability
±2° (Typical)
Expected Cycles
1.5 x 106 (Min)
Physical Specifications
Item #
FW102C(NEB)
FW212C(NEB)
Number of Filter Slots
6
12
Compatible Filter Diameter
1"
1/2"
Compatible Filter Thickness
≤0.25" (6.35 mm)
Clear Aperture
0.90" (22.9 mm)
0.40" (10.2 mm)
Trigger Jack
BNC Female
Power Jack
Male 2.1 mm
USB Connector
Mini B
Mounting
1/4"-20 (2 Places), 8-32,
M6 (2 Places), M4,
SM1 (1.035"-40) Threading (2 Places)
Filter Diameter
1" (25.4 mm)
Max Planar Filter Width
0.25" (6.35 mm)
Operating Temperature Range
0 to 60 °C
Dimensionsa
5.44" x 1.85" x 4.39"
(138 mm x 47 mm x 112 mm)
Weight (Not Including Power Supply)
1.65 lbs (0.75 kg)
Electrical Specificationsa
Parameter
Min
Typical
Max
BNC Input Triggerb - Max Rate
-
-
0.5 pulses/sec
BNC Input Triggerb - Minimum Pulse Width
1.0 ms
-
-
BNC Input Triggerb - Input High
3.3 V
4.5 V
5.3 V
BNC Input Triggerb - Input Low
-0.3 V
0.0 V
1.0 V
BNC Output Trigger - Output Pulse Width
9.0 ms
10.0 ms
11.0 ms
BNC Output Trigger - Output Highc
2.5 V
(1 kΩ)
3.3 V
(1.95 kΩ)
5.0 V
(Hi Z)
BNC Output Trigger - Output Lowc
0.0 V
0.0 V
1.0 V
Power (DC Input, 1 A)
11.4 VDC
12 VDC
12.6 VDC
Computer Control Connections
D-Sub Female
USB 2.0 Mini-B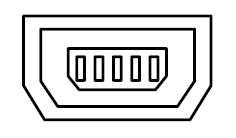 6' (1.83 m) Long Type A to Mini-B Cable Included
BNC Input*/Output Trigger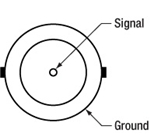 *5.3 V Max Input
Pin
Connection
Pin
Connection
1
N.C.
6
N.C.
2
TR2 (From Housing)
7
Connected to Pin 8
3
RX2 (To Housing)
8
Connected to Pin 7
4
N.C.
9
N.C.
5
Signal Ground
Software for the Motorized Filter Wheel Family
Below are links to the latest versions of the software and firmware for the FW102C Series and FW212C Series Motorized Filter Wheels. The software download page also offers an SDK manual and sample code for interfacing with the FWxx2C filter wheels using LabVIEW™ and Visual C++. Please see the Programming Reference tab on the software download page for more information and download links.
Software
Version 5.0.0 (January 20, 2021)
This package installs the filter wheel software and GUI. The software is compatible with Windows 7 (32-bit and 64-bit) and Windows 10 (32-bit and 64-bit)

OR