Mounted N-BK7 Bi-Concave Lenses, Uncoated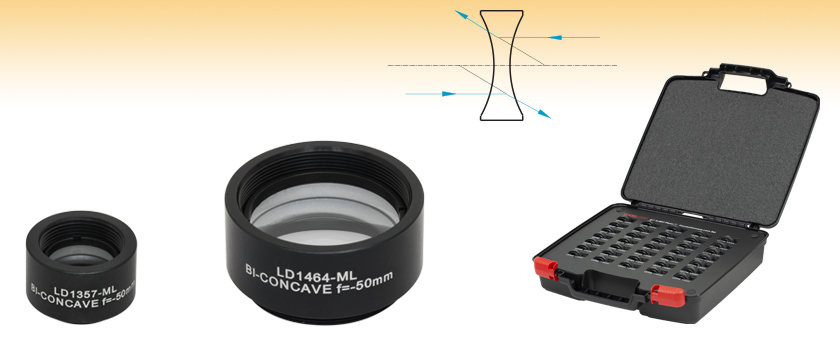 LD1464-ML
(Ø1")
LD1357-ML
(Ø1/2")
Negative Focal Length
Zemax Files Available
Ø1/2" or Ø1" Optics in SM-Threaded Mounts
These Lenses are Also Available in the LSB04 Kit

Please Wait
N-BK7 Bi-Concave Lenses
Lens Shape
Bi-Concave
Material
N-BK7a
Wavelength Rangeb
350 nm - 2.0 μm
Design Wavelength
633 nm
Index of Refraction
(at Design Wavelength)
1.515
Surface Quality
40-20 Scratch-Dig
Spherical Surf ace Powerc
(Concave Side)
3λ/2
Surface Irregularity
(Peak to Valley)
λ/4
Diameter Tolerance
+0.0/-0.1 mm
Thickness Tolerance
±0.1 mm
Centration
≤3 arcmin
Clear Aperture
Ø1/2" Lenses: >Ø11.0 mm
Ø1" Lenses: >Ø22.86 mm
Focal Length Tolerance
±1%
Click Link for Detailed Specifications on the Substrate
Custom Coatings are also available. Please contact our technical support staff for a quote.
Much like surface flatness for flat optics, spherical surface power is a measure of the deviation between the surface of the curved optic and a calibrated reference gauge, typically for a 633 nm source, unless otherwise stated. This specification is also commonly referred to as surface fit.
Limited by the antireflection coating.

Zemax Files
Click on the red Document icon next to the item numbers below to access the Zemax file download. Our entire Zemax Catalog is also available.
Features
Material: N-BK7
Uncoated N-BK7 Wavelength Range: 350 nm - 2.0 μm
Focal Lengths from -50.0 mm to -100.0 mm Available
Mounted in SM-Compatible Lens Cells
Spherical Surface Irregularity: λ/4
Thorlabs offers Bi-Concave lenses fabricated from an N-BK7 substrate. N-BK7 is one of the most common types of optical glass used for high quality optical components. It is typically chosen whenever the additional benefits of UV fused silica (i.e., good transmission further into the UV and a lower coefficient of thermal expansion) are not necessary. Since the Abbe Number of N-SF11 (25.76) is lower than that for N-BK7 (64.17), lenses fabricated from N-SF11 will exhibit higher dispersion than those fabricated from N-BK7.
These Ø1/2" and Ø1" lenses are mounted in SM05- (0.535"-40) and SM1- (1.035"-40) compatible mounts, respectively, for compatibility with our line of SM-threaded lens tubes.
Although uncoated lenses are highlighted on this page, these N-BK7 bi-concave lenses are also available with one of three antireflective coatings (-A, -B, or -C), which reduce the amount of light reflected from each surface of the lens over the specified wavelength range. Links to each of these pages can be found in the table below. Please see the Graphs tab for detailed coating curve information. These lenses are also available unmounted.
Bi-concave lenses have a negative focal length and are best used to diverge a converging beam. Similar to a plano-concave lens, a bi-concave lens can diverge a collimated beam to a virtual focus like in a Galilean-type beam expander.
Lens kits with bi-concave lenses made from N-BK7 are available.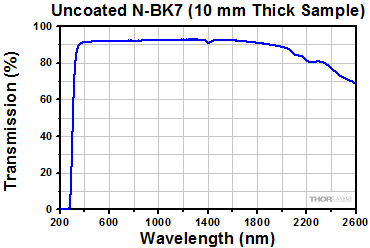 Click to Enlarge
Click
Here
for Raw Data
Above is the transmission curve for N-BK7, a RoHS-compliant form of BK7. Total Transmission is shown for a 10 mm thick, uncoated sample and includes surface reflections.
---
The lenses sold on this page are also available with broadband antireflective coatings, the reflectance traces of which are shown in the graph below.
These high-performance multilayer AR coatings have an average reflectance of less than 0.5% (per surface) across the specified wavelength ranges and provide good performance for angles of incidence (AOI) between 0° and 30° (0.5 NA). The plot shown below indicates the performance of the standard coatings in this family as a function of wavelength. Broadband coatings have a typical absorption of 0.25%, which is not shown in the reflectance plots.

Posted Comments:
No Comments Posted

Item #
Optic Diameter
Focal Lengtha
Diopter

b

Radius of Curvature
Center
Thickness
Edge Thickness

c

Back Focal Lengtha,

d,e

Working Distance 1a
Working Distance 2a
Housing
Reference
Drawing

LD1357-ML

1/2"
-50.0 mm
-20.0
-52.1 mm
3.5 mm
4.3 mm
-51.4 mm
-42.3 mm
-44.4 mm
SM05-Threaded
Mount
The focal length tolerance is ±1%. The back focal length and working distance values here are referenced to the design focal length.
Reciprocal of the Focal Length in Meters
Edge Thickness Given Before 0.2 mm at 45° Typical Chamfer
Measured at the Design Wavelength, 633 nm
Specified for Unmounted Lens

Item #
Optic Diameter
Focal Lengtha
Diopter

b

Radius of Curvature
Center
Thickness
Edge Thickness

c

Back Focal Length

a,d,e

Working Distance 1a
Working Distance 2a
Housing
Reference
Drawing

LD1464-ML

1"
-50.0 mm
-20.0
-52.0 mm
3.0 mm
6.1 mm
-51.8 mm
-40.9 mm
-42.6 mm
SM1-Threaded
Mount

LD1170-ML

1"
-75.0 mm
-13.3
-77.9 mm
3.5 mm
5.6 mm
-77.1 mm
-66.2 mm
-67.7 mm

LD1613-ML

1"
-100.0 mm
-10.0
-103.7 mm
4.0 mm
5.6 mm
-102.1 mm
-91.2 mm
-92.7 mm
The focal length tolerance is ±1%. The back focal length and working distance values here are referenced to the design focal length.
Reciprocal of the Focal Length in Meters
Edge Thickness Given Before 0.2 mm at 45° Typical Chamfer
Measured at the Design Wavelength, 633 nm
Specified for Unmounted Lens