Key Specificationsa
Adjustment Range
Pitch: ±2.5°
Yaw: ±4.0°
Minimum Achievable
Incremental Movement
Pitch: 7.13 arcsec
Yaw: 15.71 arcsec
Bidirectional Repeatability
Pitch: 27.85 arcsec
Yaw: 4.75 arcsec
Crosstalk
<0.05° (180 arcsec)
Maximum Horizontal
Load Capacityb
2.0 kg (4.40 lbs)
Maximum Vertical
Load Capacityc
Load Distance
from Top Platform
Max Load
30 mm (1.18")
1.8 kg (4.0 lbs)
50 mm (1.97")
1.1 kg (2.4 lbs)
80 mm (3.15")
0.7 kg (1.5 lbs)
Deck Height
25 mm (0.98")
Bushing Diameter
9.5 mm (3/8")
Included Drives
Z812B DC Servo Motors (Qty. 2)

Click to Enlarge
K-Cube™ DC Servo Motor Controller (Two Required)
Features
Motorized Pitch and Yaw Adjustment via Included DC Servo Actuators
1/4"-20 (M6) Tapped Holes with 1.00" (25.0 mm) Spacing
Add Rotational Degrees of Freedom to Linear Stages
25.0 mm (0.98") Deck Height
Black-Anodized Aluminum Construction
This Motorized Pitch and Yaw Platform provides ±2.5° of adjustment in pitch and ±4.0° in yaw. It is designed for use with loads up to 2.0 kg (4.40 lbs), such as lasers, cameras, and 3-axis stages. The actual maximum load will depend on the positioning of the load on the platform (see the table to the right or the Specs tab for more details). The 112.0 mm x 115.0 mm (4.41" x 4.53") top platform is equipped with an array of 1/4"-20 (M6) threaded mounting holes on 1" (25 mm) centers.
The base of the pitch and yaw platform is provided with eight through holes for attachment to metric or imperial optical tables and breadboards. The through holes allow the tapped holes on the unit to be in line with the optical table hole pattern or midway off the optical table hole pattern. The unit can also be secured at any arbitrary position by using two CL6 table clamps (sold separately).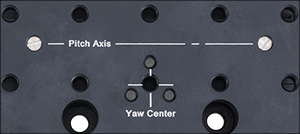 Click to Enlarge
Engravings on the platform indicate the pitch axis and yaw center to help minimize crosstalk.
Included and Compatible Actuators
The two included Z812B DC servo actuators feature a 0.5 m
(1.6') cable length. They provide a minimum achievable incremental movement of 7.13 arcseconds in pitch and 15.71 arcseconds in yaw. The actuators attach to the stage using a flexure clamp that tightens around the Ø9.5 mm (Ø3/8") barrel. If desired, the Z812B actuator can be replaced by any manual or motorized 13 mm (0.47") actuator that includes a Ø9.5 mm (Ø3/8") barrel, including stepper motor actuators and manual micrometers.
Controller Options
Thorlabs recommends using two KDC101 T-Cube™ Motor Controllers, available below. Each KDC101 provides control for a single axis, with or without a PC. It is compatible with Thorlabs' APT™ software, which supplies out-of-the-box stage control from a PC and enables support for common programming interfaces like LabVIEW, LabWindows, and ActiveX. A USB cable is included with each KDC101. For more information or to download our APT™ software, please see the APT Software and APT Tutorials tabs.
PY004Z8(/M) Specifications
Specification
Value
Pitch and Yaw Adjustment
Adjustment Range
Pitch: ±2.5°
Yaw: ±4.0°
Minimum Achievable
Incremental Movement
Pitch: 7.13 arcsec
Yaw: 15.71 arcsec
Bidirectional Repeatability
Pitch: 27.84 arcsec
Yaw: 4.74 arcsec
Maximum Velocity
Pitch: 1781 arcsec/s
Yaw: 3142 arcsec/s
Maximum Acceleration
Pitch: 1781 arcsec/s2
Yaw: 3142 arcsec/s2
Crosstalk
<0.05° (180 arcsec)
Stage
Maximum Horizontal Load Capacitya
2.0 kg (4.40 lbs)
Maximum Vertical Load Capacityb
Load Distance
from Top Platform
Max Load
30 mm (1.18")
1.8 kg (4.0 lbs)
50 mm (1.97")
1.1 kg (2.4 lbs)
80 mm (3.15")
0.7 kg (1.5 lbs)
Deck Height
25 mm (0.98")
Bushing Diameter
9.5 mm (3/8")
Body Construction
Black-Anodized Aluminum
Actuator
Included Drive
Z812B
Motor Type
DC Servo Motor
Backlash
<8 µm
Phase to Phase Resistance
33.0 Ω (Max)
Phase to Phase Inductance
0.6 mH (Max)
Calculated Minimum Achievable Incremental Movement
0.05 µm
Operating Temperature Range
41° to 104° F
(5° to 40° C)
Cable Length
0.5 m (1.6')
Connector
D-Type Male
Compatible Controller
KDC101
Physical
Dimensions (L x W x H)c
9.10" x 4.53" x 0.98"
(231.0 mm x 115.0 mm x 25.0 mm)
Weight
0.87 kg (1.92 lbs)
How to Calculate the Linear Displacement per Encoder Count
For the Z812B, there are 512 encoder counts per revolution of the motor. The output shaft of the motor goes into a 67:1 planetary gear head. This requires the motor to rotate 67 times to rotate the 1.0 mm pitch lead screw one revolution. The end result is the lead screw advances by 1.0 mm.
The linear displacement of the actuator per encoder count is given by
512 x 67 = 34,304 encoder counts per revolution of the lead screw,
whereas the linear displacement of the lead screw per encoder count is given by
1.0 mm / 34,304 counts = 2.9 x 10-5 mm (29 nm).
Horizontal Load Capacity Diagram
Diagram showing the two areas where the maximum load capacity
will change on the PY004Z8(/M)
Z812B Connector Pin Out
D-Type Male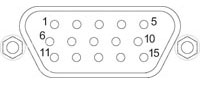 | Pin | Description | Pin | Description |
| --- | --- | --- | --- |
| 1 | Ground (Limit and Vcc) | 8 | Reserved for Future Use |
| 2 | Forward Limit | 9 | Ident Resistor |
| 3 | Reverse Limit | 10 | Vcc (5 V DC) |
| 4 | Reserved For Future Use | 11 | Encoder Channel A |
| 5 | Motor (-) | 12 | Reserved for Future Use |
| 6 | Reserved For Future Use | 13 | Encoder Channel B |
| 7 | Motor (+) | 14, 15 | Reserved for Future Use |
The APT™ (Advanced Positioning Technology) family covers a wide range of motion controllers ranging from small, low-powered, single-channel drivers (such as the T-Cubes) to high-power, multi-channel, modular 19" rack nanopositioning systems (the APT Rack System).
All controllers in the APT family share a common software platform, the 'APT System Software', which is available on our APT software download page. A support package, containing a wealth of information on using and programming these Thorlabs products is also available.
By providing this common software platform, Thorlabs has ensured that users can easily mix and match any of the APT controllers in a single application, while only having to learn a single set of software tools. In this way, it is perfectly feasible to combine any of the controllers from the low-powered, single-axis to the high-powered, multi-axis systems and control all from a single, PC-based unified software interface.
The APT System Software allows two methods of usage: graphical user interface (GUI) utilities for direct interaction and control of the controllers 'out of the box', and a set of programming interfaces that allow custom-integrated positioning and alignment solutions to be easily programmed in the development language of choice.
A range of video tutorials are available to help explain our APT system software. These tutorials provide an overview of the software and the APT Config utility. Additionally, a tutorial video is available to explain how to select simulator mode within the software, which allows the user to experiment with the software without a controller connected. Please select the APT Tutorials tab above to view these videos, which are also available on the software cd included with the controllers.
Software
APT Version 3.21.4
Includes a GUI for control of Thorlabs' APT™ system controllers, as well as a wealth of support information in the form of handbooks, help files, tutorial videos, and FAQs.
Also Available: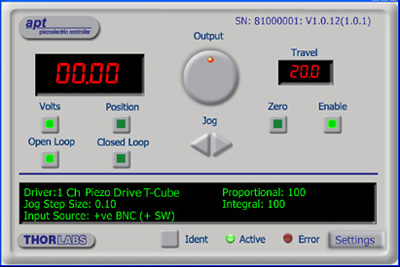 APT GUI Screen
These videos illustrate some of the basics of using the APT System Software from both a non-programming and a programming point of view. There are videos that illustrate usage of the supplied APT utilities that allow immediate control of the APT controllers out of the box. There are also a number of videos that explain the basics of programming custom software applications using Visual Basic, LabView and Visual C++. Watch the videos now to see what we mean.
To further assist programmers, a guide to programming the APT software in LabView is also available.