Features
Two Modular Units for Preparing and Splicing Fibers
FPC200 Fiber Preparation Station:

Stripping
Cleaning
Flat Cleaving

FSX2000PM Fusion Splicing Station:
Accepts SM, MM, or PM Fiber with Cladding Diameters from 80 µm to 200 µm
Thorlabs' Vytran® Stand-Alone Preparation and Fusion Splicing Stations are designed to allow preparation and splicing operations to be performed simultaneously for increased throughput or in different locations of the facility. Offering similar performance to our FFS2000 all-in-one workstation, the FPC200 preparation station and FSX2000PM Fusion Splicing Station accept SM, MM, or PM fiber with cladding diameters from 80 µm to 200 µm, when outfitted with the appropriate components. This includes standard Ø80 µm cladding / Ø180 µm coating and Ø125 µm cladding / Ø250 µm coating fibers.
To build a complete fiber preparation and splicing system, you must purchase both the FPC200 and FSX2000PM base units, as well as other components that depend upon the fibers' cladding and coating diameters. For more information on how to make your selections, please see the Decisions tab.
Thorlabs also offers a line of stand-alone recoaters and proof testing systems that can be utilized to reapply a coating layer to the spliced region and to test the strength of the fiber splice.
Questions? We're All Ears!
To build a complete fiber processing system, you will need to purchase base unit(s) plus additional components that are dependent upon the size of the fiber being processed. Upon receipt of your order, we will review it for completeness and accuracy and contact you if there appear to be any discrepancies. All inserts are installed and factory-aligned within the base unit prior to shipping.
If you would like assistance in choosing the correct components or have questions about component compatibility, please contact tech support. We're more than happy to answer your questions any time before or after purchase.
Item #
FPC200 (Fiber Preparation Station)
Accepted Fiber Cladding Diameters
80 to 200 µm
Fiber Type
SM, MM, or PM
Thermo-Mechanical Stripper
Accepted Coating Materials
Single or Dual Acrylate
Maximum Stripping Temperature
~130 °F (54 °C)
Ultrasonic Cleaner
Accepted Cleaning Solvents
Acetone or Isopropyl Alcohol
Cleaning Time
1 to 120 s
Cleaver
Cleave Method
Tension and Scribe
Cleave Type
Flat (0°)
Maximum Tensiona
2.45 N (0.55 lbs)
General
Operating Temperature
0 to 40 °C (Non-Condensing)
Storage Temperature
-20 to 70 °C
Power
90 to 250 VAC (47 - 63 Hz)
Size (L x W x H)
10.12" x 7" x 6.25" (257 mm x 178 mm x 158 mm)
Weight
11 lbs (5 kg)
Item #
FSX2000PM (Fiber Fusion Splicing Station)
Splicing Specifications
Fusion Method
Filament Fusion
Fiber Type
SM, PM, or MM
Fiber Cladding Diameter
80 to 200 µm
Filament Power
40 W (Max)
Alignment Method
Fully Automated by True Core ImagingTM or External Feedback
XY Fiber Positioning Resolution
Stepper Motor Controlled with 0.01 µm Resolution
Z Fiber Feed Resolution
Stepper Motor Controlled with 0.125 µm Resolution
Insertion Loss (SMF to SMF)
0.02 dB (Typical)
Tensile Strength
>250 kpsi (Typical)
PM Rotation Specifications
Rotation Alignment
Fully Automated by End-View Alignment Technology or External Feedback
Rotation Resolution
Stepper Motor Controller with 0.01° Resolution
Rotation Travel
190°
Extinction Ratio
-35 dB (Typical)
General Specifications
Operating Temperature
0 °C to 40 °C (Non-Condensing)
Storage Temperature
-20 °C to 70 °C
Size (L x W x H)
12" x 9" x 10.5" (304 mm x 229 mm x 267 mm)
Weight
25.5 lbs (11.6 kg)
Power
90 to 250 VAC (47 - 63 Hz)
Operating System
Integrated Windows® 7 PC with Software GUI Installed
The FPC200 and FSX2000PM base units include all of the accessories that do not depend upon the particular fibers being processed. Required components that depend upon the fiber size or type must be purchased separately. We have arranged this page in a way that will help you ensure that you have all the required components. Simply scroll down the page; the red headings will indicate whether an item must be purchased and for which system (FPC200 preparation station or FSX2000PM splicer).
If you purchase either an FSX2000PM or FPC200 and do not have one or more of the required components in your order, we will contact you to help you complete the purchase. If you have any pre- or post-sale questions, please contact tech support.
The FSX2000PM is designed to directly accept fibers prepared for splicing using the FPC200. If you are planning to utilize these stand-alone units in tandem, we suggest purchasing two sets of FHBR1 fiber holding blocks and inserts so that the preparation and fusion splicing processes can be performed simultaneously by different operators.
The flow chart below details the decisions that must be made and the products that must be purchased to build a complete system. Click on the blue links to jump to the specific product grouping for more information.
Questions to Ask When Choosing Components
Thorlabs Vytran USA
Morganville, New Jersey, USA
1400 Campus Dr
Morganville, NJ 07751
USA
Appointment Scheduling and Customer Support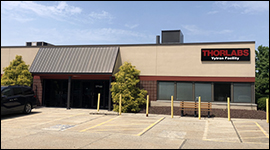 Click to Enlarge

Product Demonstrations
Thorlabs has demonstration facilitates for the Vytran® fiber glass processing systems offered on this page within our Morganville, New Jersey office. We invite you to schedule a visit to see these products in operation and to discuss the various options with a fiber processing specialist. Please schedule a demonstration by contacting technical support. We welcome the opportunity for personal interaction during your visit!