Housing and Connector Compatibility
Item #
Component
Groupsa
Dimensions
Compatible Housing
EEAPB1
None
2.30" x 0.99"
(58.4 mm x 25.1 mm)
EEA11 (with Blank End Plates)
EEA14 (with BNC Connectors)
EEA17 (with SMA Connectors)
EEAPCB1
Four
EEB33PCB1
Sixb
3.23" x 2.00"
(82.0 mm x 50.8 mm)
EEB3311 (with Blank End Plates)c
EEB40PCB1
3.90" x 2.00"
(99.1 mm x 50.8 mm)
EEB4011 (with Blank End Plates)c

Click to Enlarge
The EEAPB1 does not have component groups or labels, allowing the user to design a fully customized electronic circuit.
Features
Blank Printed Circuit Boards (PCB) for Building Custom Electrical Circuits
Designed to Fit Inside Thorlabs' Compact Electronics Housings
PCBs Available in Tripad Layout or with Component Groups in Series
PCBs with Component Groups have Five Footprint Sizes in Parallel

Wirewound
5 mm × 5 mm
SMT1210
SMT1206
SMT0805

PCBs with Six Component Groups Also Offer Floating Positions for Larger Inductors
Thorlabs' Customizable Printed Circuit Boards (PCB) allow users to create their own passive electrical systems on boards designed to conveniently fit into our Extruded Aluminum Enclosures (see image above). The large grounding bars at the top and bottom of the board ensure a proper electrical connection with the enclosure and help to shield the circuit from external noise.
The EEAPB1 is a perforated circuit board for a custom electrical circuit of the user's own design. The blank circuit board has an array of Ø1 mm through holes with 0.1" spacing in a tripad layout, as shown in the image to the right; this standard grid spacing is ideal for common through-hole electronic components and is compatible with common IC packages. The other PCBs below contain multiple component groups in series with each other, with each component group consisting of 5 elements in parallel. For detailed electrical diagrams, please refer to the PCB Layouts tab. The footprints are designed to accept resistors (R), capacitors (C), or inductors (L). A variety of footprint sizes are made available in each group to accommodate several different types and sizes of electrical elements, including: wirewound, 5 mm × 5 mm, SMT1210, SMT1206, and SMT0805. Additionally, the board is compatible with edge mount BNC and SMA connectors. Please refer to the compatibility table above for more details. These PCBs are constructed from FR4 130tg and feature gold-immersed electrodes.
These printed circuit boards are ideal for creating simple, passive electrical circuits such as RC or LC filters. By incorporating multiple component groups, these PCBs are capable of supporting both 1st and 2nd order low-, high-, and bandpass filters, such as those demonstrated below. The PCBs with six component groups can also support 3rd order designs. The examples below are not an exhaustive list of compatible circuits that one could build with this board. The exact design and elements are application dependent.
For applications that require very steep attenuation of stopband frequencies, Thorlabs also offers 5th order elliptical low-pass and 5th or 6th order elliptical high-pass filters.
Example Passive Filter Designs

EEAPB1 Layout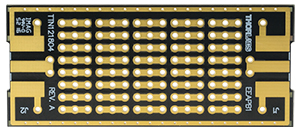 Click to Enlarge
The EEAPB1 has a tripad design for mounting through-hole-compatible components. The holes are Ø1 mm and spaced 0.1" apart.
EEAPCB1 Layout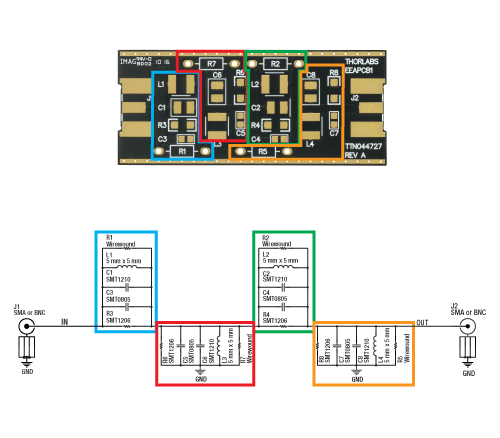 Click to Enlarge
The electrical schematic for the EEAPCB1. The four component groups are called out in the colored boxes on both the schematic and photo.
EEB33PCB1 and EEB40PCB1 Layout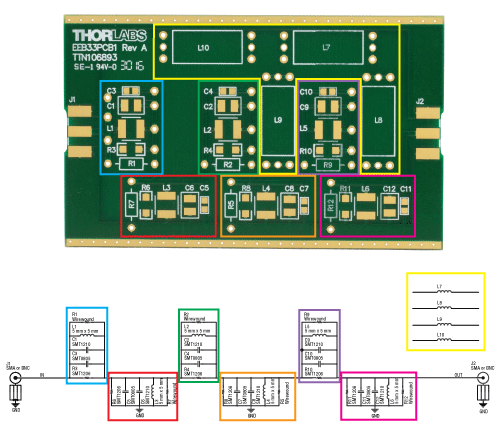 Click to Enlarge
The electrical schematic for the EEB33PCB1. The layout of the EEB40PCB1 is identical. The six component groups are called out in the colored boxes on both the schematic and photo. The floating inductor locations marked L7 through L10 are provided for larger inductors.