Polarizing Prism Mounts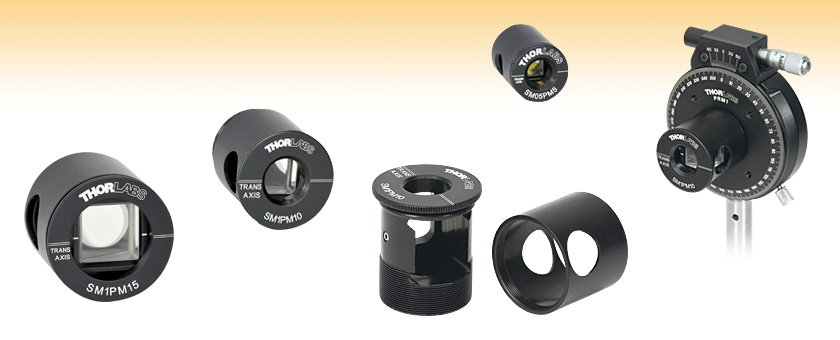 Full Clear Aperture on All 4 Ports
Rotating Cover Blocks Unwanted Beams
Directly Mounts to SM1 & SM05 Series Lens Tubes
SM1PM15
(GL15 Prism Sold Separately)
SM1PM10
(GL10 Prism
Sold Separately)
SM05PM5
(GL5 Prism
Sold Separately)
PRM1GL10
(GL10 Prism
Sold Separately)
SM1PM10 Disassembled

Please Wait
Features
Full Clear Aperture on All Four Ports
Rotating Cover Blocks Unwanted Beams
Prisms Sold Separately
These Prism Mounts are designed to accommodate our Glan Laser, Glan Taylor, and Rutile Polarizing Prisms. To place the prism in the mount, unscrew the rotating cover and secure the prism in place by tightening the setscrew on the side. The rotating cover also allows the user to block the two side ports when they are not required.
The SM1PM10 and SM1PM15 housings feature external SM1(1.035"-40) threading, while the SM05PM5 housing features external SM05 (0.535"-40) threading. These threadings make the prism mounts directly compatible with our manual, motorized, high precision, or cage system rotation mounts.
The PRM05GL5 and PRM1GL10 are bundled packages that include either our SM05PM5 or SM1PM10 prism mount and a 1/2" (PRM05) or 1" (PRM1) High Precision Rotation Mount, respectively.