Item #
DTS50
DTS50/M
Travel Range
2"
50 mm
Mounting Holes
1/4"-20 Taps
(17 Places)
M6 x 1.0 Taps
(17 Places)
Horizontal Load Capacity
88 lbs (40 kg)
Vertical Load Capacity
22 lbs (10 kg)
Travel per Revolution
0.04" (1.0 mm)
Top Surface Parallelism
1200 µrad
Angular Deviation
±300 µrad
Straightness
Horizontal: ±15.00 µm
Vertical: ±7.00 µm
Stiffness
Pitch: 150.00 µrad / N·m
Yaw: 460.00 µrad / N·m
Weight
0.68 lbs (0.31 kg)
Dimensions
(Including Actuator)
2.68" x 5.19" x 0.79"
(68.0 mm x 131.8 mm x 20.0 mm)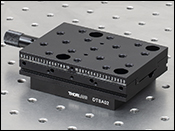 Click for Details
The DTSA02 Adapter Plate increases the stage height to 30 mm.

Click to Enlarge
DTS50 Stages Stacked to Create a 2-Axis Assembly
Features
2" (50 mm) Travel
Array of 17 1/4"-20 (M6 x 1.0) Tapped Holes
XYZ Configurable with Dowel Pins for Orthogonality
Mounted to Optical Table using 1/4" (M6) Counterbores or CL6 Table Clamps (Sold Separately)
The DTS50(/M) dovetail translation stage is a compact positioner for use in general purpose motion control applications. It provides a travel range of 2" (50 mm) using a precision-rolled M6 x 1.0 mm pitch leadscrew for smooth linear positioning along the entire range of travel. The stage is advanced 0.04" (1.0 mm) for each full revolution of the leadscrew. The top surface of the DTS50(/M) stage is equipped with an array of seventeen 1/4"-20 (M6 x 1.0) tapped holes to maximize the mounting options for moving components. This moving platform is lockable via a side-located screw in a locking bracket to guard against accidental movement. A scale with 1/40" (1 mm) graduations is etched onto each side of the moving platform, with the edge of the locking bracket providing a reference for relative positioning.
Mounting Options
The stage can be bolted directly to the optical table using four counterbored 1/4" (M6) holes that are accessed via clearance holes in the top plate when the stage is translated to the proper position. Alternatively, it can be mounted using four CL6 clamps (two on each side) secured to the relief cut along the bottom of the stage, as shown in the picture at the top of the page. The DTSA01 and DTSA02 riser plates have four through holes and are designed to be placed between a mounting surface and the stage to increase the height of the system, as shown in the image above. The resulting stage height is 25 mm if the DTSA01 is in place or 30 mm if the DTSA02 is used.
Multi-Axis Configurations
The modular design of the DTS50(/M) allows multiple stages to be assembled in 2-axis and 3-axis configurations. Two dowel pins are included with the purchase of each stage, and these can be used to ensure that orthogonality between the various translation directions is maintained during construction. In order to construct an XY configuration, two stages can be directly connected. For movement in the Z direction, the DTSA03(/M) angle bracket is required to mount a stage vertically. The bracket can be attached to a horizontal stage or optical table using four 1/4" (M6) counterbores and a stage can then be mounted vertically using four of eight 1/4"-20 (M6 x 1.0) tapped holes on the side of the bracket.