Power Strips for Optical Table Workstations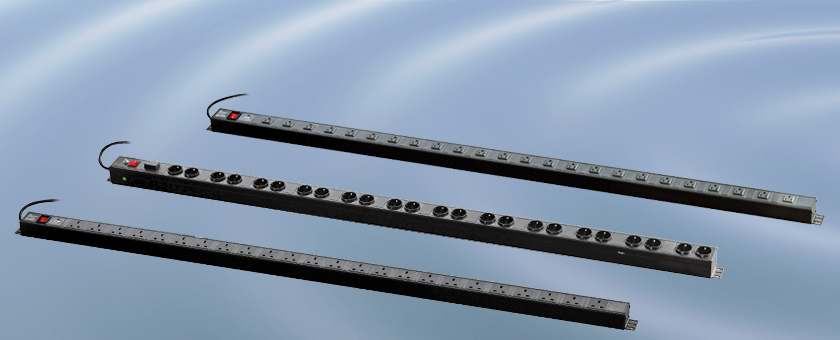 HDPS24-US
US-Style Outlet, 125 VAC
HDPS24-EU
EU-Style Outlet, 230 VAC
HDPS24-UK
UK-Style Outlet, 240 VAC
24-Outlet Power Strips
US, EU, or UK Outlets
Attach to the Overhead Shelf Unit of the Optical Table Workstation

Please Wait
Item #
HDPS24-US
HDPS24-EU
HDPS24-UK
Electrical Specifications
Voltage Rating
125 VAC
220 to 250 VAC
250 VAC
Current Rating
15 A
16 A
13 A
Frequency
50/60 Hz
50 Hz
60 Hz
Power Rating
1800 W
3680 W
3120 W
Full Surge Protection
3 kA for 1 µs
1.75 kA for 8/20 µs
EMI / RFI Filtering
Yes
CE Approved
Yes
Physical Specifications
Cord Length
9.83' (3.0 m)
3 m (9.8')
Cord Gauge
1.5 mm2 (16 AWG)
Number of Outlets
24
Body Material
Aluminum
Dimensions
(L x W x H)
(68.27" x 2.46" x 1.77")
1734.0 x 62.5 x 45.0 mm
1717 x 67.5 x 58.0 mm
(67.6" x 2.66" x 2.28")
Attention:
These power strips are designed for indoor use only. These devices should not be installed in wet or damp areas exposed to moisture. They are not recommended for use with aquariums. We do not recommend plugging one HDPS24 into another HDPS24 or similar surge-protecting device.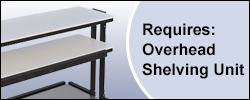 Features
Attaches Underneath or to the Front of the Overhead Shelf Unit
Frame (Shown in the Photo Below)
24-Outlet, Surge-Protected Power Strips
Three Outlet Types: US, EU, or UK
Electrically Grounded Outlets
These 24-outlet Power Strips are available with US-, EU-, or UK-style outlets. Each is designed for indoor use and is housed within an impact-resistant, sturdy metal case with built-in circuit breaker. They can be mounted to the underside of the shelf or to the side edge, as shown below. All power strips are fitted with clearance holes for standard 1/4"-20 or M6 cap screws. The units are turned on and off with a rocker switch.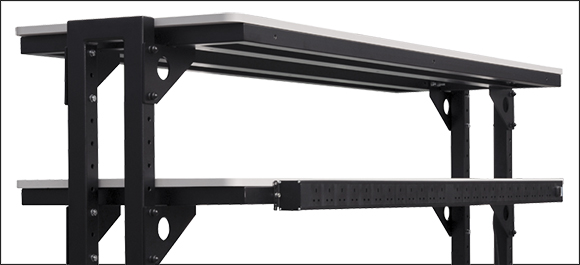 The HDPS24-UK 24-Outlet Power Strip is shown installed on the front of the overhead shelf of a table frame. It can also be installed to the underside of the shelf.
Posted Comments:
No Comments Posted