Pitch-Adjustable Kinematic Adapter for Fixed Optic Mounts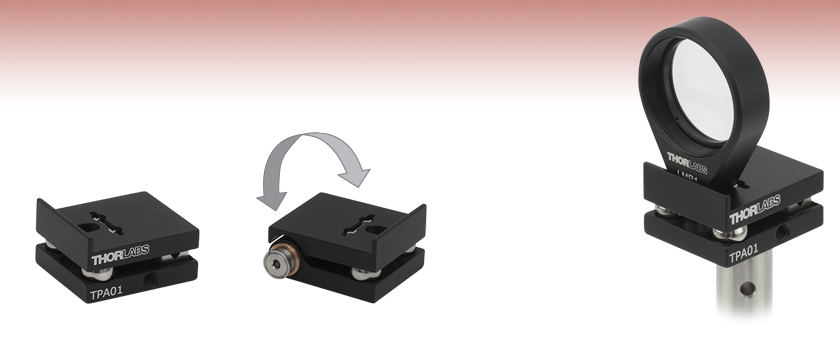 Kinematic Adapter Provides ±4° of One Dimensional Adjustment
Vertical or Horizontal Mounting Options
Designed for Use with Fixed Optic Mounts
The TPA01 Mounted Horizontally and Holding an LMR1 Fixed Lens Mount (Post, Lens Mount, and Lens not Included)
TPA01

Please Wait

Click to Enlarge

TPA01 Mounted Vertically on a Ø1/2" Post to Provide Yaw Adjustment
Features
Pitch Adapter Gives 1-Axis Adjustment for Fixed Mounts
Compatible with All Fixed Mounts with Thickness Between 0.25" to 0.50" (6.4 mm to 12.7 mm)
1/4"-80 Adjuster Provides ±4° Pitch Adjustment
Two 8-32 (M4) Tapped Holes Allow for Vertical and Horizontal Post Mounting
The TPA01(/M) Pitch-Adjustable Kinematic Adapter holds fixed optic mounts (such as the fixed lens and fixed mirror mounts) with thicknesses between 0.25" to 0.50" (6.4 mm to 12.7 mm) that feature an 8-32 (M4) tap. A lip at the front of the adapter acts as a mechanical guide in order to square the mount to the adapter. The two-piece kinematic design allows the user to actuate one axis of a fixed optic holder, making it ideal for beam-leveling or optic centration applications.
A side-located (when horizontally mounted) 1/4"-80 fine pitch adjuster with a 5/64" (2 mm) hex (compatible with the HKTS-5/64 hex adjuster) is used to articulate the platform through its ±4° adjustment. The mount is equipped with a physical stop (F25SC1) on the pitch adjuster to prevent overextension of the mount. An 8-32 (M4) screw (included with the adapter) secures the fixed optic mount to the top platform through a counterbored slot in the underside of the adapter. The TPA01(/M) has 8-32 (M4) taps on the bottom and side of the adapter to permit horizontal (see image above) and vertical (see image to the right) mounting.
Thorlabs also offers the PFM1, which offers pitch-adjustment and a clear-edge for our Ø1" mirrors. For adjustment of pitch and yaw, Thorlabs has a full line of kinematic mounts for mirrors and optics of varying sizes. Additionally, we also offer translation and rotation mounts to control the position and orientation, respectively, of an optic within a setup.
Posted Comments:
No Comments Posted