Power Supplies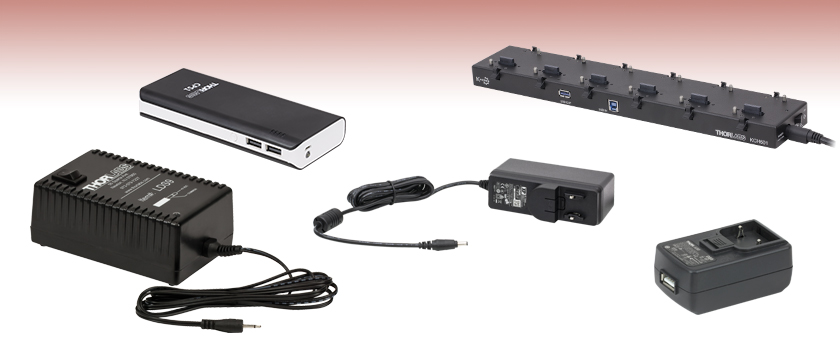 CPS1
5 VDC Battery Pack for CPS Laser Diodes
LDS9
9 VDC Regulated Power Supply
KPS101
15 V Power Supply for One K-Cube or T-Cube
DS5
5 VDC, 2 A Power Supply with USB 2.0 Type-A Port
Output Voltages Ranging from 5 VDC to 15 VDC
Location-Specific Power Cord or Adapter Included
KCH601
USB Controller Hub and Power Supply for Six K-Cubes™ or T-Cubes™

Please Wait
Thorlabs offers a variety of power supplies with output voltages ranging from 5 VDC to 15 VDC.
Power Supply Compatibility
Item #
LDS5
LDS5-EC
CPS1
DS5
LDS9
LDS9-EC
DS12
LDS12B
DS15
KPS101
TPS101
TPS002
KCH301
KCH601
Output Voltage
5 VDC
9 VDC
12 VDC
±12 VDC
15 VDC
5 VDC
±15 VDC / 5 VDC
15 VDC
Maximum Current
330 mA
2 A
220 mA
4 A
250 mA
1.3 A
2.4 A
2.0 A
4 A
10 A
Connector Type
2.5 mm
Phono Plug
2.5 mm Phono Plug & USB
USB Type-A Female
2.5 mm Phono Plug
M8 Connector
LUMBERG RSMV3
Male Connector (3 Pins)
Mini-XLR
Female DC, 3.5 mm OD
8-Pin Mini Din Plug
(2 Places)
26 Way 1.27 mm Pitch,
ERNI Connector (6 Places)
Compatible Products
CPS Laser Modules
DXM20AF,
LCC2415-VIS(/M),
Any Product Requiring 5 V Power via USB
OEM Laser Diode Drivers
PTC1
(PTC1/M)
PDA and PDB Amplified Photodetectors, DET Biased Detectors, PMM Photomultiplier Modules, APD Avalanche Photodetectors, and FSACa
Nanosecond Pulsed Laser Systems
KBD101, KDC101, KIM101, KLS635, KLS1550, KSC101, KST101, LEDD1B, and TIA60
TTC001 and MTDEVALb
KPZ101, KNA-VIS, KNA-IR,
KPA101, and KSG101
All K-Cubes™ and T-Cubes™
For powering the LD1255R Laser Diode Driver and PDAPC Series Photodetectors, we also offer the LD1255-SUPPLY bundle that includes the LDS12B power supply and a cable to connect the power supply to the driver or photodetector.
This previous-generation evaluation board for MTD415xE TEC drivers is no longer offered by Thorlabs.
Posted Comments:
No Comments Posted