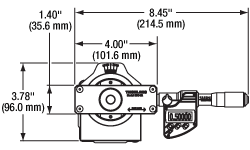 Click to Enlarge
SBC-IR Drawing
Features
Uniform Retardance Over Full Aperture
Continuously Variable Retardance from 0 to 2π
Graduated Rotation Ring and Digital Micrometer Aid Repeatability
45° Detent Index Stops
Options for 365 - 800 nm or 740 - 1650 nm
Applications
Measurement of Unknown Retardances
High-Resolution Ellipsometry
Birefringence Compensation
The Soleil-Babinet Compensator is a continuously variable, zero-order retarder (wave plate) that operates over a broad wavelength range. The classical design of the compensator consists of a long birefringent wedge and a fixed wedge mounted to a compensator plate. The retardance is adjusted by moving the position of the long wedge relative to the short wedge using the included precision digital micrometer. This allows the retardance to vary continuously while maintaining a uniform retardance across the aperture at any given setting.
Crystalline quartz optics are used in both Soleil-Babinet Compensator models. The visible (SBC-VIS) and infrared (SBC-IR) models are designed for the 365 - 800 nm and 740 - 1650 nm spectral ranges, respectively.
Our standard Soleil-Babinet Compensators are uncoated for broad spectral operation. To minimize reflection losses when using the compensator over narrow wavelength ranges, we offer AR-coated versions upon request. Please contact Technical Support for more information on this option.
The optional SBC-COMM offers cables to provide an RS-232 interface to a PC. GUI software and LabVIEW VIs are provided to allow for easy calibration and readout of the retardance of the compensator. A CD with the software is included; the software may also be downloaded from the link on the Software tab.
The included digital micrometer has a Ø3/8" (Ø9.5 mm) mounting barrel and offers 1" (25.4 mm) of travel. To motorize an SBC, a Z825B DC servo motor can be used in place of the standard micrometer. Alternatively, Thorlabs' Liquid Crystal Variable Retarders may be a suitable alternative to a motorized SBC.
The Soleil-Babinet Compensator can be mounted on a post using one of the six #8 (M4) counterbores. These counterbores are arranged to allow for a vertical or horizontal orientation.
Item #
SBC-VIS
SBC-IR
Wavelength Range
365 - 800 nm
740 - 1650 nm
Retardance Adjustment
0 to 2π (Full Wave)
Clear Aperture
Ø10 mm
Beam Deviation
<1 arcmin
Transmitted Wavefront Error
<λ/4
Surface Quality
40-20 Scratch-Dig
Digital Readout Resolution
0.001 mm
Repeatability Valuesa
@ 405 nm: 0.0016 waves
@ 633 nm: 0.001 waves
@ 800 nm: 0.0008 waves
@ 1064 nm: 0.0012 waves
@ 1550 nm: 0.0008 waves
Rotation
360°, Continuous
Rotation Division Scale
1° Increments
Detent Index Stops
Every 45°
Mounting Holes
#8 (M4) Counterbore (6 Places)
Software for the SBC-COMM