Broadband Infrared Tungsten Bulb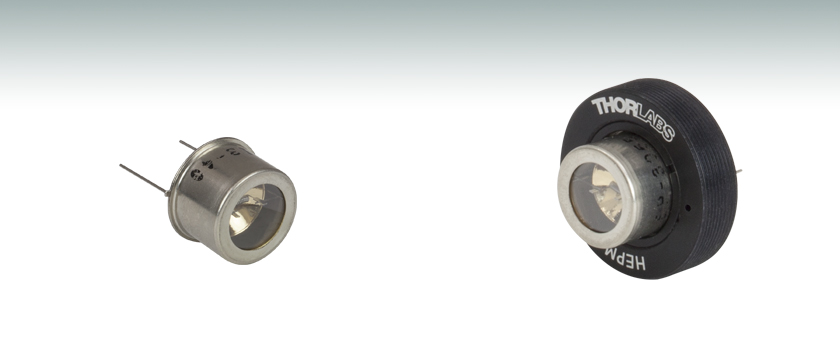 Broadband IR Emission from 450 to 5500 nm
1900 K Color Temperature
TO-8 Can Package
SM1-Threaded Mounting Adapter Available
HEP3965
HEPM
SM1-Threaded Mounting Adapter
(Bulb Sold Separately)

Please Wait
Specifications
Item #
HEP3965
Bulb Type
Tungsten IR
Color Temperature
1900 K
Spectrum
(Click to Enlarge)

Raw Data
Max Voltage
3.5 V
Max Current
2.0 A
Max Power
7.2 W
Max Operating Temperature
100 °C
Lifetime
5,000 Hours
Window Material
Sapphire
Package
TO-8 Can
Features
Broadband Output from 450 to 5500 nm (Click for Spectrum)
1900 K Color Temperature
TO-8 Can Package
Externally SM1-Threaded (1.035"-40) Mounting Adapter Available
The HEP3965 Tungsten Infrared Bulb is a broadband light source with a color temperature of 1900 K and is packaged in a TO-8 can. The bulb is used in Thorlabs' SLS202 Stabilized IR Light Source. It can be driven by a voltage source of up to 3.5 V.
Please note that during operation the bulb generates a large amount of heat and measures must be taken to ensure the package temperature does not rise above 100 °C. For example, the HEPM adapter can be used in conjunction with our HSLT2 heat sink (as shown below) to keep the temperature of the bulb safely below 100 °C. When mounting the bulb in our HEPM Mounting Adapter, an electrically insulating thermal compound, such as Thermalcote 250G, must be used between the bulb and the aluminum adapter body.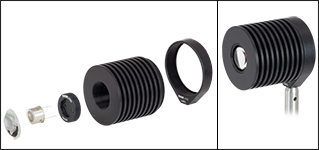 Click to Enlarge

From left to right are shown an uncoated
plano-convex calcium fluoride lens
, an HEP3965 bulb, the HEPM mounting adapter, an
HSLT2
heat sink lens tube, and an
LMR2
(
/M
) fixed optic mount. Electrically insulating thermal compound (not shown) must be used between the bulb and mounting adapter for proper heat dissipation.
The HEPM Mounting Adapter has external SM1 (1.035"-40) threads that enable the HEP3965 bulb to be integrated into our Ø1" Lens Tube Systems and SM1-Threaded Kinematic Mounts. The bulb is held in the HEPM mount using an SM17RR Ø17 mm Retaining Ring (included), which can be tightened using our SPW801 Adjustable Spanner Wrench. The adapter can installed in an SM1-threaded lens tube or mount using the SPW909 or SPW801 Spanner Wrenches.
Note: We strongly recommend wearing gloves when handling the bulb to prevent skin oils from being deposited onto it. If you suspect the bulb is dirty, carefully clean it with alcohol before connecting it to a power supply.