Computer Accessories for ScienceDesk™ Workstations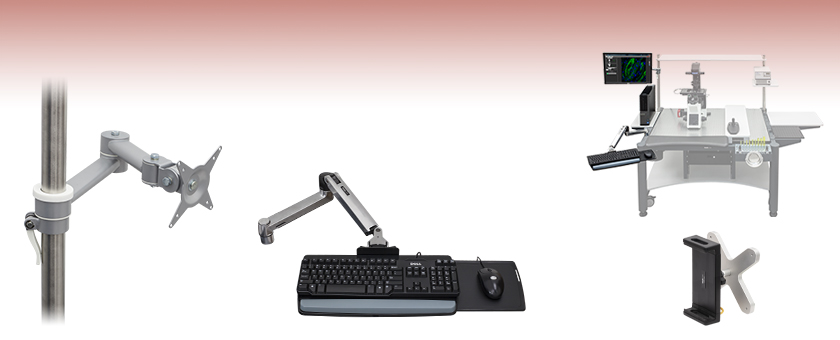 Adjustable LCD Monitor Mount and Tablet Adapter
Articulating Keyboard and Mouse Holder
Shelf Designed to Hold a Computer Tower
PSY121
Monitor Mount
(Post Not Included)
PSY132
Keyboard Holder
(Keyboard and Mouse Not Included)
Application Idea
ScienceDesk Equipped with Multiple Computer Accessories
PSY122
Tablet Adapter for
PSY121 Monitor Mount

Please Wait
Thorlabs currently offers three options for mounting computer accessories around the ScienceDesk™ frame and off of the isolated worksurface. First, a monitor mount can be attached on any of our Ø1.5" mounting posts and allows 360° flexible positioning of an LCD monitor; a tablet adapter (sold separately) can also be attached to this mount. Secondly, our keyboard holder attaches directly to the frame and also provides 360° positioning along with vertical adjustments for comfort. Finally, we offer a computer shelf that provides extra support by overhanging the ScienceDesk frame.
Please Note: These accessories are compatible with our current ScienceDesks (SD Series) and cannot be used with our former generation (PS Series) products sold before March 2009.
Sample ScienceDesk Workstation Configuration
Click on the various ScienceDesk accessories or text in the photo below for more information on that item.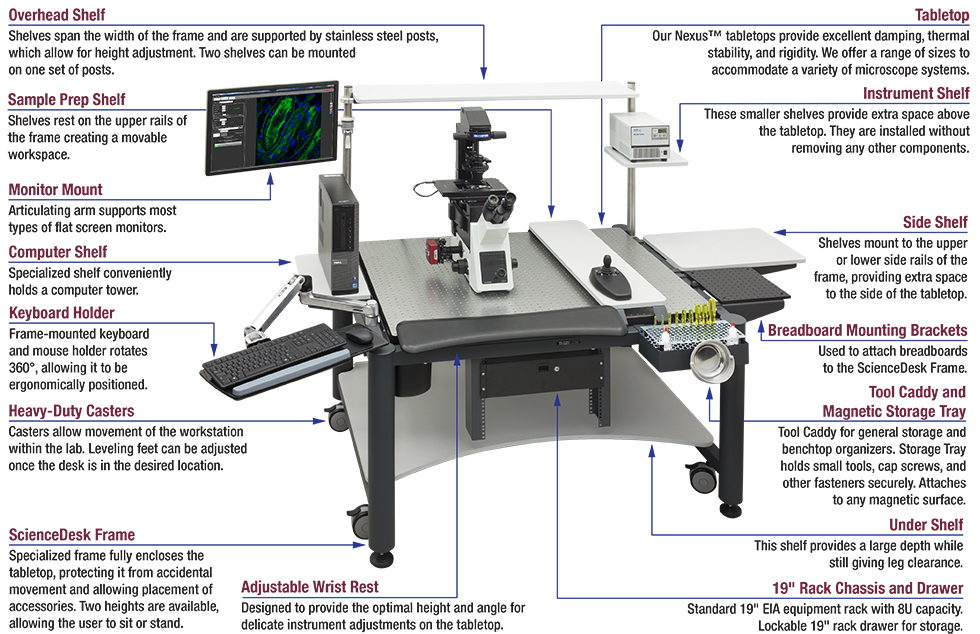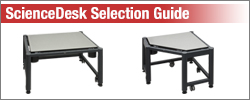 The Following Accessories are Not Shown in the Image Above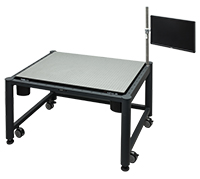 Click to Enlarge
Monitor Mount Attached to a PSY161 Post and Mounted on a ScienceDesk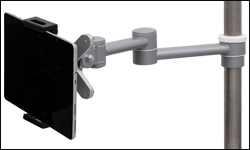 Click to Enlarge
PSY122 Tablet Adapter Attached to
PSY121 Monitor Mount and Ø1.5" Post
PSY121 Monitor Mount:

Compatible with 75 mm x 75 mm (2.95" x 2.95") and 100 mm x 100 mm (3.94" x 3.94") VESA Patterns
10 kg (22 lbs) Max Load Capacity
Mounts to a Ø1.5" Post (Not Included)

PSY122 Tablet Adapter:

Attaches to PSY121 Monitor Mount (Sold Separately)
Spring-Loaded Clamp Fits Tablets or Phones from 5.5" to 8.7" (140 to 220 mm) Wide and ≤0.67" (17 mm) Thick
40° Adjustment Cone with Lockable Ball Joint
The PSY121 Flat Screen Monitor Support Bracket is compatible with 75 mm x 75 mm and 100 mm x 100 mm VESA mounting patterns. These mounting patterns are typically used on small to medium LCD monitor displays. The monitor mount features an articulated arm that allow flexible positioning and has a load capacity of 10 kg (22 lbs).
The PSY122 Tablet Mounting Adapter attaches directly to the PSY121 Monitor Mount (sold separately) and is compatible with tablets from 5.5" to 8.7" (140 to 220 mm) wide and ≤0.67" (17 mm) thick. The tablet is held by a spring-loaded clamp with a yellow strap on each end, designed to aid in pulling the clamp arms apart. The locknut on the back of the holder can be loosened to change the angle of the holder. For Ø1/2" post mounting, we also offer the PSX123 Tablet Mount.
A Ø1.5" post (Item # PSY161 or PSY162) is required to secure the PSY121 mount. Alternatively, a post from an Overhead Shelf/Instrument Shelf or one of our Ø1.5" lab posts could also be used.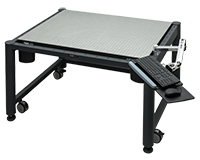 Click to Enlarge
PSY132 Keyboard Holder
Mounted on a ScienceDesk
Articulating Arm Keyboard and Mouse Holder
Includes Wrist Rest
Attaches to ScienceDesk Frame
This Articulating Arm Keyboard and Mouse Holder is the ideal solution to secure most keyboards and mouse pads to the ScienceDesk frame. The arm attaches to the side rails of the frame and provides 360° of horizontal positioning and vertical adjustment. It is an ergonomic, space-saving alternative to storing the keyboard and mouse on the table itself.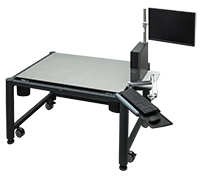 Click to Enlarge
Computer shelf shown holding a tower and mounted on the upper rail of the ScienceDesk Frame with our
monitor mount
and
keyboard arm
.
Strong, Melamine-Faced, MDF Construction
Designed to Hold a Computer Tower
260 mm x 450 mm (10.2" x 17.7")
Maximum Load Capacity: 20 kg (44 lbs)
This Computer Shelf can be ergonomically positioned on the surrounding frame of the ScienceDesk and is ideally suited for supporting a computer. It can be mounted to the upper or lower rails of the ScienceDesk frame and provides a shelf size of 260 mm x 450 mm (10.2" x 17.7").