Ultra-High-Vacuum Fiber Feedthrough CF Flanges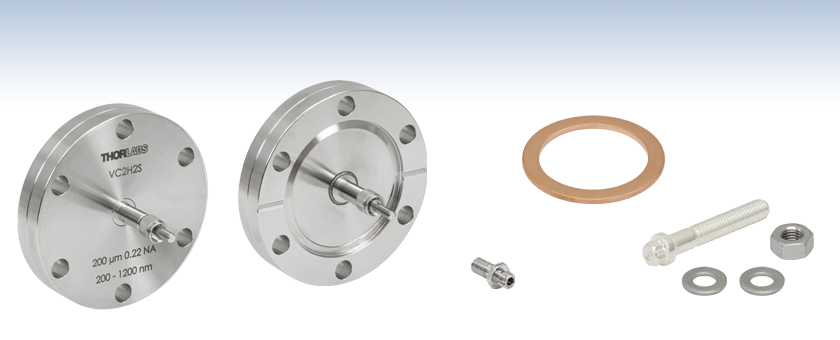 CF Flange Fiber Feedthrough for Ultra-High Vacuum
SMA Terminated on Both Sides
Available for 200 - 1200 nm or 400 - 2400 nm
VC2H2S
CF Flange for
Ø200 µm SMA Fibers
ADASMAV
Vacuum-Compatible Mating Sleeve
VGC10
Copper Gaskets,
10 Pack
Front
Back
VMH6
Flange Mounting Hardware Pack
(6 Bolts, 6 Nuts, & 12 Washers)

Please Wait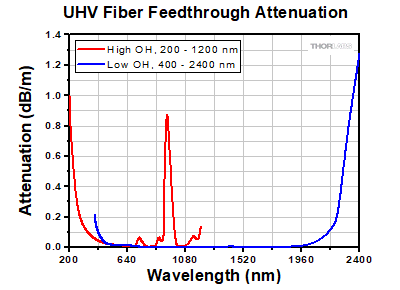 Click to Enlarge

Click for Data

This attenuation data was calculated as a function of wavelength for the fibers used in the UHV fiber feedthrough CF flanges.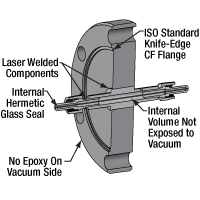 Click to Enlarge
Ultra-High Vacuum Fiber Feedthrough CF Flange Cross-Section
Features
Construction Enables use at Vacuum Levels Down to 1 × 10-10 Torr
Mates to Ø2.75" (DN40) CF Flanges
Hermetically Sealed Multimode Step-Index Fiber

Ø100 µm, Ø200 µm, Ø400 µm, or Ø600 µm Core
High OH (200 - 1200 nm) or Low OH (400 - 2400 nm)

Compatible with Thorlabs' Vacuum-Compatible Multimode Fiber Optic Patch Cables
Bake-Out can be Conducted at Temperatures up to 250 °C
Flange Mounting Hardware Pack and Copper Gaskets Sold Below
Thorlabs' Ultra-High-Vacuum-Compatible Ø2.75" (DN40) Fiber Feedthrough CF Flanges allow for optical coupling into ultra-high-vacuum (UHV) systems down to 10-10 Torr using SMA905-terminated fiber patch cables and mating sleeves. Each feedthrough incorporates a hermetically sealed step-index multimode optical fiber in a stainless steel shell, provides a low insertion loss of ≤2.3 dB, and can handle optical powers up to 1 W. The flanges are double-bagged to help prevent contamination when transported into a cleanroom environment.
The fiber feedthroughs feature male SMA905 connectors on both sides; mating sleeves may be used to connect fiber patch cables. For the side of the feedthrough that is inside of the vacuum environment, ADASMAV vacuum-compatible SMA-to-SMA mating sleeve, available below, can be used to connect a vacuum-compatible patch cable. Constructed using 304 stainless steel, this adapter is designed to be used within ultra-high vacuum systems (>10-10 Torr) and features a Ø0.063" (Ø1.6 mm) hole through the body to serve as a vent, allowing trapped gas to escape. When using fiber patch cables in a vacuum environment, ensure that the cables are vacuum compatible.
The laser-welded joints of these flanges provide sturdier construction than traditional adhesives and greatly minimize leak rate. In addition, the locations of these laser welds and the hermetic glass-to-metal seal ensure that only external, easy-to-clean surfaces are directly exposed to the vacuum. Since there is no epoxy on the vacuum side of the feedthrough, there is minimal contamination and gas load on the vacuum system.
The CF-style flange utilizes a knife-edge mechanism to create an airtight seal, allowing for pressures down to 10-10 Torr when used properly with a copper gasket (sold below). Six 1/4" (M6) through holes allow the these fiber feedthroughs to be bolted onto any standard DN40 CF flange. As the bolts of the mating pair are tightened, the knife edge bites into the copper gasket, deforming it. The compressed copper fills all the machining marks and surface defects, which yields a leak-tight seal. Please note that the copper gasket and bolts must be purchased separately.
Thorlabs also sells CF flange viewports for Ø1" windows, Ø1.5" flat windows, and Ø1.5" wedged windows as well as an extended line of vacuum-compatible parts.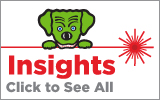 Insights into CF Vacuum Flanges
Scroll down to read about:
Working with CF Vacuum Flanges
Click here for more insights into lab practices and equipment.
Working with CF Vacuum Flanges
This
Video Insight
provides an overview of CF vacuum flanges and their metal gaskets. Techniques for cleaning the flanges, removing stuck gaskets, and using a star pattern to couple flanges are demonstrated. Tips for working with fiber optic feedthroughs are also provided.
A vacuum coupling that supports operation at ultra-high-vacuum levels ( >10-8 Torr, >1.33 x 10-8 mbar, >1.33 x 10-8 hPa) can be achieved when a metal gasket is compressed between two CF or ConFlat® flanges. An approach for making this coupling is demonstrated using a CF-flanged fiber optic feedthrough and a port on a CF-flanged-tee. Since the quality of the vacuum seal and the time required to pump the vacuum system down to operating pressure depend on more than just ensuring the bolts are tightened correctly, this demonstration also highlights several practices for working with vacuum components and systems that can help achieve good results.
Damage to the knife edge, an aggressive approach to tightening the bolts, and reusing gaskets can all result in leaky CF vacuum couplings. The techniques demonstrated in this video reduce the risk presented by these factors, which are all related to the limited malleability of the metal gasket. It is important that the knife edges are in pristine condition, since the gasket is not soft enough to fill narrow or abrupt features, such as a nick in a knife edge. An approach of gradually and iteratively tightening the bolts is effective in maintaining a uniform thickness of the gasket around its circumference, while tightening each bolt all at once can result in thickness variations in the gasket that are difficult or impossible to flatten. This is a consequence of the metal gasket's limited ability to flow and can result in gaps between the gasket and knife edges. Using a new gasket is always recommended. Even a gasket that was only partially compressed during a previous use may not be malleable enough, when reused, to conform to the contours of the knife edges. This is because compression has the effect of strain (work) hardening the metal.
While a leaky vacuum connection can result in time lost to leak checking and re-opening the vacuum system to locate and fix the problem, productive work can also be delayed as a result of broken or malfunctioning components in or attached to the chamber. Due to this, an overview of special considerations for handling and using fiber feedthroughs is also included in this video.
If you would like more information about tips, tricks, and other methods we often use in the lab, we recommend our other Video Insights. In addition, our webinars provide practical and theoretical introductions to our different products.
ConFlat® is a registered trademark of Agilent Technologies, Inc.
Date of Last Edit: Sept. 21, 2022