Specifications
Item #
V2H6S
V2L6S
Wavelength Rangea
200 - 800 nm
400 - 2200 nm
Fiber Core Diameter
600 µm
NA
0.22 ± 0.02
Vacuum Level
1 × 10-10 Torr
Insertion Loss
≤2.3 dB
Max Optical Power
1 W
Max Temperature
250 °C
Features
Construction Enables use at Vacuum Levels Down to 1 × 10-10 Torr
Mates to Ø2.75" ConFlat Flanges
Bake-Out can be Conducted at Temperatures up to 250 °C
Feedthrough Contains Ø600 µm Core MM Fiber with One of Two Transmission Ranges

UV/Vis: 200 - 800 nm
Vis/NIR: 400 - 2200 nm

Compatible with Thorlabs' Vacuum-Compatible Multimode Fiber Optic Patch Cables
Thorlabs' ultra-high-vacuum-compatible Ø2.75" (DN40) fiber feedthrough ConFlats (CF) allow the user to couple light into a vacuum chamber from the outside environment using SMA905-terminated cables (when using fiber patch cables in a vacuum environment, ensure that the cables are vacuum compatible). They are available with a transmission range of either 200 - 800 nm (V2H6S) or 400 - 2200 nm (V2L6S). These fiber feedthroughs incorporate a multimode step index optical fiber with a Ø600 µm core, have an insertion loss of ≤2.3 dB (see Graphs tab), and can handle optical powers up to 1 W.
Designed for use at ultra high vacuum (UHV) pressures, Thorlabs' fiber feedthrough CF utilizes a hermetically sealed fiber in a stainless steel shell. The ConFlat design, which requires a copper gasket seal, is compatible for use on chambers operating at vacuum levels down to 10-10 Torr. The fiber feedthrough features a male SMA905 connector on both ends; mating sleeves may be used to connect fiber patch cables to the feedthrough.
Thorlabs offers the ADASMAV for mating vacuum-compatible patch cables inside a vacuum environment, such as mating to the UHV fiber feedthrough conflat. This mating sleeve is a vacuum-compatible version of the ADASMA SMA to SMA Mating Sleeve. Constructed using 304 stainless steel, this adapter is designed to be used within ultra-high vacuum systems (>10-10 Torr) and features a Ø0.063" (Ø1.6 mm) hole through the body to serve as a vent, allowing trapped gas to escape.
Thorlabs also sells CF viewports for Ø1" windows, Ø1.5" flat windows, and Ø1.5" wedged windows as well as an extended line of vacuum compatible parts.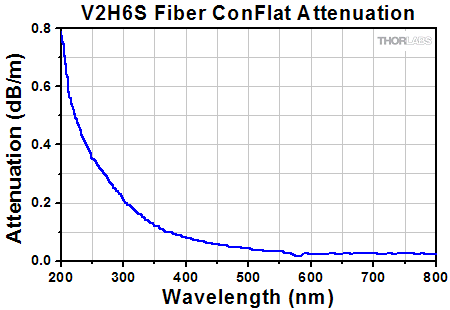 Click to Enlarge
This graph shows the attenuation vs. wavelength for the V2H6S UHV fiber feedthrough ConFlat.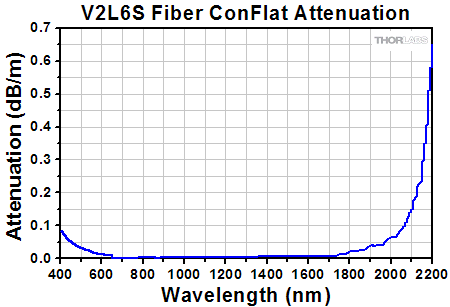 Click to Enlarge
This graph shows the attenuation vs. wavelength for the V2L6S UHV fiber feedthrough ConFlat.