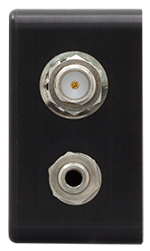 Click to Enlarge
Female SMA Photodiode Output Connector (Top) and 2.5 mm Phono Jack DC Input (Bottom)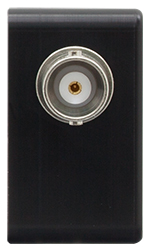 Click to Enlarge
Female BNC Photodiode Input Connector
Features
Module for Biasing Our Mounted Photodiodes
Maximum Bandwidth: 350 MHz
Post Mountable via Bottom-Located 8-32 and M4 Taps
Compact Size: 2.48" x 1.40" x 0.80" (63.0 mm x 35.6 mm x 20.3 mm)
The PBM42 Bias Module allows a DC bias voltage from a user-supplied, external source to be applied to photodiodes. Designed for use with our mounted photodiodes, the module can accept an input bias voltage from -25 to +25 V from a user-supplied source and has a maximum bandwidth of 350 MHz (dependent on the photodiode). By adding a reverse bias to a photodiode, the width of the depletion junction in the photodiode is increased, thereby increasing the responsivity, decreasing the junction capacitance, and improving the linearity of the response. Operating under these conditions can produce a larger dark current, depending on the photodiode material.
The input side of the bias module has a BNC connector that can be connected to any of our mounted photodiodes equipped with the same connector by using a BNC cable or T3533 BNC adapter. Alternatively, the input side can be connected to any of our mounted photodiodes with SMA connectors by using an SMA-to-BNC cable or T4288 SMA-to-BNC adapter.
The bias module has an SMA connector on the output side and a 2.5 mm phono jack for the DC voltage input. A 36"-long cable with a 2.5 mm phono plug on one end and bare wires on the other is included with the module. Please note that the photodiode should be operated with a reverse bias. Forward biasing the photodiode can cause damage. For cathode-grounded photodiodes, the tip of the phono plug must be positive. For anode-grounded photodiodes, the tip of the phono plug must be negative. We recommend using a low-noise power supply with the module. For grounding and reverse bias voltage information on all our mounted photodiodes, please see the Photodiode tab.
For best frequency performance, the output of the bias module should be terminated with a 50 Ω cable and a 50 Ω impedance device or terminator, such as our T4119. For flexibility in output voltage, the VT2 variable terminator can also be used.
To ensure electrical isolation of the connectors and to protect the photodiode, the compact housing of the PBM42 is constructed from Delrin®*. Additionally, the housing offers one 8-32-tapped hole and one M4-tapped hole for mounting on our Ø1/2" posts, as shown in the photo at the top of the page.
*Delrin is a registered trademark of DuPont Polymers, Inc.
Specifications
Item #
Bias Voltage
Cutoff Frequencya
Photodiode Input Connector
Output Connector
DC Input Connector
Housing Dimensions
Operating/Storage Temperature
PBM42
-25 to +25 V
350 MHz
Female BNC
Female SMA
2.5 mm Phono
(Cable Included)
2.48" x 1.40" x 0.80"
(63.0 mm x 35.6 mm x 20.3 mm)
0 to 40 °C
Thorlabs' Mounted Photodiodes Key Specifications
| Item # | Material | Grounding | Reverse Bias Voltage (Max) | Bandwidtha |
| --- | --- | --- | --- | --- |
| SM1PD1A | Silicon | Cathode Grounded | 25 V | 8.8 MHz |
| SM1PD1B | Silicon | Anode Grounded | 25 V | 8.8 MHz |
| SM1PD2A | UV-Enhanced Silicon | Cathode Grounded | 5 V | 7.8 MHz |
| SM1PD5A | Germanium | Cathode Grounded | 1 V | 0.12 MHz |
| SM05PD1A | Silicon | Cathode Grounded | 25 V | 35 MHz |
| SM05PD2A | Silicon | Cathode Grounded | 25 V | 350 MHz |
| SM05PD3A | Silicon | Cathode Grounded | 30 V | 23 MHz |
| SM05PD4A | InGaAs | Cathode Grounded | 5 V | 50 MHz |
| SM05PD5A | InGaAs | Cathode Grounded | 3 V | 5.3 MHz |
| SM05PD6A | Germanium | Cathode Grounded | 3 V | 0.70 MHz |
| SM05PD7A | GaP | Cathode Grounded | 5 V | 350 MHz |
| SM05PD1B | Silicon | Anode Grounded | 25 V | 35 MHz |
| SM05PD2B | Silicon | Anode Grounded | 25 V | 350 MHz |

Click to Enlarge
Example Circuit Diagram for Attaching the PBM42 Bias Module to a Cathode-Grounded Photodiode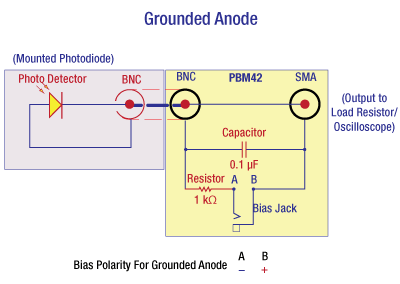 Click to Enlarge
Example Circuit Diagram for Attaching the PBM42 Bias Module to an Anode-Grounded Photodiode