Item #
XYT1(/M)
Horizontal Load Capacity (Max)
10 lbs (4.5 kg)
Vertical Load Capacity (Max)a
2 lbs (0.9 kg)
Mounting Platform Dimensions
4.25" × 4.20"
(108.0 mm × 106.7 mm)
Stage Height
1.00" (25.4 mm)
Stage Footprint Including Actuators
6.33" x 6.1"
(160.8 mm x 154.9 mm)
XY Micrometers
Translation Range
1/2" (13 mm)
Travel per Revolution
0.025" (0.5 mm)
Graduation
0.001" (10 µm) per Division
Linear Translation Mechanism
Bearings in V-Groove
Features
XY Stage with Central SM1-Threaded Hole for Imaging Applications
4.25" × 4.20" (108.0 mm × 106.7 mm) Mounting Platform
Array of Mounting Options

24 1/4"-20 (M6) Taps
12 8-32 (M4) Taps (Compatible with SLH1 Microscope Slide Spring Clips)
8 4-40 Taps for use with 30 mm or 60 mm Cage Components
Thorlabs' XYT1 Low-Profile Translation Stage provides 1/2" (13 mm) of travel along X and Y, incorporates micrometers that have graduations at 0.001"/div (10 µm/div), and features a central Ø1" hole that is SM1 threaded (1.035"-40), allowing the stage to be used in imaging applications that require illumination from underneath the sample. Translation of the stage in both X and Y will not obstruct the Ø1" through hole.
In addition to the SM1-threaded through hole, the platform also contains an array of 1/4"-20 (M6), 8-32 (M4), and 4-40 taps for mounting of samples and components. The eight 4-40 tapped holes are placed around the central through hole for use with our 30 mm or 60 mm cage systems, while the 8-32 (M4) tapped holes are ideal for mounting our SLH1 Microscope Slide Spring Clips (available below).
The SLH1 spring clips are designed to securely hold various sizes of microscope slides and test targets, and include two 8-32 (M4) threaded shoulder screws with a 3/32" (2.5 mm) hex socket for simple attachment to a variety of stages. Each clip is 2.51" (63.7 mm) long with a 0.20" (5.1 mm) wide tip and can be rotated 360° for easy access to, or positioning of, a slide. These clips come with 3 dowel pins, for use with the XYT1(/M) stage, that will center a 1" × 3" standard microscope slide over the Ø1" through hole.
For applications that require rotation along with X and Y translation, Thorlabs also offers an XY translation and 360° rotation stage.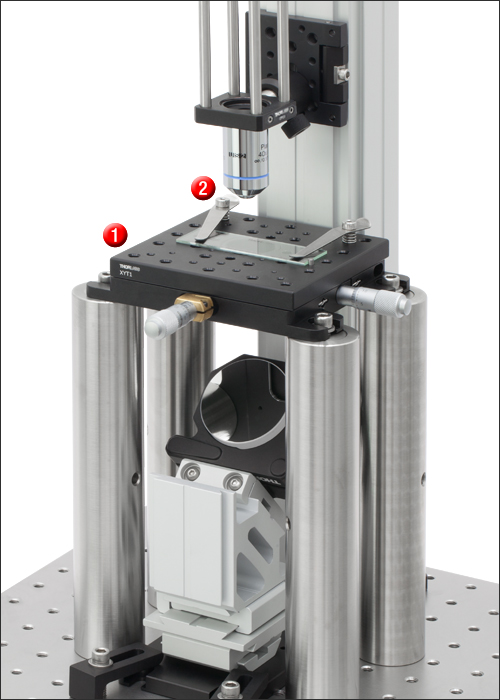 The XYT1 translation stage is an excellent choice for use as a sample stage in a custom imaging application. The base imaging system to the right is constructed using the components listed in the table below.
Item #
Qty.
Description
Sample Stage Platform
XYT1
1
XY Translation Stage with Static Platform
SLH1
1
Microscope Slide Spring Clips
P8
4
Ø1.5" Posts, 8" Long
Microscope Objective Support
RMS40X
1
Olympus Microscope Objective, 40X Magnification
SM1A3
1
Adapter with Internal RMS and External SM1 Threads
XT66-500
1
66 mm Optical Dovetail Rail, 500 mm Long
XT66P2
1
Carriage Plate for 66 mm Optical Dovetail Rails
XT66P1
1
Vertical Mounting Plate for 66 mm Optical Dovetail Rails
TR075
1
Ø1/2" Post, 1/2" Long
PH1
1
1/2" Post Holder for a Ø1/2" Post
CP33
1
30 mm Cage Plate
ER4
4
Cage Rods
Periscope Mirror Assembly for Sample Illumination
KS2
1
Kinematic Ø2" Mirror Mount
PF20-03-G01
1
Ø2" Aluminum Mirror
XT66C2
2
66 mm Optical Dovetail Rail Clamp
XT66CB
1
Cross Bracket for 66 mm Optical Dovetail Rail
XT66C4
1
Clamping Platform for 66 mm Optical Dovetail Rails
XT66P1
1
Vertical Mounting Plate for 34 mm & 66 mm Optical Rails
XT66RA2
1
45° Adapter for 66 mm Optical Dovetail Rails
XT66D2
1
Slotted Dovetail with One Z-Axis Counterbored Slot, 50 mm Long
XE25T3
1
T-Nut for 66 mm Optical Dovetail Rail Components
AE8E25E
1
Adapter Screw with External 1/4"-20 Threads and Internal 8-32 Threads
CL5
2
Table Clamp
Microscope Base
B1212F
1
Nexus Breadboard, 12" x 12" x 2.4", 1/4"-20 Mounting Holes
AV2
1
Sorbothane Feet, 1/4"-20 Thread, 4 Pieces
General
HW-KIT2
1
1/4"-20 Screw Kit