Features
Securely Hold Up to Three Fiber Optic Bundles or Cables with Ø1/4" Probe or SMA Connectors
Hold Fiber at 45° or 90° with Respect to the Sample
Designed for Diffuse or Specular Reflectance Spectroscopy
These fiber optic probe holders secure Ø1/4" probes or SMA-connectorized fiber optic bundles or cables in close proximity to a sample. They are easily adjustable and will not allow the fiber to move during measurements. Fiber optic probes, such as our reflection/backscatter bundle probes, can be secured with a vertical orientation for specular reflection spectroscopy, or at 45° for diffuse reflection spectroscopy. In addition, the twin 45° mounting bulkheads of the RPS-SMA and RPH-SMA allow two separate fiber patch cables to be used for specular reflection measurements with a 45° angle of incidence (AOI).
Reflection Spectroscopy Application
Thorlabs offers reflection spectroscopy probes that can be used along with our CCD spectrometers, broadband fiber-coupled light sources, and the fiber probe holders sold below to take diffuse reflection, specular reflection, and color measurements.

Spectrometers
Thorlabs offers several CCD-based spectrometers for use in the visible, NIR, or UV to NIR spectral ranges. The CCS100 and CCS175 operate in the 350 - 700 nm and 500 - 1000 nm spectral ranges with 0.5 nm and 0.6 nm resolution, respectively. The extended-range CCS200 operates in the 200 - 1000 nm spectral range with 2.0 nm resolution, but the UV range may be heavily attenuated when analyzing broadband spectra.
Light Sources
The SLS201L tungsten-halogen broadband fiber-coupled light source, sold below, delivers a 2796 K blackbody-type spectrum in the 360 - 2600 nm wavelength range and has active electronic stabilization for low spectral and intensity drift. Alternatively, the SLS202L light source delivers similar performance with a 1900 K color temperature and 450 - 5500 nm emission range, while the SLS203L provides free space output with a 1500 K temperature and 500 - 9000 nm emission range. We also offer fiber-coupled LEDs available with a selection of peak wavelengths or a broadband white-light emission spectra and our line of fiber-coupled laser sources offers a selection of options for intense single-wavelength illumination.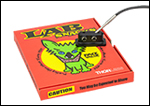 Click to Enlarge
Diffuse Measurement Taken at 45° Using RPH Holder Block
Reflection Probe Fiber Bundles
Thorlabs offers reflection probes with either high-OH or low-OH multimode fiber. Each probe type is available with a sample end that terminates in either a Ø1/4" probe or an SMA905 connector. Our RP22 and RP20 high-OH bundles are suitable for wavelengths from 250 - 1200 nm, while our RP23 and RP21 low-OH bundles are suitable for wavelengths from 400 - 2400 nm. Additionally, if the coaxial illumination provided by a reflection probe bundle is not critical, separate fiber patch cables or bundles with SMA connectors can be used for illumination and signal collection. Our round-to-linear fiber bundles, for example, maximize signal strength at the spectrometer, while our large-core round bundles maximize illumination intensity. Our single-fiber multimode SMA patch cables are useful for precise illumination, or for connection to a fiber-coupled laser.
Reflection Probe Holders
Thorlabs offers the RPS and RPS-SMA fiber probe stands sold below (RPS-SMA shown above and to the right), which allow for precise, stable positioning of the fiber optic probe at an angle of 90° or 45° relative to the sample. The probe holder arms (also sold separately) can also be integrated into other optomechanical setups using Ø1/2" posts. Alternatively, the RPH and RPH-SMA probe holder blocks sit directly on a sample, allowing the fiber tip to be positioned close to the surface and also blocking out room lights from the area under test.