Optical Table Workstation for 1.2 m x 2.5 m x 210 mm (4' x 8' x 8.3") Tables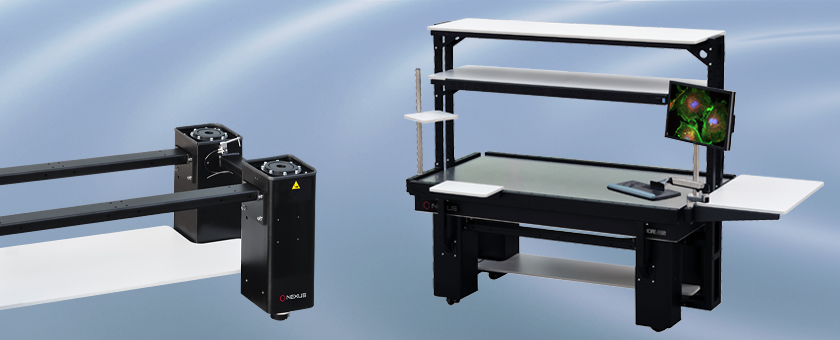 For 1.2 m x 2.5 m x 210 mm (4' x 8' x 8.3")
Optical Tables
Active, Self-Leveling Isolation or Rigid Supports
Integrated Casters for Easy Movement
Versatile Selection of Accessories
TF1225A7
Nexus® Table Frame
(Under Table Shelf Included)
Complete Workstation
with Accessories

Please Wait
Nexus® Optical Table Workstation
Configurable and Integrated
Our new Nexus® Optical Table Workstations adapt our large vibration isolation optical tables to incorporate many of the design innovations of the breadboard-based ScienceDesk workstations. We provide standard and optional accessories, and offer compatibility with ScienceDesk accessories so you can build a unique and integrated vibration isolation table workstation for photonics, imaging, and microscopy applications.
Features
Sturdy All-Steel Construction
Two Support Options

Active, Self-Leveling
Rigid, Non-Isolating

Designed to Support 1.2 m x 2.5 m x 210 mm (4' x 8' x 8.3") Optical Tables
Integrated Casters for Easy Movement and Repositioning
Under Table Shelf Included (Removable if Not Required)
Range of Accessories Available
Thorlabs' Nexus® Optical Table Workstations, designed for 1.2 m x 2.5 m x 210 mm (4' x 8' x 8.3") optical tables, are high-quality, ergonomic frame systems that are compatible with a range of modular accessories, making them ideal for use in photonics applications. Each frame includes a removable under table shelf to keep lab equipment off of the floor and provide more space within the lab. Integrated casters with a leveling foot are also provided for easy mobility and placement within the lab. A complete Nexus optical table workstation consists of the active or rigid table frame, an optical table, and a range of user-chosen accessories. When used together these pieces form a versatile work space that can be customized to meet any need.
Each frame has a height of 700 mm (27.5") for use with our 210 mm (8.3") thick optical tables to provide a constant working surface height of 910 mm (36"). Two support options are available including active-air, self-leveling vibration isolators that isolate the tabletop from vibrations present within the lab, and rigid supports that are non-isolating. The rigid frames can be upgraded to provide passive isolation using our PWA076 upgrade kit. Please see the Isolators tab for more details.
Environmental noise factors are as critical as the application when choosing a workstation. Our Technical Support department can provide a personalized recommendation based on your application and laboratory environment.
Optical Table
Our Nexus optical tables feature all-steel construction, excellent thermal stability, and broadband damping optimized for each table. They provide durable, rigid working surfaces that will quickly damp vibrations created on the tabletop. These tables are available with the standard 1/4"-20 (M6) hole pattern on 1" (25 mm) centers, with sealed or unsealed holes, and the option of 304L nonmagnetic steel.
Accessories
Although casters and an under table shelf are supplied with your frame, a range of accessories is also available to customize your workstation. These include an overhead shelf for additional storage space, lean bars to protect the tabletop from knocks, a 24-outlet power strip, and brackets to allow our aluminum breadboards to be fixed to the frame of the overhead shelf. For more details, please see the Accessory Options tab.
The lean bars also enable compatibility with post-mounted accessories and shelving.
Click on the links to view our complete selection of accessories that are compatible with our Optical Table Workstation. A subset of these accessories is also available below.
Table Frame Item #
TF1225A7
TF1225R7
Isolation Type
Active, Self-Leveling
Rigid (Non-Isolating)
Table Work Surface Dimensions
1.2 m x 2.5 m (4' x 8')
Isolator/Support Pads Load Capacitya
2500 kg (5500 lbs)
Workstation Max
Load Capacityb
On Casters

3000 kg (6600 lbs)

On Leveling Feet

4000 kg (8800 lbs)

Under Table Shelf Load Capacity

100 kg (220 lbs)

Vertical
Isolation
Vertical Resonant Frequencyc
1.45 Hz
N/A
Vertical Transmissibility at Resonancec

10 dB

Vertical Transmissibility @ 10 Hz

-31.2 dB

Horizontal
Isolation


Horizontal Resonant Frequencyc
1.15 Hz
Horizontal Transmissibility at Resonancec
12 dB
Horizontal Transmissibility @ 10 Hz
-28.7 dB
Self-Leveling Repeatability
±0.5 mm (0.02")
Maximum Isolator Air Pressure
551 kPa (80 psi)
Frame Height
700 mm (27.5")
Rigid Support Pad Height Adjustment Ranged
N/A
+15 mm / -3 mm
(+0.59" / -0.31" )
Leveling Feet (Casters) Height Adjustment Range
+18 mm (0.7")
Outer Frame Dimensions (Depth x Width)
1.196 m x 2.43 m (47.09" x 95.67")
Frame Weight (Mass)
218 kg (480.61 lbs)
166 kg (366.03 lbs)
Approximate Packaged Weight (Mass)
337 Kg (741.4 lbs)
288 kg (635.04 lbs)
The max load of the isolators, including the optical table and any equipment on the table top.
The total max load of the frame assembly, including optical table, shelves, and all equipment.
The specifications were measured under a 600 kg load (24% of maximum). See the transmissibility curve to the above right.
Height adjustment range of the TF1225R7 Rigid Optical Table Frame's rubber support pads. Allows the optical table to be leveled after assembly.

Click to Enlarge

Vertical Transmissibility of the Active, Self-Leveling Workstation Frame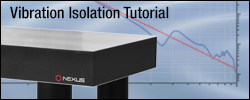 Optical Table Frame Isolators
Thorlabs' optical table frame has isolator mounting platforms in each of the interior four corners. These platforms are fitted with active or rigid (non-isolating) supports for optical tables depending on the model chosen.
Active Air: This is the highest level of isolation available in the optical table line of workstations. Ideal for confocal microscopy, high-resolution optical microscopy, scaning probe microscopy, electrophysiology, holography, optical lithography, high-power optical microscopy, or other application requiring nanometer resolution. These self-leveling frames are greater than 95% efficient at damping vertical and horizontal vibrations at frequencies of 10 Hz or more.
Rigid (Non-Isolating): Commonly used in laboratory environments for applications that are not overly sensitive to vibrations due to the lack of pneumatic isolators.
Right side of image from top to bottom: Pisum Seed (
Two-Channel Fluorescence Image
), Mouse Intestine (
Two-Photon Fluorescence Image
), Mosquito Larva (Developmental Adaptive Optic Laser Scanning Microscopy), Peach Worm Head (
Confocal Fluorescence Image
), Cracked Drug Bead Coating (
OCT Image
).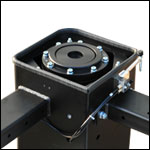 Active Supports
Max Load Capacity: 5500 lbs (2500 kg)
Pneumatic Dual-Chamber Air Spring Damps Vertical Vibrations
Trifilar Suspension System Damps Horizontal Vibrations
Self-Leveling Valves with High Repeatability
Our Workstations equipped with active isolators provide the highest degree of vibration isolation available. Vertical damping is achieved by the use of a dual-chamber, damped pneumatic spring. The table is supported by the air pressure in these chambers. A piston, in contact with the bottom of the optical tabletop, is sealed to the upper chamber with a rolling rubber diaphragm, allowing virtually friction-free motion between piston and chamber. Floor or tabletop motion forces air to flow from one chamber to the other through a laminar flow damper. This restriction of airflow damps oscillatory motion between the floor and table, dramatically reducing settling time.
The volume ratio of the chambers has been optimized to minimize the resonant frequency of the table frame while maximizing the damping performance. Damping of horizontal vibrations is accomplished by supporting the pneumatic vertical isolator on a Trifilar suspension system. This innovative pendulum design uses gravity to provide the restoring force after horizontal disturbances. Horizontal oscillations at the system's resonant frequency are damped by linking the base of the vertical isolator to the outer cylinder with an oil-free, vibration-absorbing damper. To allow for changes in load distribution, the active vibration isolation optical tabletop supports have a self-leveling system based on precision 3-way valves that do not compromise vertical isolation when the system is at rest. Because these valves are actuated by tabletop movement, the system returns to within ±0.5 mm (0.02") of its original level position after disturbances. These isolators require a constant supply of air, such as that provided by our compressor. Removing the air supply will disable the active isolation system, causing the optical table to rest securely on top of the legs.
Our active optical table frames not only provide the highest level of isolation, but by incorporating self-leveling valves, they are also ideal for applications where the load placed on the optical tabletop is constantly changing. In addition, the active isolation is often chosen when the surrounding environment is less than ideal since the active isolators provide a higher level of isolation from floor vibrations.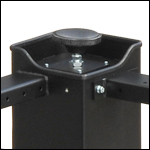 Rigid Supports*
Max Load Capacity: 5500 lbs (2500 kg)
Non-Skid, Rubberized Optical Table Contact Pad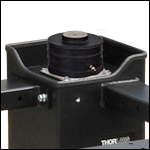 Rigid Frame Upgraded to Have Passive Isolation Using the
PWA076 Passive Isolators
Rigid supports are non-isolating optical table supports. Each support leg consist of a steel mounting tray with a height adjustable rubber pad. The non-slip rubberized material prevents the position of the optical table from drifting. The mounting trays are tested at the factory to ensure they are level.
Optical table frames with rigid supports are offered by Thorlabs for use in applications that are not sensitive to vibrations but that can still benefit from the ergonomic design and flexibility of the workstation system. For instance, applications like microscope slide preparation and low resolution semiconductor inspection might not require an isolated work surface, but the researcher or technician still needs to perform delicate tasks for prolonged periods of time in an environment that can support the preparation and inspection tools required for the application.
*The rigid supports in the TF1220R7 table can be replaced with our PWA076 Passive Isolators, as shown in the photo to the right. These passive isolators are designed to remove floor vibrations in the 10 Hz to 50 Hz frequency range. The passive air mount design is ideal for most general optical table uses, providing low frequency isolation coupled with excellent stability in both horizontal and vertical directions. Please note that the PWA076 has a maximum load capacity of 2425 lbs (1100 kg). Contact Technical Support for options with higher load capacity.
Sample configuration shown below with an optical table frame with active supports holding a 1.2 m x 2.5 m x 210 mm (4' x 8' x 8.3") optical table.
More frame, table, shelving, and accessory options are available below.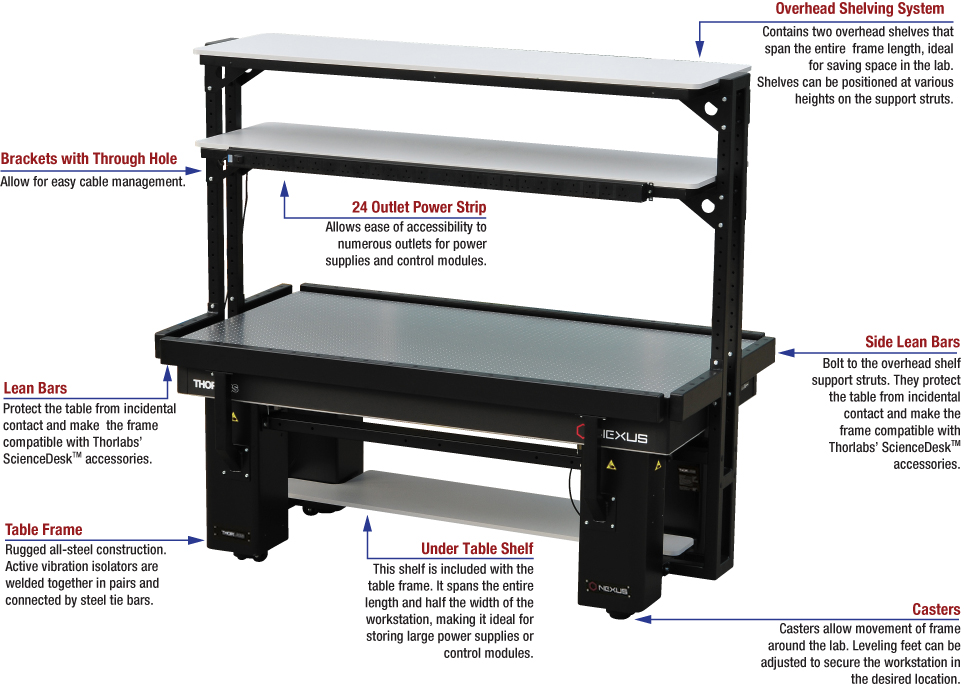 The Following are Not Shown in the Image Above
Optical Table Frames Selection Guide
The Nexus® Optical Table Workstation is also compatible with a range of our shelving and post-mounted accessories. Click here for more information.
Assembly of the Nexus® Optical Table Workstation
Posted Comments:
No Comments Posted