Grid Distortion Test Targets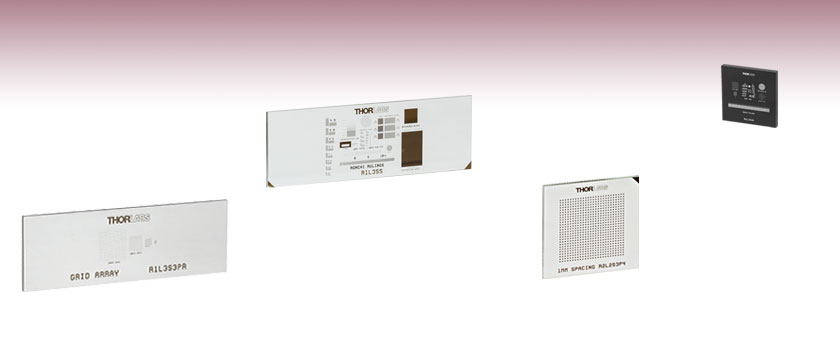 Test Targets Help Identify Distortion in Imaging Systems
Grid Spacings Available from 10 µm to 2000 µm
Combined Resolution and Distortion Targets Available
R1L3S5P
Combined Resolution and
Distortion Test Target
R1L3S3PR
Positive Reflective Grid
Distortion Target
R2L2S3P4
Fixed Frequency Grid
Distortion Target
R1L1S1N
Combined Resolution and
Distortion Test Target

Please Wait
General Specifications
Chrome Thickness
0.120 µm
Substrate Thickness
0.06" (1.5 mm)
Surface Flatness
≤15 µm
Substrate
Sode Lime Glass

Click to Enlarge
An R1L3S5P Combined Resolution and Distortion Test Target Mounted in an
XYF1
Test Target Positioner
Features
Fixed and Multi-Frequency Grid Distortion Test Targets
High-Contrast Positive Reflective Target Available
Combined Resolution and Distortion Test Targets
Distortion in Grid Image Allows for Image Correction
Grids Available with Spacings of 10 µm to 2000 µm
Thorlabs offers a variety of options for measuring the distortion of an optical system including targets with a single-frequency grid, multi-frequency grids, or distortion grids alongside a wide variety of other patterns for resolution measurement, calibration, and more. Combined, these targets offer grid spacings ranging from 10 µm to 2000 µm.
We offer positive targets made made by plating vacuum-sputtered low-reflectivity chrome on a soda lime glass substrate in patterns of either horizontal and vertical lines or rows and columns of solid circles. We also offer a positive reflective version of the multi-frequency target and a negative version of the 18 mm x 18 mm combined resolution and distortion target. See the Graphs tab for spectral data of the materials used in these distortion targets.
Each pattern is manufactured using photolithography, allowing for edge features to be resolved down to approximately 1 µm. Since the targets have parallel lines or perpendicular rows and columns, they will be imaged as such by an ideal system. A distorted image will show the lines or rows and columns as bowed; this image allows the user to quantify the distortion and thus to correct for it using software built into programs such as LabVIEW or ImageJ.
Mounting
These distortion test targets can be mounted in one of four of our microscopy slide holders. Our MAX3SLH fixed slide holder provides two spring clips to mount the optic and can be mounted to any of our 3-axis translation stages; this slide holder is only compatible with test targets greater than or equal to 2" wide and provides a clear aperture of 1", which may cover the chrome pattern on some of the test targets. Thorlabs also offers our XYF1(/M) test target positioning mount (see photo to the right), which is capable of translating a 1" (25.4) to 3" (76.2 mm) wide rectangular target over a 50 mm (1.97") x 30 mm (1.18") area. The mount offers five 8-32 (M4) taps for six post-mountable orientations. The XYF1 uses nylon-tipped setscrews to secure the optic. Please note that the mount's support arms overlap the optic by 4.4 mm on each side. For users of the MLS203 microscopy stage, we offer the MLS203P2 slide holder for inverted microscopes, which can mount slides that measure 25 mm to 26.5 mm in width and petri dishes that measure 30 mm to 60 mm in diameter.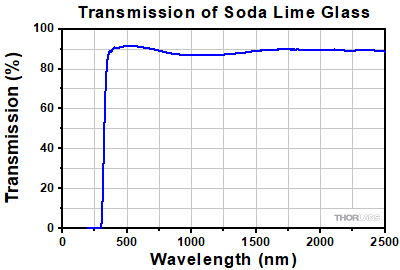 Click to Enlarge
Soda Lime Glass Transmission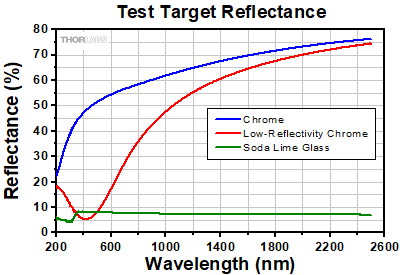 Click to Enlarge
Spectral Curves of Reflective Test Targets
The large difference between the chrome (blue line) and low-reflectivity chrome (red line) in the visible region means that the positive reflective targets have high contrast between the pattern and the background.
Customization Parameters
Substrate Sizea
Min
8 mm x 8 mm (5/16" x 5/16")
Max
85 mm x 85 mm (3.35" x 3.35")
Substrate Materials
Soda Lime Glass
UV Fused Silica
Quartz
Coating Material
Chromeb
Low-Reflectivity Chromec
Coating Optical Density
≥3d or ≥6e @ 430 nm
Minimum Pinhole/Spot
Ø1 µm
Minimum Line Width
1 µm
Line Width Tolerance
-0.25 / +0.50 µm
Maximum Line Density
500 lp/mm
Substrates can be diced to custom shapes and sizes.
Chrome Reflectance >40% at 430 nm
Low-Reflectivity Chrome Reflectance >10% at 430 nm
Optical densities of ≥3 at 430 nm for UV fused silica substrates and standard soda lime substrates.
Optical density of ≥6 at 430 nm for quartz substrates and select soda lime substrates.
Custom OEM Test Targets and Reticles
Our in-house photolithographic design and production capabilities enable us to create a range of patterned optics. We manufacture test targets, distortion grids, and reticles at our Thorlabs Spectral Works facility in Columbia, South Carolina. These components have served a wide variety of applications, being implemented in microscopes, imaging systems, and optical alignment setups.
In addition to our catalog test targets and reticles offered from stock, we can provide custom chrome patterns on soda lime, UV fused silica, or quartz substrates from 8 mm by 8 mm up to 85 mm by 85 mm. Substrates can be cut to shape for your application. Our photolithographic coating process allows us to create chrome features down to 1 µm. A few sample patterns are shown below, which can be made positive or negative, as shown in the image directly below.
For a quote on custom test targets and reticles, please contact us at TSW@thorlabs.com.
Sample Patterns
Example Applications
Etched Reticles
Gray Scale Masks
Resolution Reticles
Diagnostic Reticles
Recreational Scopes
Notching Reticles
Eyepiece Scales
Illuminated Crosshairs
Obstruction Targets
Binocular Reticles

Click to Enlarge
Positive and Negative Crosshair Sample Pattern
This tab details an optimal cleaning technique developed by our engineers for cleaning reticles, test targets, distortion targets, and calibration targets.
Cleaning Procedure
Use a clean wet sponge, preferably made of polyvinyl alcohol (PVA), and dish detergent to gently scrub the front and back surfaces of your reticle or target.
Rinse with water.
Blow dry with clean dry air, or allow the reticle or target to air dry on a clean surface.
We do not suggest using a towel, rag, or wipe to dry the surface. If contamination persists, soak the reticle or target in a detergent and water solution for 1 hour, repeating as necessary.