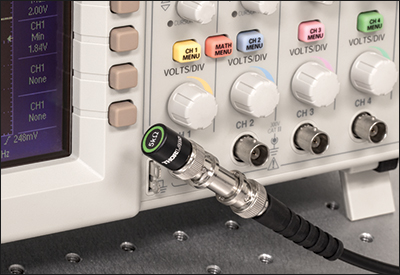 Click to Enlarge
A typical application for a stub-style BNC terminator is shown above. The FT502 5 kΩ terminator is connected via a
T3285
BNC "T" adapter to an oscilloscope. A
BNC cable
connects the adapter to a
biased photodetector
(not shown). The detector (not shown) outputs a current based on the incident photon flux; the oscilloscope can then measure the voltage across the BNC terminator.


Click to Enlarge
The VT2 Variable Resistance Terminator offers eight different resistance values.
Features
Feed-Through BNC Terminators

Variable Resistance: 50 Ω to 100 kΩ
Fixed 50 Ω Resistance

Stub-Style Terminators

Fixed Resistances Ranging from 50 Ω to 250 kΩ
Terminator Kit with Eight Resistance Values from 50 Ω to 250 kΩ
Thorlabs' BNC terminators are available in both feed-through and stub styles. Our feed-through terminators provide an in-line solution while our stub-style terminators offer a compact solution.
When using a reverse biased photodiode, such as our packaged biased detectors, a photocurrent is produced when photons are absorbed. A load resistor is placed across the output of the detector, and the voltage drop across the resistor is measured by an oscilloscope or multimeter. A 50 Ω load is typically used to maximize the signal bandwidth, but higher voltages are produced by higher resistances at the expense of lower bandwidth. The image to the far right shows a typical application with our DET100A2 biased detector (not shown) and our FT502 5 kΩ stub-style terminator.
Thorlabs also includes our feed-through terminators in our electrical adapters kits, which also have a variety of BNC, SMA, and banana adapters.