Wireless Handheld Power Meter Selection Guide
Item #
PM160
PM160T
PM160T-HP
Sensor
Photodiode
Thermal
Thermal
Wavelength Range
400 - 1100 nm
190 nm - 10.6 µm
190 nm - 20 µm
Power Detection
10 nW - 2 mWa
100 µW - 2 W
10 mW - 70 Wb
This animation shows some of the many ways that the PM160 power meter can be oriented. The PM160T and PM160T-HP power meter shares the same post-mounting and sensor-rotation features, but does not include a sliding ND filter.
Features
Self-Contained Sensor and Power Meter Combination
Three Power Meters Available (See Table to the Right for Key Specifications)
Sensor Arm Rotates up to 270°
Up to 20 Hours of Battery-Powered Operation and USB Cable is Provide for Recharging
Graphical OLED Display for Local Operation
Supports Remote Operation
Recalibration Services Available
Thorlabs' Wireless Power Meters consist of an ultra-slim sensor connected to a portable power meter with a built-in graphical Organic LED (OLED) display. Versions are available with either a silicon photodiode (Item # PM160), thermal sensor (Item # PM160T), or high-power thermal sensor (Item # PM160T-HP). A rechargeable battery provides up to 20 hours of continuous operation and these power meters can be recharged through the USB port.
The PM160 power meter contains a sensitive silicon photodiode designed to detect optical powers between 10 nW and 2 mW at wavelengths between 400 and 1100 nm. The PM160 also comes with sliding neutral density filter that increases the maximum measurable optical power from 2 mW to 200 mW. The unit automatically detects the position of the neutral density filter to display the correctly calibrated power measurement. To use the filter, simply slide it up the handle until it locks into place over the detector.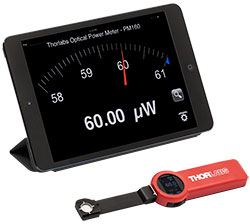 Click to Enlarge
The wireless power meter, shown here with an iPad mini™ mobile device (not included), can be remotely operated using Apple mobile devices.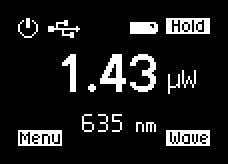 OLED Standard Measurement Display
The PM160T power meter uses the same thermal detector as our S401C High-Sensitivity Thermal Sensor Head. This power meter is designed to detect optical powers between 100 µW and 2 W at wavelengths between 190 nm and 10.6 µm. The PM106T-HP, on the other hand, is designed to detect optical powers between 10 mW and 70 W at wavelengths between 190 nm and 20 µm, offering a longer range and higher maximum power. Compared to photodiode sensors, these thermal sensors offer almost flat absorption curves, making them ideal for broadband power measurements. Combined with a wavelength range that extends into the mid-IR, the PM160T and PM160T-HP are well suited for use with a wide variety of sources including LEDs, SLDs, and mid-IR quantum cascade lasers.
These wireless power meters can fit into tight spaces and pick up an incident beam from any direction. The ultra-slim sensor end of the device connects to the handle with a joint mechanism that allows 270° of rotation (see the animation to the upper right). When rotating the sensor arm, there is a detent every 90° and enough friction in the joint mechanism that the sensor arm can be positioned at any angle within the allowed rotation range.
The output of the sensor is converted to a calibrated optical power measurement that can be displayed on the built-in OLED screen (see the screenshot to the right). The power meter can be controlled locally by the four buttons located on the sides of the OLED display's housing. The function of each button is indicated by the labels at each corner of the screen. The menus on the OLED display can also be used to rotate the text in 90° steps for ease of reading.
Alternatively, data can be transmitted using Bluetooth wireless technology or USB to an external device (see image to the left). The wireless power meter can be operated from mobile devices; both Apple® and Android apps are available from their respective app stores.
Recalibration Services
Recalibration services are available for our handheld power meters. To order this service, scroll to the bottom of the page and select the appropriate recalibration service Item # that corresponds to your power meter.
The Bluetooth® word mark is a registered trademark owned by Bluetooth SIG, Inc. and any use of such marks is under license. Other trademarks and tradenames are those of their respective owners. Android is a trademark of Google Inc. IOS is a registered trademark of Cisco in the U.S. and other countries and is used under license. App Store is a service mark of Apple Inc. iPad mini™ is a registered trademark of Apple Inc.
Item #
PM160
PM160T
PM160T-HP
Sensor Properties
Wavelength Range
400 nm – 1100 nm
190 nm - 10.6 µm
190 nm - 20 µm
Optical Power Measurement Range
10 nW – 2 mW
(1 µW to 200 mW with Filter)
100 µW – 2 W
10 mW - 70 Wa
Optical Power Resolution
100 pW
(10 nW with Filter)
10 µW
1 mW
Measurement Uncertainty
±3% (451 nm - 1000 nm)
±5% (Over Rest of Range)
±3% (@ 1064 nm)
±5% (Entire Range)
±3% (@ 1064 nm)
±5% (250 nm to 17 µm)
Power Linearity
±1%
Active Area Uniformity
±1%
Slideable Optical Filter
Reflective ND (OD 1.5) with Diffuser
N/A
N/A
Average Power Density (Max)
1 W/cm²
(20 W/cm² with Filter)
500 W/cm²
2 kW/cm²
Sensor Aperture
Ø9.5 mm (Ø0.37")
Ø10 mm (Ø0.39")
Ø25.2 mm (Ø0.99")
Sensor Coating
None
Black Broadband
High Power Broadband
Power Meter
Built-In Display
Monochrome White OLED; 24.0 mm (0.95") Across Diagonal, 96 pixels x 64 pixels (10 Hz Refresh Rate)
Local Operation
4 Push Buttons
Analog Measurement Rangesb
500 nA, 50 µA, 5 mA
1.6 mV, 25 mV, 400 mV
2.56 mV, 16 mV, 100 mV
AD Converter
24 Bit
Analog Amplifier Bandwidth
10 Hz
Remote Interface
USB 2.0, Bluetooth (Class II)
Power Supply
External: 5 V DC via USB; Internal: LiPo+ 380 mAhc
Battery-Powered Operation
Up to 20 Hours
Dimensions
Thickness of Sensor End w/o Filter
3.5 mm
5.5 mm
13.0 mm
Thickness of Sensor End w/ Filter
6.0 mm
N/A
N/A
Distance to Sensor from Front Surface of Housing
1.7 mm (4.2 mm with Filter)
2.6 mm
4.5 mm
Overall Dimensions
172.7 mm x 36.4 mm x 13.0 mm
(6.80" x 1.43" x 0.51")
172.7 mm x 36.4 mm x 13.0 mm
(6.80" x 1.43" x 0.51")
206.0 mm x 56.0 mm x 13.0 mm
(8.1" x 2.2" x 0.51")
Weight
60 g
60 g
130 g
Mounting
Adapter Plate Aperture Thread
External SM05 (0.535"-40)
External SM1 (1.035"-40)
Internal SM1 (1.035"-40)d
Mounting Holes
8-32 and M4 Tap, 3 Positions
8-32 and M4 Tap, 3 Positions
8-32 and M4 Tap, 3 Positions
4x 4-40 Tapped Holes on Back of Sensor for Ø6 mm Cage Rods
Operating Temperature
0 to 50 °C (32 to 122 °F)
These graphs show the typical response and absorption curves for the handheld power meters. The blue-shaded regions in the graphs indicate the specified wavelength range of the power meter. Please note that these curves are representative, and the actual absorption across the spectrum will vary from unit to unit. Raw data for the graphs are available for download below; however, each individual power meter is calibrated to accurately convert the detected signal to the displayed power reading, and a unit-specific calibration certificate is included with each power meter for reference.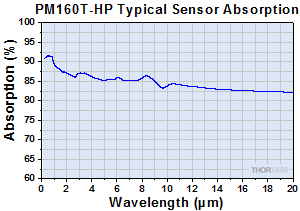 Click to Enlarge

Click
Here
for Raw Data
Typical absorption curve for the thermal sensor in the PM160T-HP.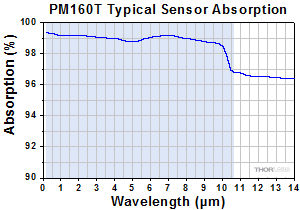 Click to Enlarge

Click
Here
for Raw Data
Typical absorption curve for the thermal sensor in the PM160T.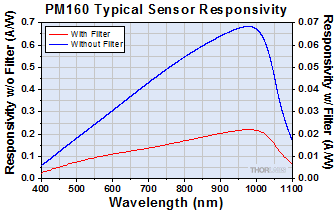 Click to Enlarge

Click
Here
for Raw Data
Typical responsivity curve for the silicon photodiode in the PM160.
Compatible Power Meters

PM100A Analog Power and Energy Meter Console
PM100D Digital Power and Energy Meter Console
PM101 Series Power Meter Interfaces with External Readout (Version 2.0 or Later)
PM100USB USB Interface Digital Power and Energy Meter
PM400 Capacitive Touchscreen Power and Energy Meter Console
PM160, PM160T, and PM160T-HP Wireless Handheld Power Meters with Bluetooth® Technology
PM16 Series Compact USB Power Meters
The Optical Power Monitor software is not compatible with the PM320E Benchtop Power Meter.
Optical Power Monitor
The Optical Power Monitor GUI software features power measurement, readout from up to eight power meters, and remote wireless operation.
For details on specific software features, please see the user manual, which can be downloaded here.
Users interested in the legacy Power Meter Software can find it by visiting the software page here.
The PM101 Series Power Meters are only compatible with version 2.0 or later.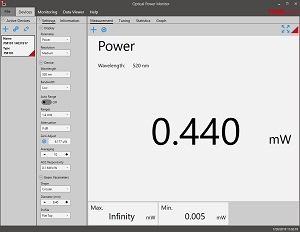 Click to Enlarge
Measurement Mode:
Set up and configure up to eight power meters.

Click to Enlarge
Tuning Mode:
Simulated analog needle and digital measurement value provided. Delta Mode, enabled above, shows the fluctuation range during the measurement period.

Click to Enlarge
Statistics Mode:
Calculate numerical statistics for a pre-determined measurement period. The panel displays the analyzed values in a bar graph and the results as numerical values.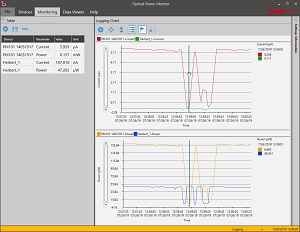 Click to Enlarge
Data Logging:
Enable long-term measurement and simultaneous recording from up to eight power meters. Save data as .csv files for later processing while measurement results are displayed in a graph in real time.
Optical Power Monitor GUI Software for Touchscreen, Handheld, and USB-Interface Power Meters
Features
Operate up to Eight Power Meters Simultaneously
Record and Analyze Measurements in Real Time
Intuitive Analog Display and Graphing Modes
Configurable Long-Term Data Logging
Compatible with USB and Bluetooth® Connections
The Optical Power Monitor software GUI enables seamless control of up to eight power meters that are connected via USB or Bluetooth® wireless technologya. The latest software, firmware, drivers, and utilities for these power meters can be downloaded here.
Multiple data measurement and analysis functions are integrated into the GUI package. The interface offers a user-friendly design with minimal use of color and low brightness that is ideal use in dark lab environments while wearing laser safety glasses. Measured data can be displayed in real time as a simulated analog needle, digital values, line graph, or bar graph. Continuously logged and short-term measurements can be recorded for data viewing and analysis at a later point. A built-in statistics mode analyzes measured data and continuously updates to reflect new measurements within the pre-determined measurement period.
The Optical Power Monitor software package installs the GUI, which then can be used to control the touchscreen, handheld, or USB-interface power meters. Firmware updates for supported power meters are also available. Programming examples and drivers for interfacing with our power and energy meter consoles using LabVIEW, Visual C++, and Visual C# are installed with the software; refer to the manual for details.
Please note that the Optical Power Monitor Software uses different drivers than the Power Meter Utilities Software and Thorlabs recommends using the new driver TLPM.dll. For users who wish to use the legacy Power Meter Software or use custom software designed using the older PM100D.dll driver, a Power Meter Driver Switcher program is included for easy swapping of the installed driver between the two versions.
a. The PM160, PM160T, and PM160T-HP power meters are equipped with Bluetooth® connections.
Pulsed Laser Emission: Power and Energy Calculations
Determining whether emission from a pulsed laser is compatible with a device or application can require referencing parameters that are not supplied by the laser's manufacturer. When this is the case, the necessary parameters can typically be calculated from the available information. Calculating peak pulse power, average power, pulse energy, and related parameters can be necessary to achieve desired outcomes including:
Protecting biological samples from harm.
Measuring the pulsed laser emission without damaging photodetectors and other sensors.
Exciting fluorescence and non-linear effects in materials.
Pulsed laser radiation parameters are illustrated in Figure 1 and described in the table. For quick reference, a list of equations are provided below. The document available for download provides this information, as well as an introduction to pulsed laser emission, an overview of relationships among the different parameters, and guidance for applying the calculations.
Equations:

Period and repetition rate are reciprocal:
and
Pulse energy calculated from average power:
Average power calculated from pulse energy:
Peak pulse power estimated from pulse energy:

Peak power and average power calculated from each other:
and
Peak power calculated from average power and duty cycle*:
*Duty cycle () is the fraction of time during which there is laser pulse emission.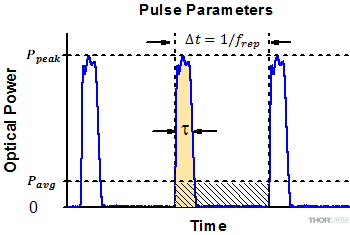 Click to Enlarge
Figure 1: Parameters used to describe pulsed laser emission are indicated in the plot (above) and described in the table (below). Pulse energy (E) is the shaded area under the pulse curve. Pulse energy is, equivalently, the area of the diagonally hashed region.
Parameter
Symbol
Units
Description
Pulse Energy
E
Joules [J]
A measure of one pulse's total emission, which is the only light emitted by the laser over the entire period. The pulse energy equals the shaded area, which is equivalent to the area covered by diagonal hash marks.
Period
Δt
Seconds [s]
The amount of time between the start of one pulse and the start of the next.
Average Power
Pavg
Watts [W]
The height on the optical power axis, if the energy emitted by the pulse were uniformly spread over the entire period.
Instantaneous Power
P
Watts [W]
The optical power at a single, specific point in time.
Peak Power
Ppeak
Watts [W]
The maximum instantaneous optical power output by the laser.
Pulse Width
Seconds [s]
A measure of the time between the beginning and end of the pulse, typically based on the full width half maximum (FWHM) of the pulse shape. Also called pulse duration.
Repetition Rate
frep
Hertz [Hz]
The frequency with which pulses are emitted. Equal to the reciprocal of the period.
Example Calculation:
Is it safe to use a detector with a specified maximum peak optical input power of 75 mW to measure the following pulsed laser emission?
Average Power: 1 mW
Repetition Rate: 85 MHz
Pulse Width: 10 fs
The energy per pulse:

seems low, but the peak pulse power is:

It is not safe to use the detector to measure this pulsed laser emission, since the peak power of the pulses is >5 orders of magnitude higher than the detector's maximum peak optical input power.