Low-GDD Ultrafast Mirrors for 700 - 930 nm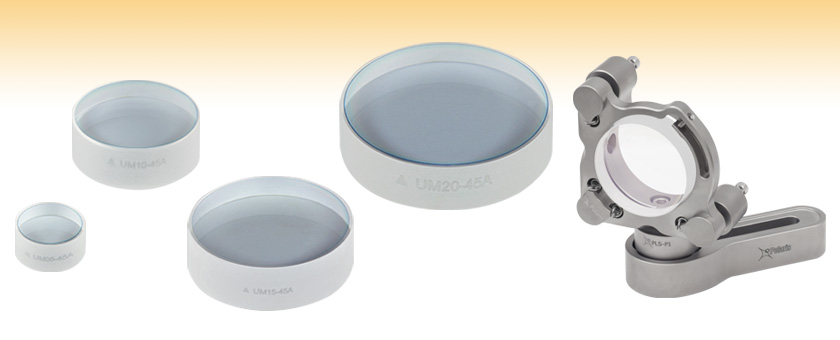 UM10-45A
(Ø1")
UM20-45A
(Ø2")
UM05-45A
(Ø1/2")
Application Idea
UM15-45A Ø1.5" Mirror
in a POLARIS-K15S4 Mount
UM15-45A
(Ø1.5")
Ideal for Ti:Sapphire Lasers
Designed for 700 - 930 nm
Group Delay Dispersion < 30 fs2

Please Wait
Item #
UM05-45A
UM10-45A
UM15-45A
UM20-45A
Design Wavelength Range
700 - 930 nm
Diameter
1/2"
1"
1.5"
2"
Diameter Tolerance
+0.00 / -0.10 mm
Clear
Aperturea
Minor Diameter
0.28"
0.57"
0.85"
1.13"
Major Diameter
0.4"
0.8"
1.2"
1.6"
Thickness
6.4 mm
9.5 mm
12.0 mm
12.0 mm
Thickness Tolerance
±0.20 mm
±0.10 mm
Reflectance
Rs > 99% (700 - 930 nm)
Rp > 99% (730 - 870 nm)
Angle of Incidence
45°
Group Delay Dispersion
|GDDs| < 30 fs² (700 - 930 nm)
|GDDp| < 30 fs² (730 - 870 nm)
Laser Induced
Damage Thresholdb
0.40 J/cm2 (800 nm, 52 fs FWHM, S-Pol, 1000 Pulses)
Substrate
Fused Silica
Front Surface Flatnessc
<λ/4
<λ/6
<λ/4
<λ/2
Front Surface Quality
15-5 Scratch-Dig
20-10 Scratch-Dig
Parallelism
≤3 arcmin
≤5 arcmin
Back Surface
Polished
Fine Ground
The clear aperture is >80% of the diameter. These values are provided for use at 45° AOI.
For ultrafast optics, the laser induced damage threshold (LIDT) is defined as the fluence (per pulse) that produces visible damage after a given number of pulses. LIDT values are not guaranteed in the ultrashort pulse regime. As such, they are provided as a service to customers.
At 632.8 nm Over Clear Aperture
Features
Low Group Delay Dispersion: |GDD| < 30 fs2
Ideal for Pulses Shorter than 250 fs
Reflectance Greater than 99%
Sizes: Ø1/2", Ø1", Ø1.5", or Ø2"
Thorlabs' low group delay dispersion (GDD) mirrors feature a coating designed for high reflectance in the 700 nm - 930 nm wavelength range and use at a 45° angle of incidence (AOI). These mirrors are ideal for Ti:Sapphire femtosecond pulsed lasers where pulse broadening is a concern, as well as imaging applications such as two photon microscopy. They offer an ideal combination of greater than 99% reflectance and less than |30 fs2| GDD; for details, please see the Graphs tab.
These mirrors are available in four different diameters: Ø1/2", Ø1", Ø1.5", or Ø2". The Ø1.5" version is ideal for use with amplified Ti:Sapphire laser systems, as it provides more surface area than a Ø1" mirror for expanded high-power beams while providing a more compact footprint than a Ø2" mirror.
The edge of each optic is engraved with the item number and an arrowhead pointing to the coated surface. The back surface of the Ø1/2", Ø1", and Ø1.5" mirrors is polished so that the small percentage of light that leaks through the reflective coating may be used for applications such as power monitoring. The fine ground back surface of the Ø2" mirror is ideal for use with higher power lasers, as the light passing through the mirror will be diffusely scattered.
Our low-GDD coating offers the highest reflectance of any of our mirrors for the Ti:Sapphire wavelength range. For a general comparison of the performance of our low-GDD mirrors, ultrafast-enhanced silver mirrors, standard protected silver mirrors, and broadband dielectric mirrors, please see the Mirror Comparison tab.
In addition to the low-GDD mirrors here, Thorlabs also offers low-GDD mirrors for various other wavelength ranges. For our full selection of optics for ultrafast applications, please see the Ultrafast Optics tab.
The graph on the left below shows measured results of the reflectance as a function of wavelength for both s- and p-polarizations. The graph on the right shows theoretical results for the group delay dispersion and represents the designed performance of our 700 nm - 930 nm low GDD coating. Both plots are for 45° AOI.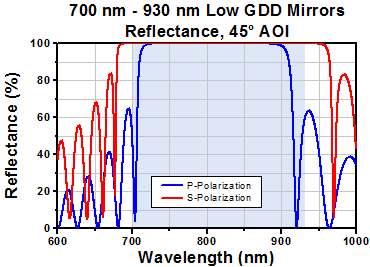 Click to Enlarge
Click for Raw Data
The shaded region represents the specified wavelength range where the absolute R
S
> 99%. Please note that the reflectance outside of this specified region is typical and can vary from lot to lot, especially where the reflectance is fluctuating or sloped.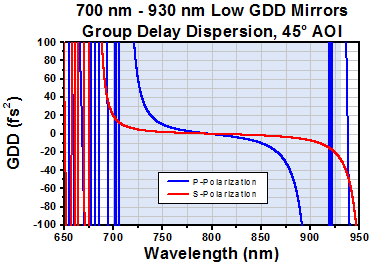 Click to Enlarge
Click for Raw Data
The shaded region represents the design wavelength range. The GDD values fluctuate rapidly outside of the specified wavelength range of 700 - 930 nm for s-polarized light.
This tab compares four of Thorlabs' coatings for the Ti:Sapphire wavelength range: our low-GDD dielectric coating for 700 - 930 nm, our ultrafast-enhanced silver coating, our standard protected silver coating, and our broadband dielectric -E02 coating.
Qualitative Comparison
Our Low-GDD Dielectric Coating and Ultrafast-Enhanced Silver Coating are specifically designed for femtosecond Ti:Sapphire lasers. The low-GDD dielectric coating provides the highest reflectance, making it suitable for laser cavities, while the ultrafast-enhanced silver coating provides slightly lower reflectance and a slightly broader wavelength range. Each offers low group delay dispersion of <|30 fs2| or better.
The Protected Silver Coating offers the widest spectral range and minimal dependence on the angle of incidence. However, its reflectance at typical Ti:Sapphire wavelengths is somewhat lower than our low-GDD dielectric and ultrafast-enhanced silver coatings.
Our -E02 Broadband Dielectric Mirror Coating has resonance structures within the dielectric coating layers. These structures cause ripples in the group delay dispersion and can furthermore vary strongly between coating runs. While these variations do not impact CW performance, when an ultrafast laser pulse hits such a mirror, the pulse is strongly distorted. Thorlabs' low-GDD dielectric coating and the dielectric overcoat on our ultrafast-enhanced silver mirrors are designed in such a way that there is no resonance inside the layers, thereby maintaining smooth dispersion and reflectance across the design wavelength range.
Specs Comparison
The table below summarizes the reflectance, spectral range, and group delay dispersion of the different coatings.
Mirror Coating
Spectral Range
Item # Suffix
Reflectance
Group Delay Dispersion
Low-GDD Dielectric Coating
S-Pol: 700 - 930 nm
P-Pol: 730 - 870 nm
-45A
Rs > 99%
Rp > 99%
S-Pol: <|30 fs2|
P-Pol: <|30 fs2|
Ultrafast-Enhanced Silver Coating
750 - 1000 nm
-AG
Rs > 99.0%
Rp > 98.5%
S-Pol: <|20 fs2|
P-Pol: <|30 fs2|
Protected Silver Coating
450 nm - 20 µm
-P01
Ravg > 97.5% for 450 nm - 2 µm
Ravg > 96% for 2 - 20 µm
Not Specifieda,b
-
-P02
Ravg > 97% for 450 nm - 2 µm
Ravg > 95% for 2 - 20 µm
Not Specifieda,b
-
Broadband Dielectric Coating
400 - 750 nm
-E02
Ravg > 99%
Not Specifiedb
-
While a bare silver coating has almost no dispersion, some silver mirrors have a dielectric coating which can increase the dispersion, especially when the dielectric coating is used to enhance spectral features. Our protected silver mirrors feature such a dielectric coating for protection of the fragile silver coating.
Our standard -P01, -P02, and -E02 coated mirrors are not specified for ultrafast applications, so we do not quantify their GDD from coating run to coating run. In contrast, our -45A and -AG coated mirrors are guaranteed to provide their specified GDD values.
Thorlabs offers a wide selection of optics optimized for use with femtosecond and picosecond laser pulses. Please see below for more information.