Fiber Optic L-Bracket Mating Sleeves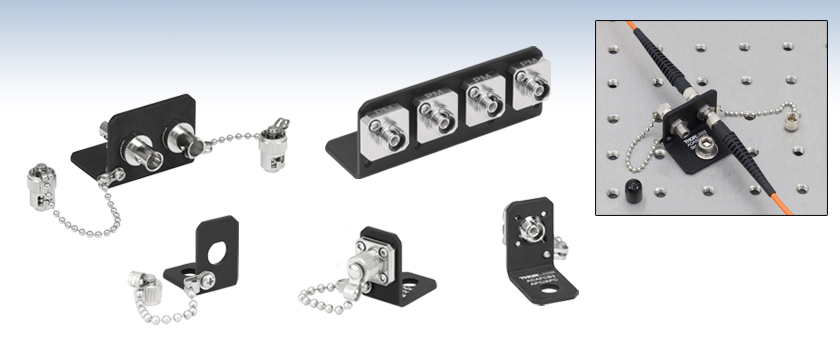 Mounted FC, SMA, and ST Mating Sleeves
Single, Dual, and Quadruple L-Brackets Available
Empty L-Brackets for Square or D-Hole Sleeves
ADASTB2
ADABD1
ADAFCB3
Front
Back
Metal, Plastic, and/or Rubber Caps are Included to Protect Each Mating Sleeve Port
ADAFCPMB5

Please Wait
Thorlabs' L-Bracket Mating Sleeves connect fibers terminated with industry-standard FC/PC, FC/APC, SMA, and ST connectors. All our mating sleeves properly align the cores of each connectorized fiber end and minimize back reflections by bringing them into optical contact, with the exception of our SMA mating sleeves, which are air-spaced. The mating sleeves sold on this page are premounted in a single, dual, or quadruple L-bracket that provides mechanical compatibility with standard 1/4"-20 (M6) optomechanics, such as optical tables, breadboards, and post assemblies. Empty L-brackets are also available for custom FC mating sleeve pairings. Should you require a mating sleeve not shown on this page, such as for LC or SC connectors, it may be available in an unmounted version.
A single L-bracket is the most compact solution for mounting a mating sleeve using standard optomechanics. In contrast, dual and quadruple L-brackets can help to organize fiber-coupled devices with multiple outputs, such as couplers, circulators, and wavelength division multiplexers (WDMs).
It is important that the fiber tips be clean to minimize connection losses and avoid damage to the connector. These mating sleeve brackets bring the fiber tips into physical contact with each other, with the exception of our SMA mating sleeves. The use of our G608N3 Index Matching Gel (sold below) can also help to reduce reflective losses at the fiber connection. Thorlabs offers a complete selection of inspection tools and cleaning supplies for optical fiber.
For unconnectorized fiber, our reusable fiber-to-fiber splicing products are useful for creating temporary connections. For complete splicing systems, consider one of our Vytran® fiber optic fusion splicers.