Click to Enlarge
A brightfield microscopy image acquired with one of our 8 megapixel cameras showing ki-67 labeled tonsil cells. Ki-67 is an antigen which appears only in the nuclei of cells undergoing division, and therefore is an excellent marker to indicate the growth fraction of a cell population. For more image samples, please see the
Applications
tab.
Features
4/3" Format, 3296 x 2472 Monochrome or Color CCD Sensor (On Semi KAI-08051M or KAI-08051-FBA) for Large Field of View
Available in Non-Cooled Standard Packaging or Hermetically Sealed TE-Cooled Packaging
Configuration Offered with the Sensor Face Plate Removed to Reduce Fringing in Coherent Light Applications, such as Beam Profiling
Low Read Noise Improves the Threshold of Detectability Under Low Light Conditions
Software-Selectable 20 MHz or 40 MHz Readout: Maximize Frame Rate (40 MHz) or
Minimize Noise (20 MHz)
Asynchronous Reset, Triggered, and Bulb Exposure Modes (See Triggering Tab for Details)
ThorCam GUI with 32- and 64-Bit Windows® 7 or 10 Support
SDK and Programming Interface Support:


C, C++, C#, Python, and Visual Basic .NET APIs
LabVIEW, MATLAB, µManager, and MetaMorph Third-Party Software
Thorlabs' 8 Megapixel CCD Cameras (US Patent 9,380,241 B2), which offer up to 17.1 frames per second at 40 MHz quad-tap readout of the full sensor, are specifically designed for demanding scientific imaging applications such as microscopy or those requiring coherent light. These cameras are ideal for brightfield microscopy, inspection, and other techniques that would benefit from a low-noise, large field of view imager.
With the exception of the S805MUx models, each camera comes with a user-removable IR filter; for complete details on the transmission please see the Specs tab. If the filter is removed, it can be replaced with a user-supplied Ø1" (Ø25 mm) filter or another optic up to 4 mm thick; please see the camera manual, found under the red Docs icons (

) below, for details. Our S805MU1 and S805MU2 cameras are identical to the 8051M-USB camera, except that the sensor face plate is removed and the IR filter is replaced with a wedged window. These models are ideal for applications that are sensitive to interference patterns caused by reflections from the sensor face plate.
USB 3.0 or Gigabit Ethernet Industry-Standard Interfaces
Thorlabs' 8 megapixel cameras have either a USB 3.0 or Gigabit Ethernet (GigE) interface. GigE is ideal for situations where the camera must be far from the PC or there are multiple cameras that need to be controlled by the same PC. The GigE cameras are provided with a GigE frame grabber card and cables. Since USB 3.0 is supported by most computers, the USB cameras do not come with a card; however, one is available separately. A power supply and software are supplied with all cameras. More information on what's included is on the Shipping List tab. Your computer must have a free PCI Express slot to install the GigE interface. For more information on the three interface options and recommended computer specifications, please see the Interface tab.
Our cameras have triggering options that enable custom timing and system control; for more details, please see the Triggering tab. External triggering requires a connection to the auxiliary port of the camera. Accessory cables and boards to "break out" the individual signals are available below.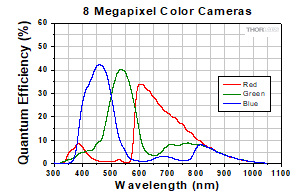 Click to Enlarge
Click for Raw Data

This curve shows the quantum efficiency for the color camera sensor's red, green, and blue pixels.

Click to Enlarge
Click for Raw Data

This curve shows the quantum efficiency for the monochrome camera sensor.
Sample Frame Rates at 1 ms Exposure Time
CCD Size and Binninga
Single Tap
Dual Tap
Quad Tapb
20 MHz
40 MHz
20 MHz
40 MHz
20 MHz
40 MHz
Full Sensor (3296 x 2472)
2.3 fps
4.5 fps
4.4 fps
8.5 fps
8.8 fps
17.1 fps
Full Sensor, Bin by 2 (1648 x 1048)
4.4 fps
8.5 fps
8.3 fps
15.7 fps
16.6 fps
31.2 fps
Full Sensor, Bin by 10 (329 x 247)
17.0 fps
29.9 fps
29.0 fps
47.1 fps
56.8 fps
92.3 fps
Common Specificationsa
Sensor Type
Semiconductor KAI-08051
Number of Active Pixels
3296 x 2472
(Horizontal x Vertical)
Imaging Area
18.13 mm x 13.60 mm
(Horizontal x Vertical)
Pixel Size
5.5 µm x 5.5 µm
Optical Format
4/3" Format (22 mm Diagonal)
Peak Quantum Efficiency
Monochrome: 51% at 460 nm
Color: See Graph to the Right
Exposure Time
0 to 1000 s in 1 ms Incrementsb
CCD Pixel Clock Speed
20 or 40 MHz
ADC Gain