Implantable Fiber Optic Cannulae, Ø400 µm Core, 0.39 NA Fiber
Cannulae with Ø400 µm Core, 0.39 NA Multimode Fiber
Multiple Ferrule Size and Material Options
2 mm to 20 mm Cleaved or 50 mm Uncleaved Fiber
Custom Versions Available
CFMLC14U-20
50 mm Uncleaved Fiber, Pack of 20
CFMC14L10
10 mm Cleaved Fiber
CFM14L05
5 mm Cleaved Fiber
CFMLC14L02
2 mm Cleaved Fiber
Stainless Steel
Ø1.25 mm
Ø2.5 mm
Polished Ceramic


Ferrule Ends
Both Stainless Steel and Ceramic Ferrules are Available in Ø1.25 mm and Ø2.5 mm Sizes
CFML14L20
20 mm Cleaved Fiber

Please Wait
Cannula Fiber Specifications
Fiber Type
FT400EMT
Wavelength Range
(Click for Plot)
400 - 2200 nm
Fiber Core Diameter

400 ± 8 µm

Fiber Outer Diameter

425 ± 10 μm

Numerical Aperture

0.39

Cleaved Length Tolerance

±0.5 mm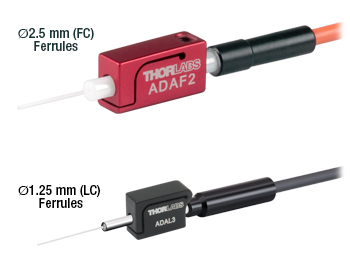 Click for Details
All
Fiber Optic Cannulae
and
Optogenetics Patch Cables
can be easily mated using an
Interconnect or Mating Sleeve
.
Features
Ø400 µm Core, 0.39 NA Fiber Optic Cannulae
Multiple Ferrule Options

Ø1.25 mm (LC) or Ø2.5 mm (FC) Size
Stainless Steel or Ceramic (Zirconia) Material

Flat Cleaved Cannulae Available with Fiber 2, 5, 10, or 20 mm Long
Uncleaved Cannulae Available with Fiber 50 mm Long
Custom Versions Available (See Custom Cannula Tab for Details)
Contact

Tech Support for Discount on High-Volume

Purchases
Thorlabs' Implantable Fiber Optic Cannulae are designed to deliver light from an LED or laser light source to optically sensitive cells within a specimen. Each cannula consists of a ferrule and a length of protruding optical fiber that is typically surgically implanted using stereotaxic guidance. After implantation, the ferrule remains exposed; this provides an interface with our line of Optogenetics Equipment (see the OG Selection Guide tab for a full listing).
The cannulae sold on this page use Ø400 µm core, 0.39 NA fiber (Item # FT400EMT) with a variety of ferrule and length options. Cannulae with Ø1.25 mm (LC) ferrules are less invasive and lightweight, making them ideal for smaller specimens or placing multiple cannulae in close proximity. Ø2.5 mm (FC) ferrules are larger and easier to handle; this provides a more robust connection that is ideal for working with larger specimens. Stainless steel ferrules are easy to score for better adherence when implanted and fixed with glue, while ceramic ferrules are lighter for reduced stress on the specimen.
Cannulae are available with ready-to-use flat cleaved fiber of a pre-determined length (2, 5, 10, or 20 mm). Uncleaved cannulae with 50 mm scissor-cut fiber can be cleaved by the user to a desired length using the procedure outlined on the Cannula Cleaving tab. Implant guides for the cannulae sold on this page are also available below in packs of one or five.
Each cannula includes a protective cap that shields the ferrule end from dust and other hazards. Additional fiber caps are also sold separately. If the ferrule end becomes dirty from use, we offer a selection of inspection tools, as well as fiber optic cleaning products.
Patch Cable Compatibility and Numerical Aperture (NA)
For best performance, choose a patch cable and cannula with the same fiber core diameter and NA. Mixing stainless steel and ceramic ferrules should not introduce significant additional signal losses. Numerical Aperture (NA) defines the angle of the cone of light leaving the fiber tip at the end of the cannula and is a dimensionless quantity used by fiber manufacturers to specify the acceptance angle of an optical fiber. Cannulae with a lower NA provide a narrower cone of light at the tip, resulting in higher light intensity over a smaller area, while cannulae with a higher NA generate a wider cone of light that illuminates a larger area with lower intensity.


Click to Enlarge

Multiple fiber NAs are available across our optogenetics product line; cannulae with a 0.39 NA are sold on this page.
Mating Sleeve Compatibility
The ferrule diameter of a patch cable and cannula is the key factor for physical compatibility with an interconnect and mating sleeve. Cannulae and patch cables using Ø1.25 mm (LC) ferrules can be connected using the ADAL1 mating sleeve or ADAL3 interconnect. Patch cables and cannulae using Ø2.5 mm (FC) ferrules are compatible with the ADAF1 mating sleeve and ADAF2 interconnect.
Custom Cannulae
Thorlabs also manufactures custom fiber optic cannulae. We can provide different fiber and/or ferrule types as well as different fiber lengths. Please see the Custom Cannula tab for details.
Optogenetics Product Family for In Vivo Applications
Thorlabs offers a wide variety of products designed to support in vivo optogenetics applications. Please visit the OG Selection Guide tab above to see a full listing of available products for different applications.


Custom Fiber Optic Cannula
Thorlabs offers custom cannulae with the following options. Place a quote request through the following form to receive a quote for your custom cannula order.
Fiber Cleaving
A cleave, or precision cut, is used to ensure proper light propagation out of the fiber tip. Thorlabs' uncleaved cannula must be cleaved before use; a cleaved cannula can be cleaved again if a shorter fiber length is desired. We recommend the following procedure for cleaving the fiber end.
Required Materials
Uncleaved Fiber Optic Cannula
S90R Fiber Scribe
BFG1 Bare Fiber Gripper
KW32 Kimwipes™ Lint-Free Wipes
Isopropyl Alcohol
FTDU Fiber Optic Disposal Unit (Recommended)
Cleaving Procedure
Clean the fiber end of the cannula using a lint-free wipe and isopropyl alcohol. Do not use acetone, as this will damage the TECS cladding on the exposed fiber.
Measure the desired length of fiber from the end of the ferrule. Mark this length on the fiber with a marker.
Place the cannula on a hard surface and secure the fiber end with a finger or tape, as shown in Figure 1.
Hold the cleaving tool perpendicular to the fiber and gently score the fiber as shown in Figure 1 to the right. Do not apply excessive pressure. The fiber should not break off at this point.
This step is critical in obtaining a good cleave. If the scribe is made too hard, the fiber will break instead of cleaving. If the scribe is too light, the fiber will not cleave.
Hold the cannula in one hand, and grip the fiber end with a bare fiber gripper in the other end as shown in Figure 2. Pull the fiber straight back until the fiber cleaves as shown in Figure 3. Dispose of the scrap fiber end in the FTDU or any medical or fiber sharps container.
If the fiber does not break with a moderate amount of tension, repeat steps 4-5 above applying slightly more pressure when scoring. Inspect the cleave using an eye loupe or microscope.
Click Here for a PowerPoint Illustrating This Procedure
Thorlabs also offers a full fiber connectorization manual, which covers fiber termination and connectorization, as well as bare fiber cleaving. It can be downloaded for free here, or a paper copy can be purchased here.
Optogenetics Selection Guide
Thorlabs offers a wide range of optogenetics components; the compatibility of these products in select standard configurations is discussed in detail here. Please contact Technical Support for assistance with items outside the scope of this guide, including custom fiber components for optogenetics.
Single-Site Stimulation
One Light Source to One Cannula Implant
The most straightforward method for in vivo light stimulation of a specimen is to use a single fiber optic with a single LED light source. The single wavelength LED is powered by an LED driver, and then the illumination output is fiber-coupled into a patch cable, which connects to the implanted cannula. See the graphics and expandable compatibility tables below for the necessary patch cables and cannulae to create this setup. To choose the appropriate LED and driver, see below or the full web presentation.
Click on Each Component for More Information



Click for Details
Click to See Ø1.25 mm (LC) Ferrule Compatible Patch Cables, Cannulae, and Interconnects

Click for Detials
Click to See Ø2.5 mm (FC) Ferrule Compatible Patch Cables, Cannulae, and Interconnects
Bilateral Stimulation
The ability to accurately and simultaneously direct light to multiple locations within a specimen is desired for many types of optogenetics experiments. For example, bilateral stimulation techniques typically target neurons in two spatially separated regions in order to induce a desired behavior. In more complex experiments involving the simultaneous inhibition and stimulation of neurons, delivering light of two different monochromatic wavelengths within close proximity enables the user to perform these experiments without implanting multiple cannulae, which can increase stress on the specimen.
Bilateral stimulation can be achieved with several different configurations depending on the application requirements. The sections below illustrate examples of different configurations using Thorlabs' optogenetics products.
---
Option 1: One Light Source to Two Cannula Implants Using Rotary Joint Splitter
Thorlabs' RJ2 1x2 Rotary Joint Splitter is designed for optogenetics applications and is used to split light from a single input evenly between two outputs. The rotary joint interface allows connected patch cables to freely rotate, reducing the risk of fiber damage caused by a moving specimen. See the graphic and compatibility table below for the necessary cables and cannulae to create this setup. For LEDs and drivers, see below or the full web presentation.



Click for Details
Click to See Ø1.25 mm (LC) Ferrule Components Recommended for Use with RJ2 Rotary Joint Splitter

Click for Detials
Click to See Ø2.5 mm (FC) Ferrule Components Recommended for Use with RJ2 Rotary Joint Splitter
---
Option 2: One or Two Light Sources to Two Cannula Implants
If the intent is for one LED source to connect to two cannulae for simultaneous light modulation, then a bifurcated fiber bundle can be used to split the light from the LED into each respective cannula. For dual wavelength stimulation (mixing two wavelengths in a single cannula) or a more controlled split ratio between cannula, one can use a multimode coupler to connect one or two LEDs to the cannulae. If one cable end is left unused, the spare coupler cable end may be terminated by a light trap. See the graphic and compatibility table below for the necessary cables and cannulae to create this setup. For LEDs and drivers, see below or the full web presentation.
Click on Each Component Below for More Information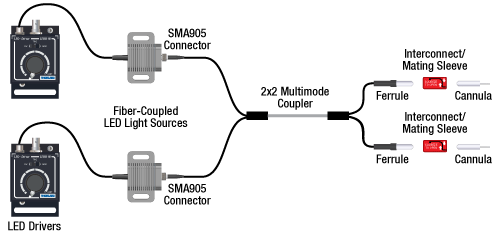 Two Light Sources into One Dual-Core Cannula Implant
For bilateral stimulation applications where the two cannulas need to be placed in close proximity (within ~1 mm), Thorlabs offers dual-core patch cables and cannulae that are designed for this specific application. Each core is driven by a separate light source, enabling users to stimulate and/or supress nerve cells in the same region of the specimen. See the graphic and compatibility table below for the necessary cables and cannulae to create this setup. For LEDs and drivers, see below or the full web presentation.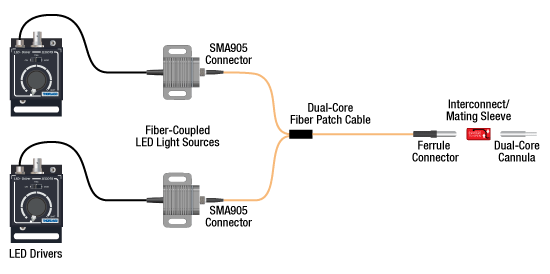 Click on Each Component for More Information
Part Selection Table (Click Links for Item Description Popup)
Common Fiber Properties
Core Diameter
200 µm
Wavelength Range
400 - 2200 nm
NA
0.39
Fiber Type
FT200EMT
Ferrule Stylea
FC

(Ø2.5 mm)

Dual-Core Patch Cable
FC/PC Input
BFY32FL1
SMA905 Input
BFY32SL1
Compatible Mating Sleeve/Interconnect
ADAF1
ADAF2
ADAF4-5
Dual-Core Fiber Optic Cannulaec
Stainless Steel
CFM32L10
CFM32L20
FC components have a Ø2.5 mm ferrule end.
Patch cables for dual light source to single implant applications are highlighted in green above. Choose a patch cable with an input that matches your light source.
Available cannulae are highlighted in orange of the table above. Cannule within the same column are interchangeable.
| LED Item # | Wavelengtha | Typical Opsin | Output Powerb | Color |
| --- | --- | --- | --- | --- |
| M385F1c | 385 nm | EBFP, moxBFP | 10.7 mW | UV |
| M405F1c | 405 nm | mmilCFP, hcriGFP | 3.7 mW | UV |
| M430F1 | 430 nm | ChR2 | 7.5 mW | Violet |
| M455F3 | 455 nm | ChIEF, bPAC | 24.5 mW | Royal Blue |
| M505F3 | 505 nm | ChRGR, Opto-α1AR, Opto-β2AR | 11.7 mW | Cyan |
| M530F2 | 530 nm | C1V1, VChR1 | 9.6 mW | Green |
| M565F3 | 565 nm | Arch, VChR1-SFO | 13.5 mW | Lime |
| M595F2 | 595 nm | ChR2-SFO, eNpHR3.0 | 11.5 mW | Amber |
| M625F2 | 625 nm | ReChR | 17.5 mW | Red |
Click the link for a spectrum and raw data.
Typical output power measured with a Ø400 µm Core, 0.39 NA multimode fiber.
Precautions must be taken to prevent looking directly at the UV light and UV light protective glasses must be worn to avoid eye damage. Exposure of the skin and other body parts to UV light should be avoided.
Illumination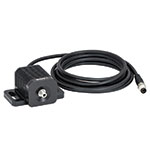 Click to Enlarge
M405F1
Fiber-Coupled LEDs and Drivers
Our fiber-coupled LEDs are ideal light sources for optogenetics applications. They feature a variety of wavelength choices and a convenient interconnection to optogenetics patch cables. Thorlabs offers fiber-coupled LEDs with nominal wavelengths ranging from 280 nm to 1050 nm. See the table to the right for the LEDs with the most popular wavelengths for optogenetics. A table of compatible LED drivers can be viewed by clicking below.