Aluminum Protective Screens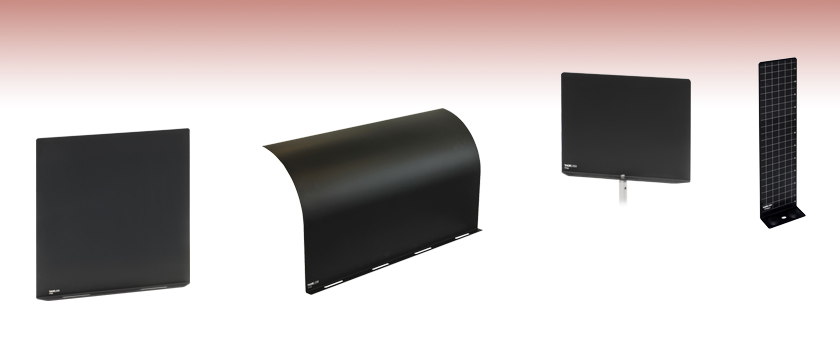 Flat and Curved Profiles for Tailored Shielding
Joiners Available for Flat Profile Barriers
Bead Blasted to Ensure Consistently High Diffusion
Versions with Laser-Engraved Target Grid Available
TPS4
Centered Through Hole for
8-32 (M4) Post Mounting
TPS9
24" x 12"
TPS5
12" x 12"
TPSM2(/M)
11.81" x 2.95"
Magnetic Target Grid with
Engravings Every 1/2" (10 mm)

Please Wait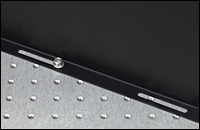 Click to Enlarge
Aluminum Screen Mounted to an
Optical Table
Thorlabs' Aluminum Protective Screens prevent stray or unwanted light from entering or exiting an experimental setup. The aluminum is treated prior to anodization to create a homogeneously diffusive surface that is superior to textured surfaces, which scatter light unevenly. These screens are available with flat and curved surfaces. The curved screens are particularly useful for shielding laser beams that might be reflected upwards. For applications that require laser alignment and beam blocking, we offer flat screens that feature an imperial or metric laser-engraved target grid on one side and powerful magnets in the base for flexibility when positioning the screen on magnetic surfaces.
These screens are not intended to serve as permanent beam dumps. For such applications, Thorlabs offers a comprehensive family of beam traps and beam blocks.
The laser optical density and barrier threshold of the material and coating used to manufacture the products featured here were tested at various wavelengths in accordance with EN 12254 and ANSI Z136.7. The results are tabulated below:
EN 12254
| Test Wavelength | Spot Diameter | Exposure Duration | Laser Optical Density |
| --- | --- | --- | --- |
| 532 nm | 910 µm | 100 Seconds | D,AB7 |
| 1070 nm | 910 µm | 100 Seconds | D,AB7 |
| 10.6 µm | 956 µm | 100 Seconds | D,AB5 |
ANSI Z136.7
| Test Wavelength | Spot Diameter | Exposure Duration | Test Irradiance | Laser Barrier Threshold |
| --- | --- | --- | --- | --- |
| 532 nm | 532 µm | 100 Seconds | 2546 W/cm2 | No Penetration |
| 1070 nm | 910 µm | 100 Seconds | 150 KW/cm2 | No Penetration |
| 10.6 µm | 956 µm | 100 Seconds | 27.4 W/cm2 | No Penetration |