Mounted Longpass Colored Glass Filters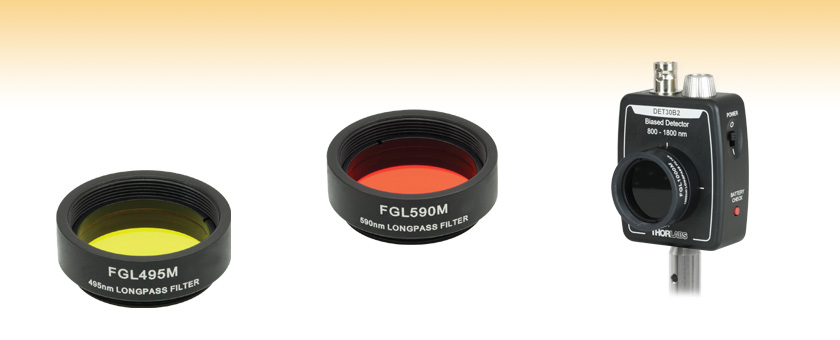 Mounted Ø25 mm Filters
Longpass Cut-On Wavelengths from 280 to 1000 nm
Selection Available in Kits
FGL495M
FGL590M
Application Idea
FGL1000M in Front of DET30B2 Ge Photodetector

Please Wait
General Specifications
Material
Schott® Colored Glass
Diameter
25 mm
Clear Aperture
80% of Diameter
Thickness
2 mm
Thickness Tolerance
+0.0 mm/-0.4 mm
Surface Quality
40-20 Scratch-Dig
Surface Flatness
<λ @ 632.8 nm
Parallelism
<3 arcmin
Features
Longpass Cut-On Wavelengths from 280 to 1000 nm
Ø25 mm Filters
Transmissive Up to At Least 1800 nm
SM1-Threaded Mounts, Engraved with Item # and Description
Kit Includes Selected Longpass and Bandpass Filters
Thorlabs' Mounted Longpass Colored Glass Filters are manufactured from different colors of Schott® glass and are intended for use in a wide variety of applications. The SM1-mounted (1.035"-40), Ø25 mm filters will thread into our manual or motorized filter wheels or any of our lens tube accessories. The housing is engraved with the Item # and longpass cut-on wavelength for easy identification. If the longpass filter you require is not listed here, it may be available in an unmounted version.
Several of the colored glasses used for our filters are fluorescent at certain wavelengths; for more details on how this may affect certain applications, contact Technical Support. For narrowband sources, we recommend our dielectric edgepass filters.
Colored Glass Filter Kit
Thorlabs offers a boxed filter kit containing a selection of our most popular bandpass and longpass filters. For the specific filters included in the kit, please see the presentation at the bottom of this webpage.
Storage Box
If you need a safe, convenient place to store loose filters, consider our KT01 Storage Box, a lockable foam case that holds up to ten filters. Please see below for more information.

Item #
(Click for
Photo)
Transmission Dataa
Cut-On
Wavelength
Schott®
Glass #
FGL715M
715 nm
RG715
FGL780M
780 nm
RG780
FGL830M
830 nm
RG830
FGL850M
850 nm
RG850
FGL1000M
1000 nm
RG1000
Click on for a plot and downloadable data.

FGK01 Contents
Bandpass Region
or Cut-On Wavelength
FGS900M
315 - 710 nm
FGB37M
335 - 610 nm
FGUVM
325 - 385 nm
FGL400M
400 nm
FGL495M
495 nm
FGL550M
550 nm
FGL610M
610 nm
FGL715M
715 nm
FGL780M
780 nm
FGL850M
850 nm
The FGK01 Colored Glass Filter Kit contains ten of our most popular Ø25 mm round colored glass filters: three from our bandpass family, and seven from our longpass family. They are premounted in an SM1L03 lens tube that is engraved with the Item # and bandpass region (for bandpass filters) or cut-on wavelength (for longpass filters), and ship in a box with labeled slots to aid organization. To purchase an unlabeled storage box separately, please see below.

If you purchase individual filters and would like to have a safe, convenient place to store them when not in use, consider our KT01 Storage Box. The KT01 is designed to hold up to ten mounted Ø25 mm round filters.