UV Fused Silica Ground Glass Diffusers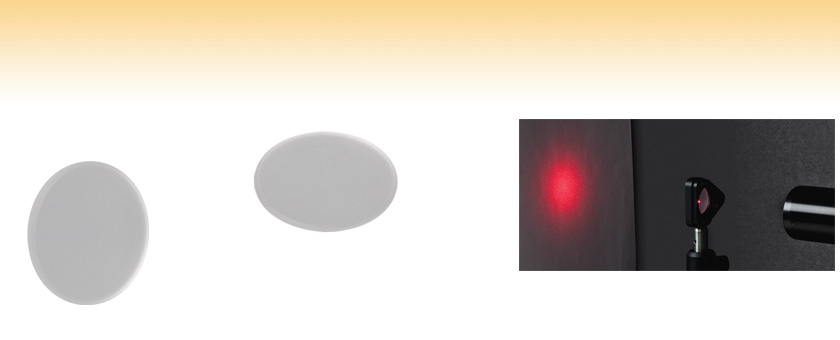 Superior Transmission in UV Range
Offered in 120, 220, 600, and 1500 Grit Polishes
Polished for Greater Uniformity than Sand Blasting
DGUV10-120
DGUV10-220
Application Idea
DGUV10-600 Mounted in KB1P Quick-Release Mount

Please Wait
Features
Ø1" Round Diffusers
UV Fused Silica Substrate
Greater than 90% Transmission Above 225 nm
Gaussian-Like Spatial Profile
Clear Aperture: >90% Diameter
Thorlabs' UV Fused Silica Ground Glass Diffusers can be used in a variety of applications requiring a diffuse Gaussian-like distribution. Unlike our diffusers based on N-BK7 substrates, UV fused silica is highly transmissive at wavelengths below 350 nm. In addition, UV fused silica exhibits virtually no laser-induced fluorescence (as measured at 193 nm), making it an ideal choice for applications in a range spanning the ultraviolet to the near infrared. See the Comparison tab for a side-by-side comparison of the wavelength-dependent transmission of N-BK7 and UV fused silica.
These diffusers feature 120, 220, 600, or 1500 grit polishes. Our polishing process results in surfaces with significantly greater uniformity than those of sandblasted diffusers. The various grits provide a range from fine to coarse scattering. A finer grit (e.g. 1500) has a small diffusion pattern, while a coarser grit (e.g. 120) will have a larger diffuser pattern. See the plot below to compare the performance of our diffusers and the Graphs tab to see individual graphs for each diffuser, as well as measurement details.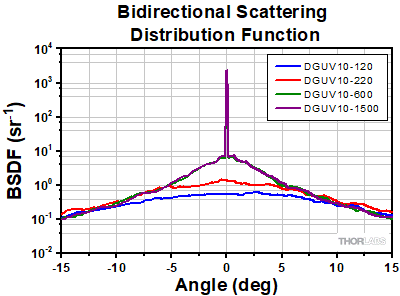 Click to Enlarge
Click to Download Raw Data
See the
Graphs
Tab for Information about BSDF Measurement
When mounting the diffusers, the grit polished side should face away from the source. Thorlabs offers fixed lens mounts to hold these diffusers.
If transmission in the ultraviolet range is not necessary for your application, please consider our line of N-BK7 Ground Glass Diffusers.
Common Specifications
Diameter
1.00"
Thickness
2.0 mm
Clear Aperture
>90% Diameter
Surface Flatness of Smooth Side
(@ 633 nm)
<λ
Surface Quality of Smooth Side
80-50 Scratch-Dig
Parallelism
<3 arcmin
| Item # | Grit |
| --- | --- |
| DGUV10-120 | 120 |
| DGUV10-220 | 220 |
| DGUV10-600 | 600 |
| DGUV10-1500 | 1500 |
Please note that the transmission values are affected by the manner in which the data is collected. An integrating sphere is used along with a spectrometer, and as the grit values get smaller the light is more dispersed, making it difficult to collect all of the light into the spectrometer. Therefore, lower grit values will appear to have a lower transmission.
---
Bidirectional Scattering Distribution Function Graphs
This data was taken by directing a HeNe laser at a diffuser and collecting the light with a receiver that was rotated around the diffuser to measure the angle-resolved scatter (ARS). The bidirectional scattering distribution function (BSDF), which is found by dividing the ARS by the cosine of the angle between the input beam and the receiver, measures the amount of scattering that occurs after light permeates the diffuser. The X axis of these graphs is the angle at which the scatter is occurring. This is why at 0° there can be a spike; this spike is representative of the specular beam going through the diffuser.
Comparison of N-BK7 and UV Fused Silica
N-BK7 is a popular substrate because of its low cost and excellent transmission in the visible and near-infrared portions of the spectrum. However, its transmission drops off sharply at wavelengths shorter than 350 nm. For applications in the ultraviolet portion of the spectrum, UV fused silica is a superior alternative. UV fused silica offers high transmission deep into the ultraviolet, good homogeneity, and a lower coefficient of thermal expansion than N-BK7. In addition, UV fused silica exhibits virtually no laser-induced fluorescence (as measured at 193 nm), making it an ideal choice for applications from the UV to the near IR. See the graph to the right for a comparison between N-BK7 and UV fused silica.
Thorlabs also offers N-BK7 Ground Glass Diffusers for applications where UV transmission is not a requirement.