Mini-Series Post Holders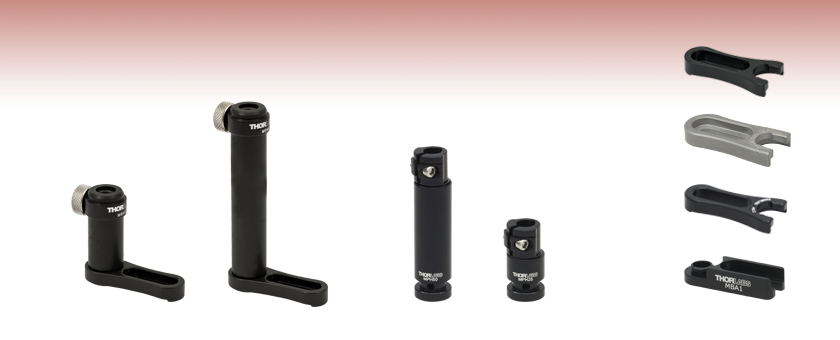 Mounts Ø6 mm Mini-Series Posts
Compatibile with Mini-Series or Standard Breadboards
360° Swivel-Base or Pedestal-Base Options
Swivel-Base Post Holders
MSL3
1/4" (M6) Slot
Pedestal-Base Post Holders
MPH25
MBA1
Mounting Base
#8 (M4) Slot
MSH1.5
#4 (M3) Slot
MPH50
MSC2
Clamping Fork
1/4" (M6) Slot
MSC3
Clamping Fork
#8 (M4) Slot
MSC1
Clamping Fork
#4 (M3) Slot
Pedestal Post Holder Base and Clamping Forks

Please Wait

Click to Enlarge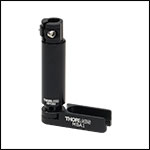 Click for Details
MPH50 Post Holder threads onto the MBA1 Post Holder Base.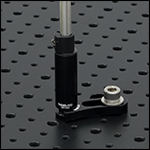 Click to Enlarge
MPH50 Post Holder secured to a
Mini-Series Breadboard
using the MSC2 Clamping Fork.
Features
Post Holders for Mounting Ø6 mm Mini-Series Posts:

Swivel-Base Post Holder with #4 (M3) or 1/4" (M6) Slot
Pedestal-Base Post Holder

Pedestal Post Holder Base and Clamping Forks with #4 (M3), #8 (M4), or 1/4" (M6) Slot
Post Can Pass Through Post Holders, Enabling Post to Bottom Out
Compatible with Mini-Series or Standard Breadboards
Designed to mount our Ø6 mm posts, Thorlabs' Mini-Series post holders are the ideal solution for mounting Mini-Series components in a compact assembly. Thorlabs offers two types of Mini-Series post holders: swivel base and pedestal base.
Our swivel-base post holders feature a knurled aluminum, hex-locking thumbscrew for securing the post. The base swivels 360° to allow for maximum flexibility when placing parts on a breadboard or optical table. The swivel-base post holders have two mounting slot options to allow for compatibility with both Mini-Series and standard breadboards: the MSH post holders feature a slot for 4-40 (M3) cap screws, and the MSL post holders have a slot for 1/4"-20 (M6) cap screws.
The pedestal-base post holders use a rotatable flexure clamp with 5/64" (2.0 mm) hex to secure the post. The flexure clamp can be rotated 360° for easy access to the locking screw. The pedestal base of the post holders is compatible with our Mini-Series clamping forks (sold below) which have #4 (M3), #8 (M4) or 1/4" (M6) slots. For additional mounting flexibility, the MPH post holders are also directly compatible with the MBA1 Mini-Series post holder base (sold below). The MBA1 is secured to the post holder using threads for added stability and features a slot for 8-32 (M4) cap screws to secure the MPH post holders to a Mini-Series breadboard.

For additional height adjustment, the hollow base of both types of post holders allows the Ø6 mm posts to rest on the optical table, which enables the largest possible range of post height adjustment. Please note that our Ø6 mm posts feature a 4-40 (M3) tap, making them compatible only with other Mini-Series components.