25 mm x 36 mm Plate Beamsplitters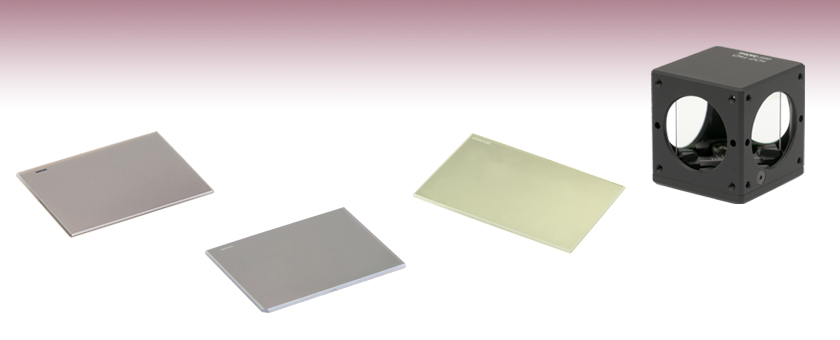 Ideal for Reflected Light Microscopy
Designed for Microscopy Filter Cubes
Multiple Wavelength Ranges and Beamsplitting Ratios Available
BSW10R
50:50 for 400 - 700 nm
BSW23R
50:50 for 0.9 - 2.6 μm
BSX12R
10:90 for 1.2 - 1.6 μm
BSW11R Mounted in a
CM1-DCH Cage Cube

Please Wait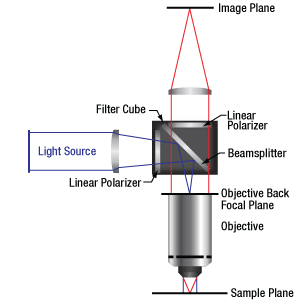 Click to Enlarge
Diagram of reflected light microscopy. Cross-polarized
linear polarizers
are typically used in addition to prevent discarded light from reaching the image plane.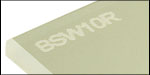 Click to Enlarge
Item number is engraved on beamsplitting surface, when available.
Features
25 mm x 36 mm Rectangular Plate Beamsplitters Designed for our Microscopy Filter Cubes
Available for Multiple Wavelength Ranges Between 250 nm and 6.0 µm
Certain Wavelength Ranges Offer Multiple Split Ratios (R:T) for AOI = 45°
1 mm Thick Substrates
When performing reflected light microscopy, a beamsplitter directs light from an illumination source to a sample while simultaneously transmitting the light reflected by the sample onto the image plane. Thorlabs offers Non-Polarizing Plate Beamsplitters at varying wavelengths and beam splitting ratios for ultravoilet (UV), visible, near infrared (NIR), and mid-infrared (MIR) applications.
These rectangular beamsplitters, measuring 25 mm x 36 mm x 1 mm, have a dielectric beamsplitter coating deposited on the front surface. The beamsplitter dimensions match our dichroic mirrors commonly used in microscopy, making them compatible with our microscopy filter cubes and other rectangular filter holders. Thorlabs also offers a complete selection of non-polarizing plate beamsplitters in round diameters and for additional wavelength ranges.
The majority of these beamsplitters are fabricated using a UV fused silica or an IR fused silica substrate, both of which offer superior homogeneity and a lower coefficient of thermal expansion than N-BK7 glass. In addition, UV fused silica exhibits high transmission deep into the UV with virtually no laser-induced fluorescence, making it an ideal choice for applications from the UV to the near IR. For performance in the MIR, our 1.0 - 6.0 µm beamsplitter is made from Calcium Fluoride.
To reduce the effect of ghost images, an antireflection (AR) coating, which is designed for the same operating wavelength range as the beamsplitter coating on the front surface, has been deposited onto the back surface of a selection of our beamsplitter. By applying an AR coating to the back side of the beamsplitter, the percentage of light reflected back through the front surface is reduced to an average of less than 1% over the entire operating range of the coating. To differentiate between the front and back surfaces, the beamsplitter surface is indicated with the Item # engraving, as shown in the image above.
Mounting Options
For customers who wish to use these beamsplitters in microscopy applications, Thorlabs manufactures a family of filter cubes and mounts. Additionally, these beamsplitters can be mounted in the KM2536 kinematic mount, which is designed to secure 25 mm x 36 mm rectangular optics with minimal stress.
Thorlabs offers a complete line of round non-polarizing plate beamsplitters at additional wavelength ranges.
Click here
for details.
Click to Enlarge
Schematic of light passing through a beamsplitter. Blue arrows indicate light emitted from the light source and red arrows indicate light reflected from the sample.
Beamsplitter Effect on Light Through a Microscope
Nominal Split Ratio (Reflected:Transmitted)
10:90
30:70
50:50
70:30
90:10
Light Reflected onto Sample Planea
10%
30%
50%
70%
90%
Light Transmitted onto Image Planea
9%
21%
25%
21%
9%
Calculations assume perfect reflections across all wavelengths and do not include losses such as transmission loss, reflectivity of the sample, or loss from polarizing elements. Please check transmission and reflectance data for individual beamsplitters at the desired wavelength.
Beamsplitting Inside a Microscope
A beamsplitter splits an incident beam into two: a reflected beam and a transmitted beam. The split ratio states what portion of the beam gets reflected versus transmitted (reflected:transmitted). In a microscope, the beamsplitter is used in two fashions: to reflect incident light from the light source to the sample plane, and to transmit light from the sample to the imaging plane. To perform this task, the beamsplitter is installed at a 45° angle to both beams (see image to the right). In addition to the beamsplitter, two linear polarizers at orthogonal polarizations are typically used to reduce noise from discarded light (see diagram in Overview tab). Depending upon your imaging requirements, a different beamsplitting ratio than 50:50 may be desirable.
To provide a firmer grasp of beamsplitter functionality inside a microscope, in the table above we give a back of the envelope calculation of the percentage of input light that is directed toward the sample plane and light that is directed towards the imaging plane for different split ratios. This nominal split ratio calculation should only be used as a guideline when choosing between beamsplitters, as it assumes perfect reflections and does not include losses such as transmission loss, reflectivity of the sample, or loss from polarizing elements. Split ratios also vary with incident wavelength, so please check the reflectance and transmission data at the desired wavelength.