Variable Fiber Optical Attenuators, Polarization Maintaining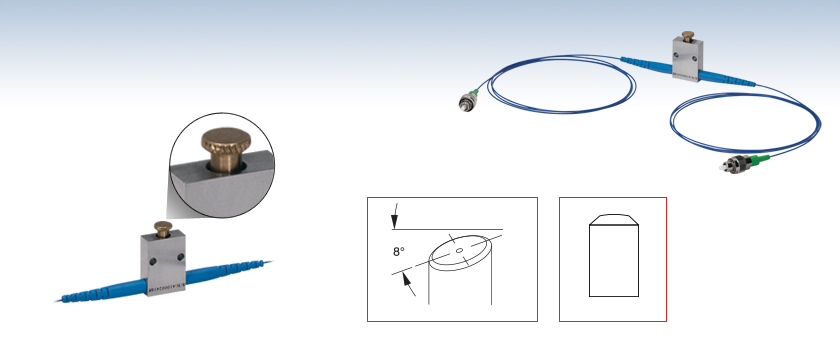 Polarization-Maintaining, Inline, Variable Fiber Optic Attenuators
Up to 50 dB Attenuation
630, 780, 1064, or 1310/1550 nm Center Wavelength
Adjustment Screw
Located on Top
VOA780PM-FC
VOA50PM-APC
FC/APC
FC/PC

Please Wait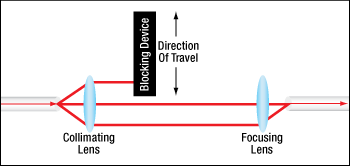 Click to Enlarge
Features
Bi-Directional, Inline, Variable Fiber Optical Attenuators
Collimator-Based Manually Variable Attenuation
1 m Long PM Fiber Pigtail on Each Side
Thorlabs' Polarization-Maintaining Variable Optical Attenuators (PM VOAs) allow the user to manually vary the attenuation of a signal for precise power balancing in fiber circuits or evaluation of the dynamic range of measurement systems. Adjustment of the attenuation is achieved using the thumbscrew on the top of the housing.
The attenuator is comprised of an input fiber, collimating lens, blocking device, focusing lens, and output fiber. By turning the thumbscrew, the blocking device is shifted into the beam path, blocking part of the free-space beam (refer to the schematic to the right). Then, a second lens is used to couple light into the output fiber. Therefore, by turning the screw, one can manually alter the coupling efficiency until the desired attenuation is obtained.
All in-line PM VOAs have fiber pigtails with a Ø900 µm jacket and are available with 2.0 mm narrow key FC/PC- or FC/APC-connectorized fiber pigtails with the key aligned to the slow axis. For other connector styles or custom requests, please contact technical support.
Attenuation Range
Shown below is a sample attenuation curve obtained by testing the VOA780PM-APC. The device was tested with the adjustment screw in the closed position (blocking the light). The screw was then turned counterclockwise in quarter turns until the attenuation specification was met. PM VOAs with other center wavelengths exhibit similar performance. Please note: changes in turning direction may cause a small offset in attenuator position due to backlash.