Customizable Optogenetics Kits
Complete Fiber Optics Kit for Optogenetics with Optional Component Substitution
470 nm LED Light Source
Ø1.25 mm or Ø2.5 mm Ferrule Cannulae with Ø200 μm or Ø400 μm Fiber Core
Standard and Rotary Joint Patch Cables
Kit with Rotary Joint Patch Cable, Ø200 µm Core Fiber, and Ø2.5 mm Ferrules

Please Wait
Kit #
Kit 1
Kit 2
Kit 3
Kit 4
Light Source
M470L5 Mounted 470 nm LED (Fiber-Coupled 590 nm Substitution Available)
LED Driver
LEDD1B
Fiber Core Size
Ø200 µm
Ø400 µm
Cannula Ferrule Size

Ø2.5 mm
Ø1.25 mm
Ø2.5 mm
Ø1.25 mm
Patch Cable
Standard
Rotary Joint
Standard
Rotary Joint
Standard
Rotary Joint
Standard
Rotary Joint
Cannula
Output Powera
2.6 mW
1.9 mW
4.5 mW
2.8 mW
17.9 mW
7.7 mW
18.8 mW
9.09 mW
Variation in
Output Powerb
N/A
±7%
N/A
±7%
N/A
±7%
N/A
±7%
Approximate value, tested with the LED driven at maximum current (1 A).
Output power variation during rotation of the rotary joint.
Features
Complete Fiber Optics Setup Including LED, Patch Cable, Cannulae, and Accessories
Flexible Component Substitution
Stainless Steel Ferrules and Fiber Cores in Two Sizes:

Ø1.25 mm Ferrules (Ø200 or Ø400µm Core Fiber)
Ø2.5 mm Ferrules (Ø200 or Ø400 µm Core Fiber)

Standard Lightweight Patch Cable with Rotary Joint Patch Cable Option
Cannula Holders for Implantation with Stereotaxic Equipment
Fiber Cleaving and Cleaning Essentials
Cleaved Cannulae of Various Lengths with Uncleaved Cannulae Kit Option
Cannula Connectors

1 Quick-Release Interconnect
5 Mating Sleeves
Thorlabs' optogenetics equipment is available in complete, ready-to-use kits. Our optogenetics kits include a 470 nm Mounted LED with driver, lightweight patch cable, rotary joint patch cable, quick-release interconnect, five mating sleeves, and 20 stainless steel ferrule cannulae. Certain kits feature an additional 20 uncleaved cannula and fiber cleaving tools. Please see the Fiber Cleaving for an introduction to their use. Kits are available with Ø200 µm or Ø400 µm core fiber components with 0.39 NA. Ø200 µm core size cables are less invasive, making them ideal for smaller animals. Ø400 µm core size cables offer a stiffer, more robust solution for larger animals and higher power light sources. These kits also include accessories for cannula implantation, as well as fiber cleaning supplies to cover basic fiber care and usage.
Each component in these kits can be removed or substituted for items more applicable to the individual needs of the experiment. See below for the most relevant kit, and the OG Selection Guide for alternate cannula and patch cable options. Thorlabs also sells other fiber-coupled LEDs and fiber care supplies, including a fiber polishing and repair kit.
For more particular experimental needs, Thorlabs offers custom fiber components for optogenetics. For more information, contact Tech Support.
Optogenetics Product Family for In Vivo Applications
Thorlabs offers a wide variety of products designed to support in vivo optogenetics applications. Please visit the OG Selection Guide tab above to see a full listing of available products for different applications.
Optogenetics Specifications
Tested with the LED driven at maximum current (1 A).
Output power variation during rotation of the rotary joint.
LED Specificationsa
Item #
M470L5
Center Wavelength
470 nm
Bandwidth (FWHM)
28 nm
Typical Output Spectrum
(Click to Enlarge)
CW Drive Current (Max)
1 A
LED Forward Voltage
3.8 V
Typical Lifetime
>100,000 Hours
Fiber Specifications
Fiber Type
FT200EMT Multimode
FT400EMT Multimode
Core Diameter
Ø200 ± 5 µm
Ø400 ± 8 µm
Wavelength
400 - 2200 nm
NA
0.39 ± 0.02
Core / Cladding
Pure Silica / TECS Hard Cladding
Cladding Diameter
225 ± 5 μm
425 ± 10 μm
Coating Diameter
500 ± 30 μm
730 ± 30 μm
Max Core Offset
5 µm
7 µm
Bend Radius
(Short Term /
Long Term)
21 mm / 42 mm
43 mm / 86 mm
LED Driver Specifications
Item #
LEDD1Ba
Common Data
Output Current Range
0 - 1200 mA
LED Current Limit Set Point Range
200 - 1200 mA
LED Forward Voltage
11 V (Min)
12 V (Typical)
Current Ripple
8 mA
Current Ripple Frequency
570 kHz
Modulation Modeb
Frequency Range
0 - 5 kHz, Sine Wave
Modulation Form
Arbitrary
Input Voltage Rate
0 - 5 V
Slew Rate
13.6 mA/µs
Decay Rate
13.1 mA/µs
Trigger Modeb
Frequency Range
0 - 1 kHz
Duty Cycle Range
20 - 80% @ 1 kHz
2 - 98% @ 100 Hz
0.2 - 99.8% @ 10 Hz
Modulation Form
Square Wave / PWM
Logic Input Levels
TTL
Min H-Level: 2 V
Max L-Level: 0.55 V
Slew Rate
18 mA/µs
Rise Time
51 µs
Decay Rate
12 mA/µs
Fall Time
79 µs
General Data
Power Supply
15 VDC
Maximum Power Consumption
15 VA
Operating Temperature
0 - 40 °C
Storage Temperature
-40 to 70 °C
Weight
240 g
Dimensions (W x H x D)
60 mm x 73 mm x 104 mm
All the technical data is valid at 23 ± 5 °C and 45 ± 15% relative humidity.
Specifications for the modulation and trigger modes depend on the forward voltage and capacitance of the connected LED.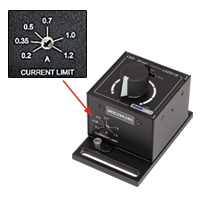 Figure 1.
Adjust the LEDD1B current limit adjuster arrow with a flathead screwdriver to set the maximum current (1.0 A or less).
Setup
LED and Driver
All Optogenetics Starter Kits include a Mounted or Fiber-Coupled LED and an LED Driver (Item # LEDD1B). For the mounted LED M470L5, the included SM1L05 lens tube should be threaded on to the internal threads of the LED. The SM1SMA fiber adapter should then be threaded into the lens tube until it contacts the end of the LED. To avoid damaging the LED, do not force the SM1SMA farther into the lens tube after it makes contact with the LED. In order to prevent the adapter from being driven into the LED during attachment of patch cables, the retaining ring included with the lens tube can be threaded in to the appropriate location before adding the adapter.
The LED can be operated by connecting it to the "LED" jack in the back of the LED driver. Plug the power supply (Item # KPS201) into the LED driver, and then the power supply to the main line voltage. The LED can only be driven up to a maximum current of 1.0 A without permanent damage; use a flathead screwdriver to turn the directional arrow recessed in the current limit adjuster on the front of the driver to set the maximum driving current (see image to the right). The LED driver can then be powered on by turning the knob on top of the driver clockwise.
Patch Cable and Cannula
Insert the patch cable's SMA connector into the LED unit by threading the connector's rotating barrel onto the LED unit's housing. Then, depending upon your choice of interconnect or mating sleeve, the connection methodology varies.
If you are using an ADAL1 (Ø1.25 mm ferrules) or ADAF1 (Ø2.5 mm ferrules) mating sleeve, place the mating sleeve onto the ferrule end of the patch cable. Leave approximately one-third of the mating sleeve length exposed for the cannula connection (Figure 2). Then, connect the mating sleeve to the cannula. To disconnect the cannula, grip the patch cable by the ferrule and mating sleeve and use a twisting motion. It is very important that the ends of the patch cable's ferrule and the cannula's ferrule are in physical contact (Figure 3). If they are not, the output power at the cannula tip will decrease significantly (Figure 4).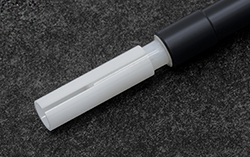 Click to Enlarge
Figure 2.
The ADAF1 Mating Sleeve should be inserted 1/2 to 2/3 of the way onto the patch cable before cannula connection.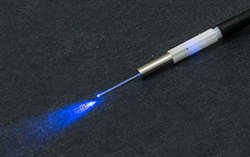 Click to Enlarge
Figure 3.
Properly connected cannula and patch cable, with the cannula and patch cable in physical contact.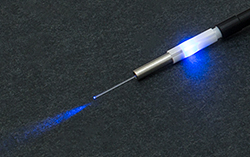 Click to Enlarge
Figure 4.
Improperly connected cannula and patch cable, showing an air gap and light leakage.

Quick-Release Interconnect Usage
The ADAF2 (Ø2.5 mm ferrules) quick-release interconnect provides a more reliable mating method for cannulae and patch cables. First, insert a patch cable ferrule into the interconnect and secure by tightening the setscrew using the included hex key [0.05" (1.3 mm)]. Then, squeeze the quick-release lever and insert the cannula until it makes physical contact with the ferrule. Finally, release the lever to lock the cannula into place. The interconnect is engraved to indicate where squeeze pressure should be applied. To release the cannula (or disconnect from an implanted cannula), squeeze the quick-release lever and pull the interconnect away from the cannula; only light force is needed to disconnect the interconnect. See the animation on the right for a visual depiction of this process.
Rotary Joint Patch Cables
These cables operate exactly the same way as standard patch cables, but they have an articulated joint that prevents tangling from specimen movement. SM05 (0.535"-40) mounting threads are present on the light source side of the joint. The joint can be mounted using Thorlabs' extensive line of SM05-compatible optomechanics hardware, such as the LMR05 lens mount. Alternatively, the rotary joint can be mounted directly to the wall or ceiling of a specimen enclosure. An SM05-tapped hole can be created using Thorlabs' 83373 SM05 tap, or the joint can be glued into a ~Ø1/2" hole. Click here for more information about mounting the rotary joint.
Operation
Make sure the current limit on the LED driver is set to 1.0 A or below before operating the LED to avoid permanent damage.
The LED can be operated using the LED driver only, or with the LED driver and an external signal. It can be operated in one of the following modes: Continuous Wave (CW), Tigger (TRIG), or Modulation (MOD). For more information on the LEDD1B driver's operation, see the full web presentation and manual.
Continuous Wave (CW) Mode
While operating in continuous wave mode, the driver provides a constant non-modulated LED current. The user controls the LED's power by adjusting the control knob.
Trigger (TRIG) Mode
This mode operates using an externally applied TTL signal to pulse the LED output. The width of the TTL signal can be used to define the LED pulse width as well. The brightness of the LED is adjusted using the control knob.
Modulation (MOD) Mode
This mode allows the LED driver to be controlled completely by an external voltage. LED intensity varies with the input voltage, from off (0V) to maximum brightness (5V).
Fiber Care
Patch cable connectors should be cleaned every time the cable is mated, tested, or reconfigured. Clean the fiber endface using a lint-free wipe (Item # LFW90 in the CKF fiber cleaning kit) that has been wetted with connector cleaner (Item # FCS3 in the CKF fiber cleaning kit), then inspect the fiber with the inspection scope (Item # FS201). Bare fiber should be cleaned by wrapping the damp wipe around the fiber, squeezing gently, and sliding the wipe toward the end of the fiber until it squeaks. Inspect the fiber end with either the inspection scope (Item # FS201) or eye loupe (Item # JEL10). See the fiber cleaning kit spec sheet for details.
Further Reading
Aravanis A, Wang LP, Zhang F, Meltzer L, Mogri M, Schneider MB, Deisseroth K. An optical neural interface: in vivo control of rodent motor cortex with integrated fiberoptic and optogenetic technology. J. Neural Eng. 2007 Sept; 4:S143-S156.
Gradinaru V, Thompson KR, Zhang F, Mogri M, Kay K, Schneider MB, Deisseroth K. Targeting and readout strategies for fast optical neural control in vitro and in vivo. J Neurosci. 2007 Dec 26;27(52):14231-8.
Zhang F, Gradinaru V, Adamantidis AR, Durand R, Airan RD, de Lecea L, Deisseroth K. Optogenetic interrogation of neural circuits: technology for probing mammalian brain structures. Nat Protoc. 2010;5(3):439-56. Epub 2010 Feb 18.
Yizhar O, Fenno LE, Davidson TJ, Mogri M, Deisseroth K. Optogenetics in Neural Systems. Neuron. 2011 July;72:9-34.
Fiber Cleaving
Uncleaved cannula must be cleaved, or precision cut, before use. A high-quality fiber cleave will preserve the fidelity of the optical signal transmitted through the tip of the fiber. We recommend the following procedure for cleaving the fiber end.
Required Materials
Uncleaved Fiber Optic Cannula*
Marker
S90R Fiber Scribe*
BFG1 Bare Fiber Gripper*
KW32 Kimwipes®† Lint-Free Wipes
Isopropyl Alcohol or FCS3 Fiber Cleaning Fluid*
JEL10 Eye Loupe* or Microscope
FTDU Fiber Optic Disposal Unit*
Safety Goggles/Glasses
Starred (*) items are provided in kits with uncleaved cannulae.
Cleaving Procedure
Clean the fiber end of the cannula using a lint-free wipe and isopropyl alcohol or FCS3 fiber cleaning fluid. Do not use acetone, as this will damage the TECS cladding on the exposed fiber.
Measure the desired length of fiber from the end of the ferrule. Mark this length on the fiber with a marker.
Place the cannula on a hard surface and secure the fiber end with a finger or tape, as shown in Figure 1.
Hold the cleaving tool perpendicular to the fiber and gently score the fiber as shown in Figure 1 to the right. Do not apply excessive pressure. The fiber should not break off at this point. This step is critical in obtaining a good cleave. If the scribe is made too hard, the fiber will break instead of cleaving. If the scribe is too light, the fiber will not cleave.
Hold the cannula in one hand, and grip the fiber end with a bare fiber gripper in the other end as shown in Figure 2. Pull the fiber straight back until the fiber cleaves as shown in Figure 3. Dispose of the scrap fiber end in the FTDU or any medical or fiber sharps container.
If the fiber does not break with a moderate amount of tension, repeat steps 4-5 above applying slightly more pressure when scoring. Inspect the cleave using an eye loupe or microscope.
Click Here for a Print Friendly Version of this Procedure
Thorlabs also offers a full fiber termination manual, which covers fiber termination and bare fiber cleaving. It can be downloaded for free here, or a paper copy can be purchased here.
†Kimwipes® is a registered trademark of the Kimberly-Clark Corporation.
Optogenetics Selection Guide
Thorlabs offers a wide range of optogenetics components; the compatibility of these products in select standard configurations is discussed in detail here. Please contact Technical Support for assistance with items outside the scope of this guide, including custom fiber components for optogenetics.
Single-Site Stimulation
One Light Source to One Cannula Implant
The most straightforward method for in vivo light stimulation of a specimen is to use a single fiber optic with a single LED light source. The single wavelength LED is powered by an LED driver, and then the illumination output is fiber-coupled into a patch cable, which connects to the implanted cannula. See the graphics and expandable compatibility tables below for the necessary patch cables and cannulae to create this setup. To choose the appropriate LED and driver, see below or the full web presentation.
Click on Each Component for More Information



Click for Details
Click to See Ø1.25 mm (LC) Ferrule Compatible Patch Cables, Cannulae, and Interconnects

Click for Detials
Click to See Ø2.5 mm (FC) Ferrule Compatible Patch Cables, Cannulae, and Interconnects
Bilateral Stimulation
The ability to accurately and simultaneously direct light to multiple locations within a specimen is desired for many types of optogenetics experiments. For example, bilateral stimulation techniques typically target neurons in two spatially separated regions in order to induce a desired behavior. In more complex experiments involving the simultaneous inhibition and stimulation of neurons, delivering light of two different monochromatic wavelengths within close proximity enables the user to perform these experiments without implanting multiple cannulae, which can increase stress on the specimen.
Bilateral stimulation can be achieved with several different configurations depending on the application requirements. The sections below illustrate examples of different configurations using Thorlabs' optogenetics products.
---
Option 1: One Light Source to Two Cannula Implants Using Rotary Joint Splitter
Thorlabs' RJ2 1x2 Rotary Joint Splitter is designed for optogenetics applications and is used to split light from a single input evenly between two outputs. The rotary joint interface allows connected patch cables to freely rotate, reducing the risk of fiber damage caused by a moving specimen. See the graphic and compatibility table below for the necessary cables and cannulae to create this setup. For LEDs and drivers, see below or the full web presentation.



Click for Details
Click to See Ø1.25 mm (LC) Ferrule Components Recommended for Use with RJ2 Rotary Joint Splitter

Click for Detials
Click to See Ø2.5 mm (FC) Ferrule Components Recommended for Use with RJ2 Rotary Joint Splitter
---
Option 2: One or Two Light Sources to Two Cannula Implants
If the intent is for one LED source to connect to two cannulae for simultaneous light modulation, then a bifurcated fiber bundle can be used to split the light from the LED into each respective cannula. For dual wavelength stimulation (mixing two wavelengths in a single cannula) or a more controlled split ratio between cannula, one can use a multimode coupler to connect one or two LEDs to the cannulae. If one cable end is left unused, the spare coupler cable end may be terminated by a light trap. See the graphic and compatibility table below for the necessary cables and cannulae to create this setup. For LEDs and drivers, see below or the full web presentation.
Click on Each Component Below for More Information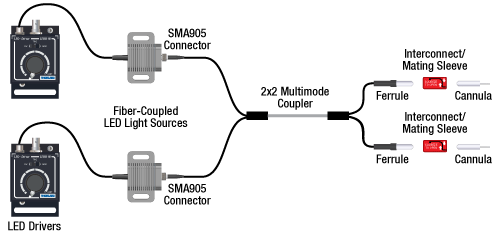 Two Light Sources into One Dual-Core Cannula Implant
For bilateral stimulation applications where the two cannulas need to be placed in close proximity (within ~1 mm), Thorlabs offers dual-core patch cables and cannulae that are designed for this specific application. Each core is driven by a separate light source, enabling users to stimulate and/or supress nerve cells in the same region of the specimen. See the graphic and compatibility table below for the necessary cables and cannulae to create this setup. For LEDs and drivers, see below or the full web presentation.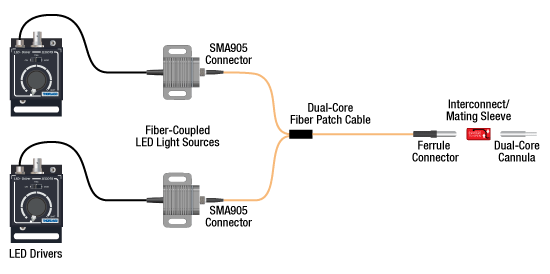 Click on Each Component for More Information
Part Selection Table (Click Links for Item Description Popup)
Common Fiber Properties
Core Diameter
200 µm
Wavelength Range
400 - 2200 nm
NA
0.39
Fiber Type
FT200EMT
Ferrule Stylea
FC

(Ø2.5 mm)

Dual-Core Patch Cable
FC/PC Input
BFY32FL1
SMA905 Input
BFY32SL1
Compatible Mating Sleeve/Interconnect
ADAF1
ADAF2
ADAF4-5
Dual-Core Fiber Optic Cannulaec
Stainless Steel
CFM32L10
CFM32L20
FC components have a Ø2.5 mm ferrule end.
Patch cables for dual light source to single implant applications are highlighted in green above. Choose a patch cable with an input that matches your light source.
Available cannulae are highlighted in orange of the table above. Cannule within the same column are interchangeable.
| LED Item # | Wavelengtha | Typical Opsin | Output Powerb | Color |
| --- | --- | --- | --- | --- |
| M385F1c | 385 nm | EBFP, moxBFP | 10.7 mW | UV |
| M405F1c | 405 nm | mmilCFP, hcriGFP | 3.7 mW | UV |
| M430F1 | 430 nm | ChR2 | 7.5 mW | Violet |
| M455F3 | 455 nm | ChIEF, bPAC | 24.5 mW | Royal Blue |
| M505F3 | 505 nm | ChRGR, Opto-α1AR, Opto-β2AR | 11.7 mW | Cyan |
| M530F2 | 530 nm | C1V1, VChR1 | 9.6 mW | Green |
| M565F3 | 565 nm | Arch, VChR1-SFO | 13.5 mW | Lime |
| M595F2 | 595 nm | ChR2-SFO, eNpHR3.0 | 11.5 mW | Amber |
| M625F2 | 625 nm | ReChR | 17.5 mW | Red |
Click the link for a spectrum and raw data.
Typical output power measured with a Ø400 µm Core, 0.39 NA multimode fiber.
Precautions must be taken to prevent looking directly at the UV light and UV light protective glasses must be worn to avoid eye damage. Exposure of the skin and other body parts to UV light should be avoided.
Illumination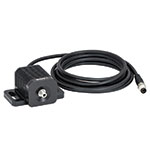 Click to Enlarge
M405F1
Fiber-Coupled LEDs and Drivers
Our fiber-coupled LEDs are ideal light sources for optogenetics applications. They feature a variety of wavelength choices and a convenient interconnection to optogenetics patch cables. Thorlabs offers fiber-coupled LEDs with nominal wavelengths ranging from 280 nm to 1050 nm. See the table to the right for the LEDs with the most popular wavelengths for optogenetics. A table of compatible LED drivers can be viewed by clicking below.