Microscope Immersion Oils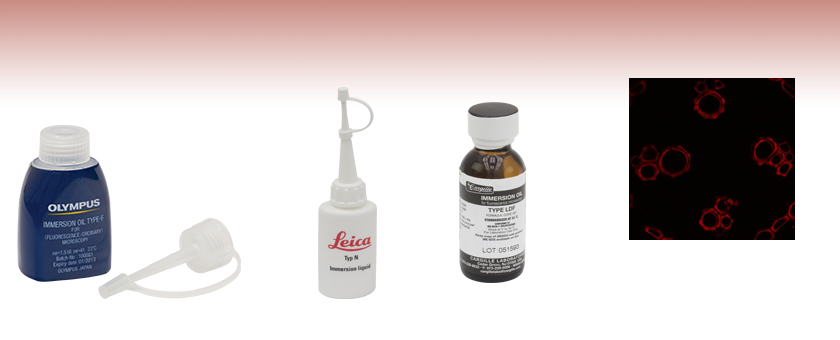 Designed for Use with Oil Immersion Objectives
Low Autofluorescence Oils Increase Image Contrast
Ideal for Fluorescence and Multiphoton Imaging
Fluorescence Image of Buttercup Root Taken with Immersion Oil Using a 40X, 1.3 NA Objective
MOIL-30
Olympus Type F Immersion Oil
OILCL30
Cargille Type LDF Immersion Oil
MOIL-20LN
Leica Type N Immersion Oil
Application Idea

Please Wait
Item #
MOIL-30
MOIL-20LN
OILCL30
MOIL-10LF
Refractive Indexa
1.518 at 546.1 nm
Abbe Numbera
(at 546.1 nm)
40.8
42.1
41
45.8
Type
Olympus Type F
Leica Type N
Cargille Type LDF
Leica Type F
Viscositya,b
450 mm2/s
825 mm2/s
500 mm2/s
435 mm2/s
Autofluorescence
Low
Low
Very Low
Very Low
Volume
30 mL / 28 g
20 mL
30 mL
10 mL
These values are specified at 23 °C.
1 mm2/s = 1 cSt
Features
Oils for Use with Oil Immersion Objectives
Very Low Autofluorescence Oils are Optimized for Fluorescence Microscopy
Non-Drying and Polychlorinated Biphenyl (PCB) Free
These Microscope Immersion Oils are designed for use with Oil Immersion Microscope Objectives. Placing an oil medium between the front surface of the objective and the cover glass allows the objective to achieve a high numerical aperture, maximizing light collection by the objective. To minimize refraction of light from the sample, the refractive index of each immersion oil is very close to those of cover glass.
Immersion oils are available with low or very low autofluorescence. Autofluorescence is the natural fluorescence emission of the oil when exposed to light. Each immersion oil has a different level of background emission, which either increases or decreases the contrast of the image; oils with very low autofluorescence are optimized for use in sensitive or UV fluorescence microscopy applications.
To clean immersion objectives after use with immersion oils, use a soft optical cleaning tissue such as our MC-5 premium lens tissues.