Smart High Sensitivity CCD Line Camera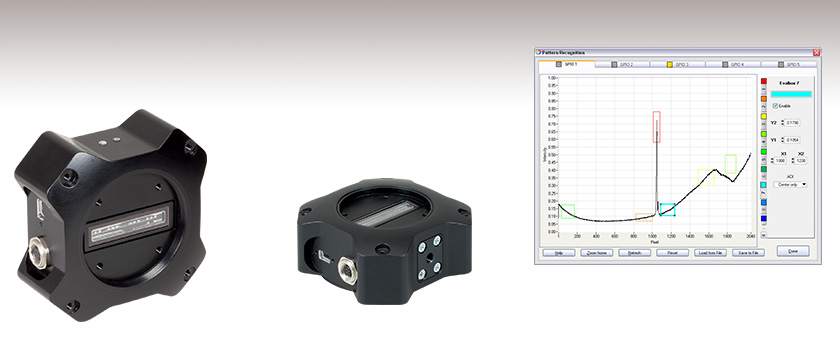 2048 Pixel Line Array for 350 to 1100 nm
Input and Output Triggers
5 Logic-Controlled I/O Ports for Pattern Matching
Standalone Operation
80 mm x 80 mm x 33 mm Housing
with Nikon F-Mount and
Ø1/2" Post Mount Option
LC100
Definition of Regions of Interest
for Simple Pattern Matching

Please Wait
Specificationsa
Item #
LC100
Detector Range (CCD Chip)
350 - 1100 nm
Scan Rate Internal Trigger
Max 900 Scans/s
CCD Pixel Number
2048
CCD Pixel Size
14 µm x 56 µm (14 µm Pitch)
CCD Sensitivity
240 V/lx s
CCD Dynamic Range
333
Integration Time
1 ms - 50 s
S/N Ratio
2000:1
For complete specifications, please see the Specs tab.
Features
Input and Output Triggers
5 User-Configurable General Purpose Input/Output Ports (GPIO)
Up to 16 Independently Programmable Regions of Interest
Internal Simple Pattern Matching Logic
Standalone Operation
Adapter for F-Mount Objectives
Compatible with 30 mm and 60 mm Cage Systems and SM2 Lens Tubes
F-Mount Compatible via Included Adapter
Versatile Software Package (Splicco) and Driver Package (C/C++, VB, DotNet, LabVIEW) Included
USB 2.0 Interface
Powered via USB
Dust-Proof, Rugged Housing Suitable for Field Applications
Thorlabs' LC100 Line Camera is designed for applications in optics, imaging, spectroscopy, biology, and industrial process control. It incorporates a 2048 pixel CCD array and is capable of detecting light in the 350 - 1100 nm range. With scan rates up to 900 scans per second (450 Hz with external trigger), this line camera offers trigger input and output, an analog output, and five digital software-controlled General Purpose Input/Outputs (GPIOs). The delay of the input and output triggers can be adjusted, and the analog output monitors the intensity of a selectable single pixel of the line.
The LC100 line camera is capable of analyzing up to 16 freely definable regions of interest (ROIs) from the recorded line scans; it can analyze each spectrum independently using simple pattern matching. The five GPIOs can be programmed to return specific logic patterns according to the results of the spectrum analysis. Since version 4.3 of the SPLICCO software package the LC100 features a standalone mode that allows the line camera to perform this analysis without being connected to a PC.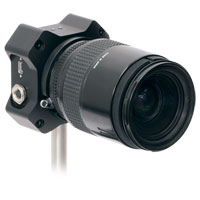 Click to Enlarge
The LC100 with a Nikon F-Mount camera lens (not available from Thorlabs) mounted via an
SM2NFM
F-Mount to SM2 thread adapter.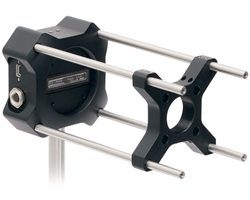 Click to Enlarge
The LC100 with a
60 mm cage system
.
The rugged, dust-proof housing makes the LC100 line camera suitable for field applications and process control. Typical applications include using the line camera as a sensor in custom spectrometers or interferometers as well as position or size sensing devices. These cameras are also used in defect sensing applications as well as for fill level and edge detection.
Mounting Options
The housing has eight 4-40 taps, making it compatible with our 30 mm Cage Systems and 60 mm Cage Systems. In addition, the housing is SM2 (2.035"-40)-threaded for Ø2" Lens Tube compatibility. A 1/4"-20 (M6) tap is provided for Ø1/2" post mounting.

The LC100(/M) will be retired without replacement when stock is depleted. If you require this part for line production, please contact our OEM Team.
Item #
LC100a
Sensor Specs
Detector Range (CCD Chip)
350 - 1100 nm
CCD Pixel Size
14 µm x 56 µm ( 14 µm pitch )
CCD Sensitivity
240 V / ( lx · s )
CCD Dynamic Rangeb
333
CCD Pixel Number
2048
Integration Timec
1.055 ms − 50 s
Scan Rate Internal Trigger
Max 900 Scans/sd
S/N Ratioe,f
≤2000 : 1
External Trigger
Trigger Input
BNC
Trigger Signal
TTL 5 V and 3.3 V
Trigger Frequency, Scan Rate
Max 450 Hz, 450 Scans/sd
Trigger Puls Length
Min 50 ns
Trigger Delay
4.5 µs
General Purpose Input/Output (GPIO) Type
3.3 V TTL
Number of GPIOs
5
Region of Interests (ROI)
16
Analog Output
Programmable 0 - 4 V
General Specs
Interface
Hi-Speed USB 2.0 (480 Mbit/s)
Dimensions ( L x W x H )
80 mm x 80 mm x 33 mm (3.13" x 3.13" x 1.30")
Weight
<0.4 kg
All technical data are valid at 23 ± 5 °C and 45 ± 15% relative humidity (non condensing).
Ratio of Saturation Voltage to Dark Current Voltage
Exposure Time
1.055 ms Integration Time; Dependent upon Connected PC
10x Averaging; Dependent upon Inegration Time
Use CCD Dynamic Range for Single Shots
Graphical User Interface
Adjustable Parameters
Integration Time
Trigger Modes: Internal, External, Continuous, Single Shot
Averaging Method: Gliding or Block Average
Smoothing Method: Block Smoothing
Picture Flip and Revert
Features
Operates up to 10 Devices Simultaneously
Auto-Detection of Compatible Devices
Available Filters: Peak Finder, Smoothing, Averaging, Flip/Revert Picture
Algorithms: Gaussian Transformation
Normalized Y Axis
Persistence Option
Different Thread for Data Acquisition for Better Responsiveness to User Input
User Selectable Colors
Saving and Retrieval of Scans (JCAMP-DX or CSV)
Copy Function to Clipboard
Printable Windows
Tabbed or Floating Windows
Gaussian Data Fitting
The LC100 Series Line Camera is featuring the easy-to-use SPLICCO software with graphical user interface. The package is designed for laboratory and manufacturing applications. The data, background, and peaks can be shown in a single graph. With the help of smoothing and averaging algorithms the user is able to enhance specific features of the spectra. Furthermore the software is able to handle several devices at one time which are presented in different windows. The above screen shows the peakfinder screen that lists all peaks with a given min peak-height (threshold) and peak width. SPLICCO also allows to record scans sequentially, see Sequential Recording below.

Simple Pattern Matching

For the LC100 you can define up to 16 areas of interest (Evalboxes) with adjustable sizes at arbitrary locations in the Intensity vs. Pixel pane. They will be interrogated during scans. The result can be used for simple pattern matching and connected with customized logic to one of the 5 General Purpose Input Outputs (GPIO).
Editable Axes
You can easily set the displayed range of the measured intensity by entering the min and max values at the y axis of the intensity plot.
Sequential Recording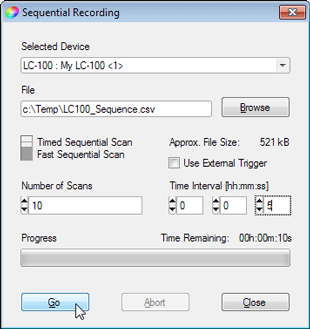 The SPLICCO software allows to sequentially record individual scans in CSV file format. A maximum of 1000 scans can be recorded at a rate of up to 900 scans per second.
Software for Spectrometers and USB Line Cameras
This package also includes the instrument drivers for the National Instruments™, LabWindows™/CVI, and LabVIEW™* development environments. The drivers are intended for developers who want to extend or adapt the functionality of the device to their special requirements.
*This release candidate software version, which incorporates new features and/or bug fixes as outlined in the change log file on the download page, has been through several rounds of testing and there are currently no significant bugs. Once full testing and documentation is available, this version will become the standard software package. In the interim, Thorlabs is making this complete software file available for those customers whose research endeavors would benefit from the updated features.
Pin Configuration of Trigger Cable Connector
Connector Pins
Pin #
Description
 
1
Trigger Input, LL TTL
2
Common GND (Trigger and GPIO)
3
Analog Output
4 - 8
GPIO Ports 1 - 5, LL TTL