Large-Area Rotating Breadboards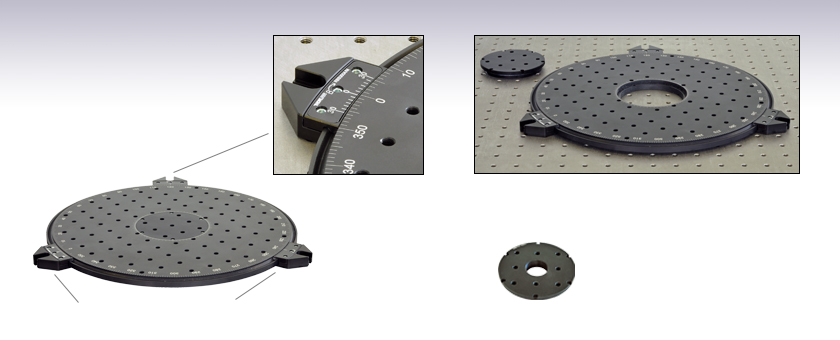 Removable Center Allows
Rotation Around Components
Simple, Hand-Operated
Positioning
RBB12A
Position Locking
Screw
Position Locking
Screw
RBBA1
SM1-Threaded Center Insert
Removable Center Portion
Measuring Ø3.58" (Ø91.0 mm)

Please Wait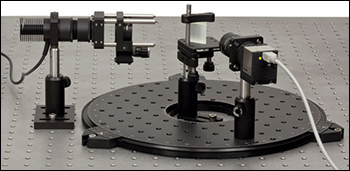 Click to Enlarge

Click for Details

RBB6A with Optional RBBA1 SM1-Threaded Center Insert

Click to Enlarge
Features
360° Continuous, Hand-Operated Rotation
Ø6" (Ø150 mm), Ø12" (Ø300 mm), or Ø18" (Ø450 mm) Sizes
Standard 1/4"-20 (1" Pitch) or M6 (25 mm Pitch) Hole Patterns
0.5" (12.7 mm) Thickness
Position-Locking Mechanism
Black Anodized Aluminum Construction
These Large-Area Rotating Breadboards are available in three sizes with standard 1/4"-20 or M6 x 1.0 hole patterns: Ø6" (Ø150 mm), Ø12" (Ø300 mm), or Ø18" (Ø450 mm). The hole patterns feature 1" or 25 mm centers. The breadboard thickness is 0.5" (12.7 mm), which is the same as our standard solid aluminum breadboards. These breadboards are designed for use in applications requiring coarse angular adjustment of optical assemblies. Each breadboard features a removable Ø91 mm (Ø3.58") center section, allowing components to be placed at the center while the breadboard rotates around them (see photo to the right). A laser-etched scale around the edge of the rotating surface has 1° graduations. Positioning is achieved by rotating the platform by hand.
The breadboard features a dovetailed edge and three lockable kinematic mounts that can be positioned anywhere around the perimeter via the three locking screws using the included 2.5 mm hex key. The mounts also incorporate slotted holes that, together with their adjustable positioning, allow flexibility when the breadboard is secured to an optical table or other work surface. The image to the right shows a prism spectroscope built using the RBB12A; see the Application Idea for details about this setup.
The Ø91 mm (Ø3.58") middle section of the breadboard can be replaced with an RBBA1(/M) center insert (sold separately) that features an SM1-threaded (1.035"-40) central aperture. By mounting the rotation breadboard on posts, this insert allows light to be directed upwards from a mirror mounted underneath the breadboard's surface. Optics can then be mounted using the insert for use in a variety of applications, such as the setup in the image to the right. In this setup, an RBB12A breadboard rotates around an elliptical optic mount, which was mounted via the RBBA1 insert. Using a mirror mounted underneath the rotation breadboard, a laser beam is deflected through the center of the breadboard and onto a second mirror that directs the beam onto a detector. When the breadboard is post mounted, ensure the clamps are not too tightly assembled. Overtightened screws will prevent the breadboard from rotating. Note that the breadboard will require more torque to rotate with heavier loads mounted on the platform.
Item #
RBB6A and RBB150A/M
RBB12A and RBB300A/M
RBB18A and RBB450A/M
Travel Range
360° Continuous
Working Height
0.5" (12.7 mm)
Load Capacity (Max)
20 kg (44 lbs)a
Taps
RBB6A, RBB12A and RBB18A: 1/4"-20 on 1" Pitch
RBB150A/M, RBB300A/M and RBB450A/M: M6 on 25 mm Pitch
Max Vertical Run Out Over Full Travel
25 μm
50 μm
75 μm
Max Horizontal Run Out Over Full Travel
25 μm
50 μm
75 μm
Overall Dimensions (Excluding Clamps)
Ø6.64" (164 mm)
Ø12.4" (314 mm)
Ø18.27" (464 mm)
Platform Dimensions
Ø5.91" (150 mm)
Ø11.8" (300 mm)
Ø17.72" (450 mm)
Weight
1.76 lb (0.8 kg)
5.5 lb (2.5 kg)
6.6 lb (3.0 kg)
Construction
Solid Aluminum
Finish
Black Anodized
When the breadboard is mounted to an optical table.
Prism Spectroscope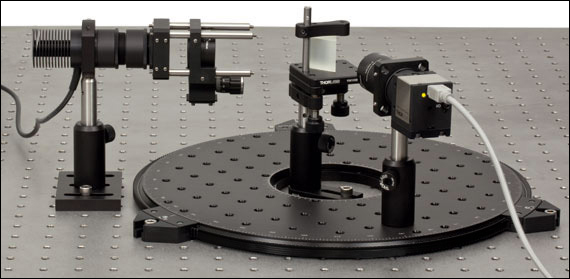 A prism spectroscope is an instrument often used in undergraduate optics labs to measure the wavelength of atomic vapor transitions. In our version of this classic experiment, we image the spectrum of a white light LED using a previous generation DCU223C color CCD camera. The large mounting surface of the rotating breadboard could easily mount other components, such as additional detectors, which could then be precisely rotated into and out of the beam path. To build a similar set-up, refer to the tables below corresponding with either the imperial or metric list of parts. Click on the item number to bring up a pop-up window with more information about that component.
Note: The previous generation DCU223C color CCD camera is not available for individual purchase. For use in your application, please consider our line of 1.6 MP CMOS Compact Scientific Cameras. These cameras are available with either a monochrome or color CMOS sensor, are compatible with a USB 3.0 interface, and are compatible with our 30 mm Cage Systems.
Prism Spectroscope Images
Below are four still images that were taken by rotating the camera on the breadboard. The plots below the graph show the relative red, green, and blue intensity of a horizontal line of pixels within the corresponding CCD image. Please note that the images do overlap each other slightly.