Common Vacuum Specifications
Vacuum Level
1 x 10-8 Torr (Max)
Max Temperature
150 °C
Thermal Gradient
20 °C/min (Max)
Features
Vacuum Level: 1 x 10-8 Torr (Max)
Bake Temperature: 150 °C (Max)
Flange Mounting Hardware Pack and Copper Gaskets Sold Below
Thorlabs' high-vacuum-compatible Ø2.75" (DN40) CF Flange Viewports for Ø1" Optics are offered with one of three uncoated window substrates: sapphire (150 nm - 4.5 µm), CaF2 (180 nm - 8.0 µm), or UVFS (185 nm - 2.1 µm). Please see the Graphs tab for transmission data. Additionally these viewports are compatible with our selection of stock Ø1" windows with thicknesses between 4.9 - 5.15 mm. These flanges are not compatible with wedged windows.
Designed for use at high-vacuum (HV) pressures, Thorlabs' CF viewports utilize Viton O-Ring seals to create an air-tight metal/glass seal, allowing for pressures down to 10-8 Torr. The vacuum windows are interchangeable, enabling the user to swap out vacuum windows mounted in our HV CF flanges. Additionally, CF flanges (viewports without vacuum windows) are also available that are also compatible with our Ø1" windows. Before swapping and attempting to install additional windows, please review the procedure outlined in the Window Installation tab above.
Copper gasket and mounting hardware sets for Ø2.75" CF flanges are also available below. Thorlabs also offers HV CF Flange Viewports for Ø1.5" windows and Ø1.5" wedged windows.
Item #
VPCH312
VPCH512
VPCH412
Window Material
Sapphire
CaF2
UV Fused Silica
Window Item #
WG31050
WG51050
WG41050
Window Diameter (Unmounted)
1"
Clear Aperture (in Viewport)
Ø0.7125" (18 mm)
Transmitted Wavefront Error (@633 nm)
λ
λ/8
λ/10
Surface Quality
60-40 Scratch-Dig
20-10 Scratch-Dig
Parallelism
<3 arcmin
<10 arcsec
≤5 arcsec
The graphs below show the transmission of light through uncoated sapphire, calcium fluoride (CaF2), and UV fused silica substrates. Raw data in the Excel format is available by clicking on the links below the graphs.
Our high-vacuum (HV) viewports offer superb flexibility by allowing the user to install or swap out windows as they desire, or as experimental conditions demand. Installation of the windows is relatively quick and simple. This guide explains how to install and change windows in our Ø1.5" HV viewports. The installation procedures for the Ø1" HV viewports are identical to those for the Ø1.5" HV viewports with the only difference being that the front face plate of the Ø1" viewport contains 4 screws instead of 6.
Step 1:

Inspect the o-ring and seat for pits, scratches, or contamination. Remove any loose debris from the seat using compressed air.
Step 2: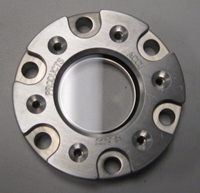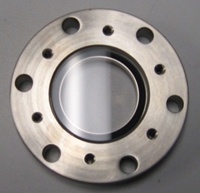 Install the o-ring in the seat, and place the window on top of the o-ring (left image). Place the face plate on top of the window (right image).
Step 3: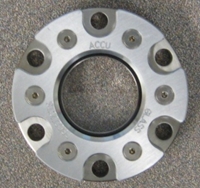 Place the screws in the face plate holes and use the 2 mm hex key to turn each screw ~1.5 turns so that they are flush with the face plate but not tight.
Step 4: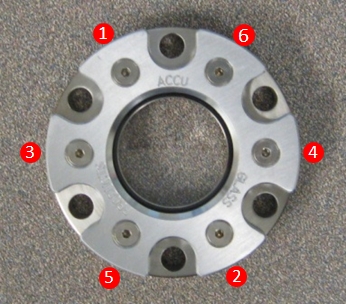 Use a torque driver set to 30 in-oz to screw in all six setscrews. Refer to the sequence shown in the pattern above for the correct order in which the screws should be torqued. Please note that over-torquing the screws will risk damaging the window. While the viewports for Ø1" windows only have 4 screws, use the same sequence for tightening the screws.