Fiber-Coupled Terahertz Spectrometer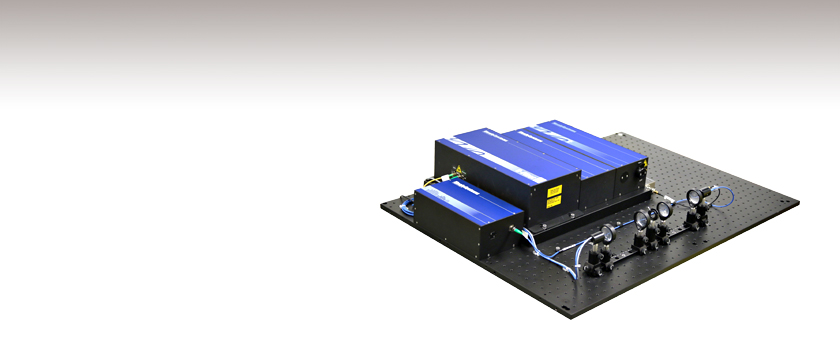 Fast Scanning Delay Line with >850 ps Total Range
Fast Data Acquisition Platform without Lock-In Amplifier
Multicolor Laser Output Available
Remote Control and Data Transfer Over Network
TERA-K15-SYNC

Please Wait
Applications
Broadband Terahertz Spectroscopy
Time-Resolved Optical Pump-THz Probe Spectroscopy
Material Characterization
Quality Inspection and Non-Destructive Testing
Terahertz Imaging
Chemical Fingerprinting
Testbed for THz Components
Characterization of Solid State THz Sources
Investigation of Charge Carrier Dynamics
Characterization of Quantum Cascade Lasers
THz Plasmonics
Investigation of Synchrotron Radiation
Terahertz Combs and Ultrafast Switching
Simon Kocur

Menlo Systems

Feedback?
Questions?
Need a Quote?

Please note that the TERA-K15-SYNC is available directly from Menlo Systems, Inc. within the United States and from Menlo Systems GmbH outside the United States.
United States
Phone: +1-973-300-4490
Email: ussales@menlosystems.com
Outside United States
Phone: +49-89-189166-0
Email: sales@menlosystems.com
Features
All-PM Femtosecond Fiber Laser with figure 9® Technology
Simultaneous Operation of THz Setup and fs Laser
Transmission and Reflection Scanning Geometries
Modular Platform
>5 THz Bandwidth
>90 dB Dynamic Range
>850 ps Scan Range, Flexible Range and Speed Settings
Up to 20 Hz Scan Rate
Menlo Systems' TERA-K15-SYNC fiber-coupled terahertz spectrometer provides a complete solution for fast, broadband, time-domain THz spectroscopy, offering maximum flexibility for scientific THz applications.
The system includes Menlo Systems' latest figure 9® femtosecond laser source with a 1.5 μm emission wavelength, a fiber coupled optical light path with a delay line, a THz wave path with a THz emitter, THz detector and THz optics, control electronics, and a PC with data aquisition and evaluation software.
The delay line offers flexibility by covering a total range of >850 ps, and performs fast scanning up to 20 Hz in relevant time windows. The data acquisition scheme without lock-in amplifier, together with Menlo Systems' high-power fiber coupled terahertz emitter and receiver modules, guarantees high bandwidth and dynamic range with fast scan rates.
For terahertz imaging applications, the TERA Image extension unit can be integrated into the setup, which includes image acquisition and reconstruction software. The ImageLab software, based on multivariate statistical methods, enables the user to analyze and classify acquired hyperspectral THz images.
The system's laser source can be extended by additional laser output ports at 780 nm and 1560 nm. To perform terahertz time domain spectroscopy (THz-TDS) with optical sample excitation at those wavelengths, the TERA-K15-SYNC setup can be upgraded by the THz-Pump-Probe add-on.
Moreover, with the SYNC option, the TERA-K15-SYNC can be synchronized to an external source, such as a synchrotron or a laser source, for which Menlo Systems provides the RRE-SYNCRO locking electronics for the phase lock.
Included Components

Optical Components
Measurement and Control Electronics

C-FIBER or C-FIBER-780 Femtosecond Laser Source
Fiber-Coupled Optomechanical Delay Line
Fiber-Coupled THz Emitter and Receiver Modules (TERA15-FC)
THz TPX Polymer Lens-Based Optical Beam Path

Controller for Delay Line
Data Acquisition Platform
PC and Software Package for Measurement and Data Analysis
Transimpedance Amplifier
Optional Packages
DUALCHANNEL
Additional THz Emitter/Detector Pair, Including Additional Laser Outputs, Electronics, and Software
MULTIBRANCH Additional Seed Ports
Seeding of Multiple Amplifiers with Optional Subsequent Frequency Conversion to Cover Multiple Wavelengths
THz-Pump-Probe Add-On for Optical Pump-THz Probe Spectroscopy
Additional Delay Unit and Software for Optical Pump-THz Probe Spectroscopy
Multicolor Laser Outputs
Fiber-Coupled Outputs at 1560nm, Free-Space Outputs at 780 nm and 1560 nm
SYNC
Laser Source Synchronizable to External Source
RRE-SYNCRO
Feedback Electronics for Repetition Rate Stabilization
Longer Scan Range
1.6 ns Total Scan Range
TERA Image
Automated THz Imaging Extension Including Software and XY Translation Stage
ImageLab
Hyperspectral Image Processing Software for THz Imaging Data
Teralyzer
Advanced Software for Thin Sample Analysis and Parameter Extraction
Reflection Guide
Quick Manual Adjustment of Transmission and Reflection Scanning Geometries
Parabolic Mirrors
Gold-Coated Off-Axis Parabolic Mirrors for Maximum THz Bandwidth
Custom Fiber Patch Cable Length
Up to 30 m
TERA-K15-SYNC Specifications
Spectral Range
>5 THz (5.5 THz Typ.)
Dynamic Range
>90 dB (95 dB Typ.)
Total Scan Range
>850 ps (1.6 ns Available Upon Request)
THz Frequency Resolution
<1.2 GHz (0.6 GHz Available Upon Request)
Scan Rate
Up to 20 Hz
Laser Output Ports for THz
Two Fiber-Coupled Ports:
FC/APC, PM Fibera
Laser Output Wavelength
1560 nm
Laser System Repetition Rate
100 MHzb,c
Optomechanical Setup Dimensions / Weight
900 mm x 600 mm x 200 mm / 34 kg
(35.4" x 23.6" x 7.9" / 74.8 lbs)
Control Electronics Dimensions / Weight
448 mm x 132 mm x 550 mm / 8 kg
(17.6" x 5.2" x 21.7" / 17.6 lbs)
Laser Control Unit Dimensions / Weight
448 mm x 132 mm x 437 mm / 12 kg
17.6" x 5.2" x 17.2" / 26.4 lbs)
<90 fs after 2.5 m Patch Cable
Other repetition rates are available upon request.
Synchronizable upon Request
Optical Output Specifications
Wavelength
780 nm
1560 nm
Average Output Powera
>250 mW
>500 mW
Pulse Duration
<120 fs
<90 fs
Auxiliary Output Ports
Free Space
User can select ratio of output power between 780 nm and 1560 nm ports.