Femtosecond Phase Stabilization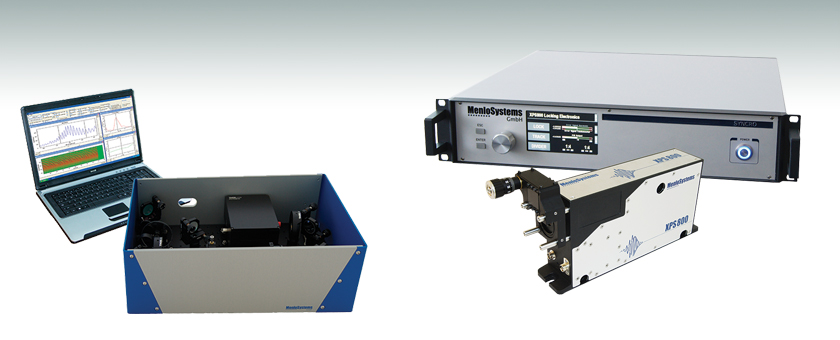 Control Pulse Carrier Offset Phase
Patented Phase Stabilization Technology
APS800
XPS800

Please Wait
Applications
Control Strong-Field Processes in Extreme Nonlinear Optics
High Harmonic Attosecond Pulse Generation
Phase-Sensitive Experiments
The phase stabilization technology is covered by several international patents (e.g., see EU patent EP 1161782 and US patent 6,785,303 B1). Menlo Systems holds the exclusive rights on these patents. Menlo Systems is proud to have a close collaboration with major laser companies that use these products and our patented technology as OEM integrators.
XPS800 Femtosecond Oscillator Phase Stabilization
The XPS800 Femtosecond Phase Stabilization Unit gives you control of the phase relationship between the carrier and envelope of your ultrashort pulses. The pulses from the femtosecond laser are broadened in a nonlinear photonic crystal fiber to achieve an octave spanning spectrum. A nonlinear interferometer subsequently generates the beat note between the frequency doubled infrared part and the green part of the spectrum. This offset beat signal is fed into the locking electronics. The stabilization electronics are designed to phase lock the offset beat to ¼ of the repetition frequency of the oscillator. By doing so every fourth pulse has exactly the same phase. Subsequent amplifier systems can pick those pulses to provide output without phase slip.
Item #
XPS800
Center Wavelength
800 nm or 1000 nm
Repetition Fequency
70-90 MHz
Offset Frequency
1/4 of the Rep. Freq. or Zero
Input Requirements
200 mW Avg. Power in <15 fs Pulses
Interferometer Dimensions
250 mm x 100 mm x 60 mm
(10.0" x 4.0" x 2.4")
Stabilization Electronics Dimensions
449 mm x 148 mm x 317 mm
(2U, 19" Rack)
APS800 Femtosecond Amplifier Phase Stabilization
The Menlo Systems APS800 is used to monitor and stabilize the slow carrier-envelope phase drifts that occur during amplification of phase-stabilized femtosecond pulses. The APS800 expands full phase control to the regime of high power optical pulses used in today's most demanding experiments of attosecond time domain physics and related areas. To monitor the slow carrier-envelope phase drifts, a small part of the amplifier output is split off and spectrally broadened in a Sapphire plate. In an optical interferometer, the green part of the resulting octave spanning spectrum is overlapped with the frequency doubled infrared part. With the help of a spectrometer and control software algorithms, the resulting interferogram is analyzed and a slow correction signal is generated. The APS800 is designed to complement the Menlo Systems femtosecond phase stabilization unit XPS800. Installation and training are available upon request.
Item #
APS800
Amplifier Carrier Wavelength
800 nm
Energy Fluctuations
<1% (pulse-to-pulse, RMS)
Repetition Rate
1 - 10 kHz
Input Energy
>10 µJ/Pulse
Pulse Length
<50 fs
Beam Diameter
5 - 15 mm
Optical Setup Dimensions
410 mm x 230 mm x 140 mm
(16.2" x 9.1" x 5.5")
Simon Kocur

Menlo Systems

Feedback? Questions? Need a Quote?

Please note that these phase stabilization units are available directly from Menlo Systems, Inc. within the United States and from Menlo Systems GmbH outside the United States.
United States
Phone: +1-973-300-4490
Email: ussales@menlosystems.com
Outside United States
Phone: +49-89-189166-0
Email: sales@menlosystems.com
Posted Comments:
No Comments Posted