Legend for Beam Diagrams
Reflected Beam:

Transmitted Beam:

Beamsplitter Selection Guide
Thorlabs offers six main types of beamsplitters: Pellicle, Cube, Plate, Polarizing Bandpass, Economy, and Polka Dot. Each type has distinct advantages and disadvantages.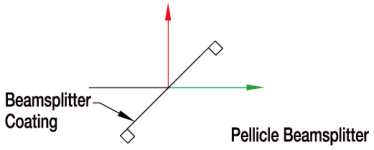 Pellicle Beamsplitters - Pellicle beamsplitters are the best choice when dispersion must be kept to a minimum. They virtually eliminate multiple reflections commonly associated with thicker glass beamsplitters, thus preventing ghosting. In addition, unlike plate beamsplitters, there is a negligible effect on the propagation axis of the transmitted beam with respect to the incident beam.
Pellicle beamsplitters have two disadvantages: They exhibit sinusodial oscillations in the splitting ratio as a function of wavelength, due to thin film interference effects. Click Here for more details. They are also extremely delicate. Since they are fabricated by stretching a nitrocellulose membrane over a flat metal frame, the beamsplitter cannot be touched without destroying the optic. Thorlabs offers pellicle beamsplitters mounted in metal rings for use in kinematic mounts as well as 30 mm cage cube-mounted pellicles.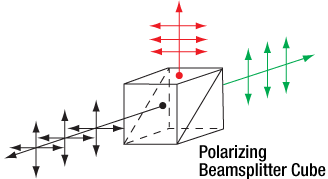 Beamsplitting Cubes
Thorlabs' beamsplitter cubes are composed of two right-angled prisms. A dielectric coating, which is capable of reflecting and transmitting a portion of the incident beam, is applied to the hypotenuse surface. Since there is only one reflecting surface, this design inherently avoids ghost images, which sometimes occur with plate-type beamsplitters. Antireflection coatings are available on the entrance and exit faces of certain models to minimize back reflections. As well as providing a cost-effective solution, another advantage of the beamsplitting cube is the minimal shift it causes to the path of the transmitted beam. Thorlabs offers both polarizing and nonpolarizing beamsplitting cubes, in mounted and unmounted configurations. Mounted beamsplitters are available that are compatible with our 16 mm cage systems as well as our 30 mm cage systems.
Polarizing Beamsplitters - Thorlabs' polarizing plate and cube beamsplitters split randomly polarized beams into two orthogonal, linearly polarized components (S and P), as shown in the diagram to the right. S-polarized light is reflected at a 90° angle with respect to the incident beam while p-polarized light is transmitted. Polarizing beamsplitters are useful in applications where the two polarization components are to be analyzed or used simultaneously. Thorlabs offers broadband 16 mm cage cube-mounted, broadband 30 mm cage cube-mounted, and broadband unmounted polarizing beamsplitter cubes, as well as laser line 30 mm cage cube-mounted and laser line unmounted cubes. Additionally, Thorlabs offers wire grid polarizing beamsplitters which have a larger Angle of Incidence and work with uncollimated light. For applications requiring higher power, we also offer high-power polarizing beamsplitting cubes.
Non-Polarizing Beamsplitting Cubes - These cubes provide a 50:50 splitting ratio that is nearly independent of the polarization of the incident light. The low polarization dependence of the metallic-dielectric coating allows the transmission and reflection for s- and p-polarization states to be within 10% or 15% of each other. These beamsplitters are particularly useful with randomly polarized lasers and are specifically designed for applications in which polarization effects must be minimized. Thorlabs offers 16 mm cage cube-mounted, 30 mm cage cube-mounted, and unmounted beamsplitter cubes.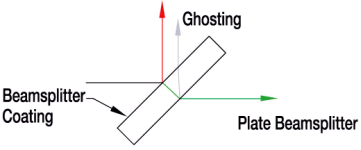 Plate Beamsplitters - Thorlabs' plate beamsplitters are optimized for an incidence angle of 45° and feature a dielectric coating on the front surface for long-term stability. To help reduce unwanted interference effects (e.g., ghost images) caused by the interaction of light reflected from the front and back surfaces of the optic, a wedge has been added to the round versions of these beamsplitters. Dispersion, ghosting, and shifting of the beam may all be potential problems, however. These are the best choice for a general-purpose beamsplitter. Thorlabs offers both polarizing and nonpolarizing plate beamsplitters.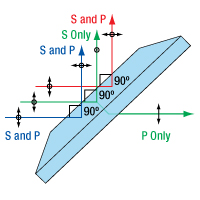 Polarizing Bandpass Filters - Thorlabs' Polarizing Bandpass Filters are designed to isolate key laser lines, such as Nd:YAG, HeNe, and diode, while also separating out the s- and p-polarization states. The p-polarized component is transmitted over a defined pass band and reflected (rejected) outside of the band, while the s-polarized component is reflected over the entire blocking region of the optic. They are designed to be used at a 45° AOI; however, when used at the center wavelength, the incident angle can be widened without loss of performance.
Economy Beamsplitters - These are the most cost effective of all the beamsplitter types. Thorlabs' economy beamsplitters, which have an exposed oxide coating on one side and are uncoated on the other side, are designed to have either a 50:50 or 30:70 splitting ratio throughout the visible spectrum (450 - 650 nm) when used with unpolarized light incident at 45°.
Please note that the Fresnel reflections off of the uncoated back surface of these economy beamsplitters can lead to interference effects in the reflected beam. For applications sensitive to these effects, consider using a beamsplitting cube or a pellicle beamsplitter.
Polka Dot Beamsplitters - This type of beamsplitter consists of a glass substrate with a vacuum-deposited reflective coating that is applied over an array of apertures, giving the beamsplitter a "polka dot" appearance. Half of the incident beam is reflected from the coating, and half of the beam is transmitted through the uncoated portion of the substrate.

Polka dot beamsplitters are useful over a wide wavelength range and are negligibly angle sensitive, which makes them ideal for splitting the energy emitted from a radiant source. These are not recommended for imaging applications, such as interferometry, as the polka dot pattern will affect the image.