Counterbore Adapters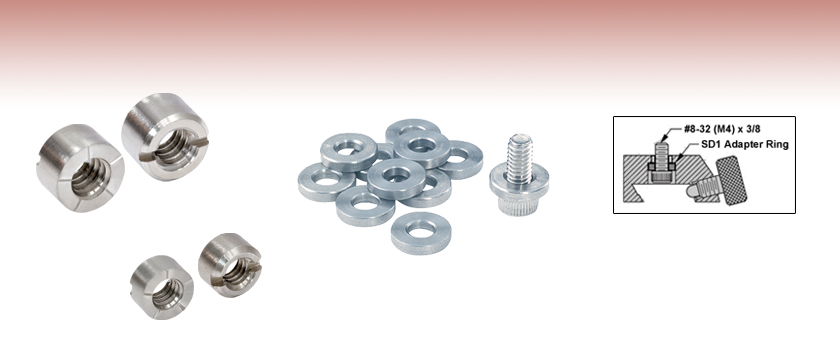 Convert a Counterbored Clearance Hole into a Tapped Hole
Convert a 1/4" (M6) Clearance Hole into a #8 (M4) Clearance Hole
CBA25E
CBA8E
SD1
Cross Section of RC2 Rail Carrier with Included SD1 Counterbore Adapter Ring

Please Wait
Counterbore adapters are used to mate two parts that support different thread standards. The counterbore insert or adapter ring has an outer diameter that matches the standard counterbore diameters used by Thorlabs. The counterbore inserts have a threaded inner bore while the adapter ring has a clearance hole for an #8-32 (M4) screw.
Posted Comments:
No Comments Posted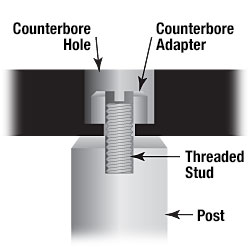 Click to Enlarge
Converts a Counterbored Clearance Hole into a Tapped Hole
Slotted Edge for Tightening
Designed for Slip Fit with Thorlabs' Counterbores
Threaded counterbore adapters are used to convert a counterbore into a threaded hole. A part such as the KM100 Kinematic Mirror Mount features a counterbore that provides imperial and metric compatibility; a cap screw is typically used to fasten the mount to a post. In some instances, it may be necessary to attach the mount to a post with a fixed threaded stud. The counterbore adapter facilitates this mounting option. These adapters feature a slotted edge that enables tightening or removal.
Item #
Thread A
(Internal)
Outer Diameter B
Use in C-Bore
CBA8E
8-32
0.28" (7.0 mm)
#8
CBA25E
1/4"-20
0.40" (10.2 mm)
1/4"
CBA4M
M4 x 0.7
0.28" (7.0 mm)
M4
CBA6M
M6 x 1.0
0.40" (10.2 mm)
M6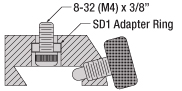 Cross Section of RC2 Rail Carrier with Included SD1 Counterbore Adapter Ring
Use an 8-32 or M4 Cap Screw in a 1/4" or M6 Counterbore
Package of 10 Adapters
The SD1 stainless steel adapter ring allows an 8-32 or M4 cap screw to be used within the 1/4" or M6 counterbores found on many optomechanical components.