SM2 Lens Tube Compatible Cage Plates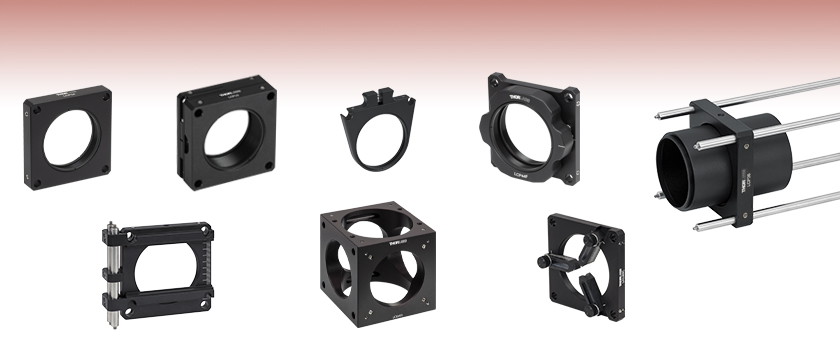 Mount SM2 Lens Tubes in a 60 mm Cage System
Version with Ø2.2" Bore for Slide-In Lens Tube Mounting
LCP34
Standard Cage Plate
QRC2A
Quick-Release Cage Mount
CYLCP
Cylindrical Lens Mount
LC6WR
Cage Cube
LH160C
Adjustable Lens Mount
LCP44F
Removable Cage Plate
Application Idea
LCP36 with an SM2 Lens Tube
LCPU2
Rotating Cage Plate

Please Wait
Features
SM2-Threaded (2.035"-40) cage plates and cage cubes allow SM2 Lens Tubes to be integrated into 60 mm Cage Systems by threading the lens tube into the plate. Alternatively, the LCP36 cage plate has a Ø2.2" bore through the part, which allows an SM2 lens tube to be slid into it and then locked in place.
Thorlabs introduced the SM Series Threading standards to ensure compatibility over a broad range of product lines. SM Series Threaded components offer a simple and efficient solution for building optomechanical structures. The SM Threaded products available, including lens tubes and cage system components, fixed and kinematic mounts, irises and diaphragms, provide flexibility when constructing complex optical systems.
This page contains our SM2 Lens Tube Compatible Cage Plates. For a full selection of available Cage Plates, please visit our Cage Systems navigation menu.
Posted Comments:
No Comments Posted