SM05-Compatible Translation Mounts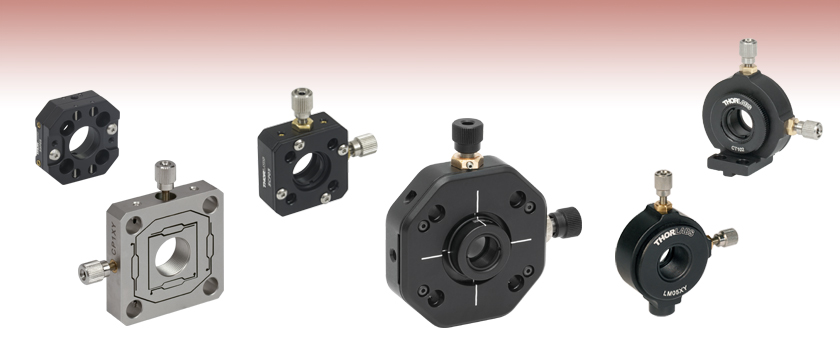 Internal 0.535"-40 Threading
Mount Ø1/2" Optics
Compatible with Ø1/2" Lens Tubes
SSP05
16 mm Cage
XY Slip Plate
Positioner
CP1XY
30 mm Cage XY
Flexure Translation Mount
SCP05
16 mm Cage
Translation Mount
CXYZ05A
XYZ Translation Mount
LM05XY
Precision XY
Translation Mount
CT102
Precision XY Translation
Mount with 4 mm Keyway

Please Wait
Features
Internal SM05 (0.535"-40) Threads
Mount Ø1/2" (Ø12.7 mm) Optics Using an SM05RR Retaining Ring
The products available below all contain internal SM05 (0.535"-40) threads, which are ideal for constructing complex, rigid optomechanical systems. SM05-threaded products available include: lens tubes and cage system components, fixed and kinematic mounts, and irises and diaphragms.
SM05-threaded (0.535"-40) components are designed to mount or integrate Ø1/2" (Ø12.7 mm) optics into systems. These SM05-threaded mounts translate the mounted optic perpendicular to the optical axis in both the X and Y axes. The CXYZ05A(/M) also offers 3 mm of Z-axis adjustment along the optical axis.
This page contains our SM05-compatible optic translation mounts; for a full selection of available optic translation mounts, please see here.
Posted Comments:
No Comments Posted